"If people are in Olympics withdrawal and they want to follow up on a bit of the history," says James Ring Adams, "this is a good place to go."
Adams, a senior historian at the National Museum of the American Indian, curated the Smithsonian museum's exhibit spotlighting Native-American Olympians over the decades. "Best In The World: Native Athletes in the Olympics" highlights several athletes from the just-wrapped London Olympics, including Tumua Anae of the gold-winning American women's water polo team, Canadian boxer Mary Spencer and American synchronized swimmer Mary Killman.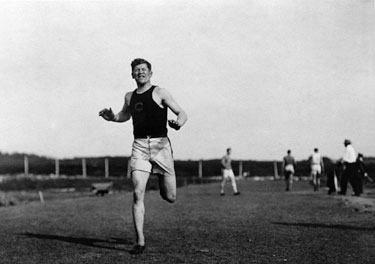 Jim Thorpe Running
(Photo by courtesy of Cumberland County Historical Society Carlisle, PA)
Probably the most famous Native-American athlete in history is the late, great, versatile athlete Jim Thorpe, who before becoming a professional football, baseball and basketball player ran away with two gold medals in the 1912 Stockholm Olympics. Adams says he was surprised by how little attention NBC paid to Thorpe, given the 100-year anniversary of his accomplishments as well as the fascinating backstory involved. The exhibit, Adams explains, documents "the whole story about how [Thorpe's] medals were taken away [for violating the games' amateur rules] and then returned after a long, long campaign by his family and his supporters."
It's not just Thorpe. "One thing that delighted me as I was getting into the research for this project and others [to come]," says Adams, "is how there are all these wonderful stories out there that people just don't hear about very much. They're very interesting and actually inspirational."
Intended in part to shine a more positive light on Native-Americans in general, Adams suggests the exhibit, which includes actual Olympic medals as well as archival photographs and other ephemera, might also encourage more American Indians into sports. "There's a movement that sees sports as one avenue to get people out of the destructive behavior cycle [afflicting] young Indians," he says, citing everything from isolation on reservations to alcoholism to youth suicide.
"That's definitely one thing we want to encourage," Adams continues. "Sports and a more healthy way of life."
Best In The World is on display through Sept. 3 at the National Museum of the American Indian, Independence Avenue at 4th Street SW. Call 202-633-1000 or visit nmai.si.edu.