Genre-mashups aren't exactly a new thing in video games. Developers, just as movie directors and novelists do, will cheerfully borrow any idea that injects new gameplay experiences into a long-running series. But while mashups aren't a new idea, such Frankensteinian creations are rarely as complete — or as successful — as the combination fighting and role-playing game Persona 4 Arena.
For casual American gamers, role-playing games are defined mostly as top-tier titles such as Final Fantasy (itself a series that has metastasized into multiple genres, from beat-'em-ups to rhythm games). But for RPG connoisseurs, the Persona series from Atlus carries a weighty reputation for its deep and wacky storylines centered on high-school students battling demons while trying to keep their grades up and their social networks growing.
While that setup may seem frivolous at a passing glance, the games are actually extremely engaging and well-written, filled not only with fully developed characters but with provocative storylines and art direction intended to push boundaries. In Persona 3, the teen characters summoned their persona (powerful spirits that reflect their true selves and do battle alongside them) by shooting themselves in the head. A main character in Persona 4 had to fight against his internalized fear of his sexual orientation — a level that took place in a steamy Japanese bathhouse.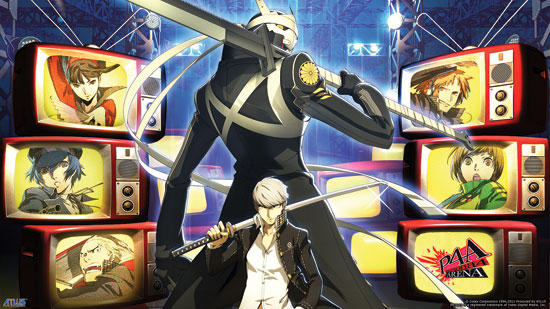 Persona 4 Arena
Similarly, even plenty of non-gamers know about the fighting game juggernauts — Street Fighter, Mortal Kombat, Tekken — but have never encountered such revered hardcore fighters as the Guilty Gear series from Arc System Works, known for its precision controls and over-the-top anime presentation.
Shorter version: Fans geeked out at the news Atlus and Arc were teaming up to create a fighting game based on characters from Persona 4. But while the die-hard fans were salivating over the prospect, it was hard to avoid the question of how such a narrative-driven franchise as Persona that demands hours of immersion would translate into format of 60-second bursts and ephemeral stories.
The surprise answer is that P4A translates the series very, very well. Where other fighting games feature stories drafted on a Post-It and never revised (Street Fighter IV, I'm looking at you) or convoluted nonsense (Dead or Alive, Mortal Kombat, ad infinitum), P4A's story grows naturally out of the series, keeping its focus on entertaining and engaging characters. For gaymers, of particular note is Kanji — the sexually conflicted tough-guy who enjoys knitting on the side — whose story is expanded here with varying degrees of success. Sometimes it's played too much for a joke (two other characters go on far too long about the need to cover their asses, etc.), but sometimes with a bit of nuance. It's not homophobic, but it's not exactly a PSA for tolerance, either.
Persona 4 Arena




$59.99
Playstation 3 (reviewed)
and Xbox 360
If anything, the story is a little too deep; playing through each character in P4A's story mode is an hours-long task that can get repetitive as you experience the same events from different perspectives. The easy fix for that is to alternate your story play with a few hours spent skipping directly to the fighting, whether taking on the computer or a friend in arcade mode or going online to earn a ranking against other real-world players.
Coming from a developer known for intricate, even punishing, fighting games, P4A is beautifully simple to pick up and play. Each character has a short list of seven to 10 specific moves built around simple motions and button presses. Starting out on easy mode, you'll find yourself quickly mowing down the competition. At least, until you get online to meet some real players.
While it's easy to pick-up and play, P4A takes time to master. Success means learning the timing not only of your special moves, but of the deep system of counters, reversals and cancels. It's a demanding system once you move beyond the starting stages and one that leaves you with a sense of accomplishment. And with some excellent online options — a few hours on the Playstation Network yielded minimum lag in only a couple matches — you'll find yourself with all the training ground you could ever want.