Think of Tennessee and what comes to mind? Dollywood? Maybe you should think of sidewalk sales. After all, it was such a sale in tiny Waverly that served as the inspiration for the MidCity Dog Days sidewalk sale, now in its 13th year.
That's how Waverly native Greg Link explains it. Owner of Home Rule at 1529 14th St. NW, he would know. It was his idea. This year he'll be joined by about 70 other businesses.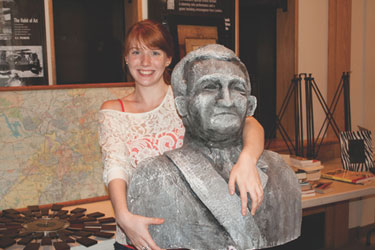 Tracey Erbacher
(Photo by Julian Vankim)
But while Link might have a fondness for the Waverly of his youth, the MidCity section of D.C., defined by the MidCity Business Association as roughly the 14th and U Street NW corridors, has plenty more to offer. Do Waverly residents get CakeLove? No, they do not. So neither do they get to celebrate Dog Days with $3 slices of strawberry shortcake. Even if Waverly might be home to its share of great bakers, it surely cannot claim MidCity's theater scene.
The Studio Theatre at the corner of 14th and P Streets NW gets into the sidewalk-sale spirit in a big way, marking the occasion with the theater's annual garage sale.
"It's an institution," says Tracey Erbacher, Studio's summer intern organizing this year's showing. As a D.C.-area native and a drama major at Vassar College starting her senior year in the fall, Erbacher has been a customer for a couple years.
"This is my first time on the other side," she clarifies, eager to talk about show props and costumes she and fellow interns are getting ready for Saturday – because in Studio's case, this is a one-day sale, 10 a.m to 4 p.m. So what's up Studio's sleeve?
"We have costumes from shows. We have two size-24 Vera Wang wedding gowns – one was never taken out of the box. We have a small copy of the Andy Warhol red couch." How small is small? "Oh, it's couch-sized. Humans can sit on it," she promises.
For more information about MidCity Dog Days, Saturday and Sunday, Aug. 4 and 5, visit midcitydogdays.com.