Nobody wants to see a 54-year-old stripper.
You might think Madonna didn't get that memo based on her performance in her latest road show, "The MDNA Tour." But if the pop idol's 30-year, controversy-attracting career is any indication, chances are, she got that memo and pissed all over it.
You could see the deviance on her face as Madonna disrobed in front of an enthused Philadelphia audience at the U.S. opening of her MDNA Tour Tuesday, Aug. 28. She literally gives you the shirt off her back after arriving onstage three and a half hours after the venue opened its doors. Question is, who wants to see that? Fan or foe, you can't look away.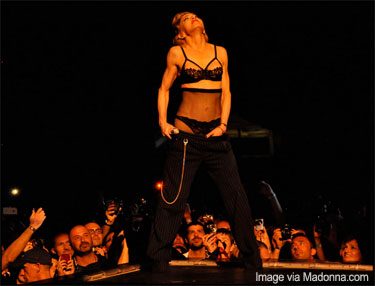 Madonna on stage for her MDNA tour
(Photo via Madonna.com)
It's the most captivating – and, for some, most uncomfortable – moment of the night, where Madonna lets it all hang out, undeterred by age, wearing only heels, black trousers and a revealing bra, with the words "No Fear" written on her back. She stands tall holding a microphone, turning "Like a Virgin" into a somber heartbroken piano ballad that is unrecognizable. "You made me feel shiny and new," she sings, now with a whole new meaning.
The MDNA Tour itself is certainly shiny and new. Think songs from MDNA, her 12th studio album, and a string of hits from the past three decades brought to life by giant video screens, outlandish costumes and a stage that extends well into the audience.
It starts with a Gregorian chant and a bang. Madonna is confined in the most unlikely of places: a small prayer room, in a burka, before breaking out and ridding herself of the religious attire to reveal tight black leather. There she is – blond, bold, deceivingly youthful, gyrating alongside her muscular, half-dressed male dancers to the beat of the opening song, "Girl Gone Wild."
Despite our current nervous climate involving guns in public arenas, Madonna has no problem waving an assault weapon and simulating gunfire in front of thousands. She's blindfolded and captured by a group of disguised men in "Papa Don't Preach." She walks on a wire during "Hung Up." She lays in a dirty, cheap motel room holding in one hand a drink, and in another a gun, shooting at anyone who dares to come near her in "Gang Bang." This ain't no ordinary pop concert or Vegas act. There's a narrative.
And while that narrative may lose cohesiveness somewhere during the show's mid-section, Madonna doesn't shy away from ensuring her audience walks away with a message. Even if it's Lady Gaga's. Since performing this show in Europe during the summer, Madonna has included parts of Gaga's "Born This Way" when singing "Express Yourself," her own hit that many feel "Born This Way" duplicated. "She's not me," Madonna sings at the conclusion of the song.
And if there was any confusion, Nicki Minaj's video appearance makes the point earlier in the night: "There's only one queen, and that's Madonna. Bitch."
But Madonna's got a message beyond her claim to pop royalty. In Philadelphia she talked about the injustices faced by the Russian punk feminist band Pussy Riot, members of which have been sentenced to years in prison for seizing the altar in Moscow's Chris the Savior Cathedral in February to perform a song critical of President Valdimir Putin.
"And in St. Petersburg," she added, "there are 75 to 85 gay men in jail for exhibiting the fact that they were gay. How fucked up is that? So never forget how lucky you are to live where you live and to have the freedom that you have. And don't get fat and lazy and take that freedom for granted. Or you will be a fish out of water, and a bitch out of order, with your gay ass in jail."
And while the MDNA Tour wins visually, it suffers, at least in Philadelphia, in the audio department. At times the volume level of Madonna's vocals were so loud you'd give anything for her to revert to lip-synching. She yells, not sings, most of the songs in the set. The MDNA Tour was made for massive stadiums like Yankee Stadium, and when it's executed in indoor venues such as the Wells Fargo Center in Philadelphia, earplugs might be in order. It definitely doesn't sound like a prayer.
Look past the audio explosions and beneath the surface of the MDNA Tour and you can't help but notice how autobiographical it is.
In the show we see art imitating life as Madonna violently questions the confinements of her religious upbringing. She plays cheerleader, promoting self-expression. There's fashion and glamour before Madonna explores spirituality and political awareness. It all wraps up with a celebration of life, love and dance music – one that leaves Madonna dancing onstage with her son Rocco during the final song "Celebration."
"If it makes you feel good, then I say do it," she sings. For Madonna those are words she's lived by.
Madonna's MDNA Tour is scheduled for D.C.'s Verizon Center Sunday, Sept. 22, and Monday, Sept. 23. For tickets and information, visit madonna.com.