The accounting is in from the 21st Annual Maryland Swim for Life, held July 14 and hosted by the District of Columbia Aquatics Club (DCAC), a swimming and social club for LGBT and allied swimmers. For the sake of D.C.'s Metro TeenAIDS – as well as Heart to Hand, Quality of Life Retreats, the Chester River Association and the Chester River Valley Ministers Association – the U.S. Masters Swimming-sanctioned event raised $39,500. That's nearly twice as much as the $20,000 raised in 2011.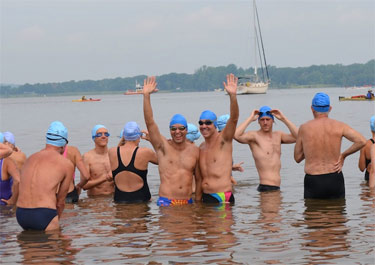 Swim for LIfe 2012
(Photo Courtesy DCAC )
"This year, not only did we reach our fundraising goal but we also expanded on the number of athletes who participated from all over the mid-Atlantic region," Rob Jeter, 2012 Maryland Swim for Life Co-Race Director, said in a DCAC statement released today. "The course for this year's competition was slightly altered, and the start was delayed to accommodate for the changing weather conditions; however, the athletes were not deterred and turned in some impressive results. I was amazed by the turn-out, support and enthusiasm despite the overcast clouds."
According to DCAC, the fundraiser registered 191 swimmers – up from 120 in 2011 – for the competition, based at Rolph's Wharf Marina in Chestertown, Md., on the Chester River. As for the top spots, Christina Cairns of D.C. won the female four-mile competition, and Justin Burkhardt, also of D.C., won the male four-mile competition. A full list of winners is available to swimdcac.org.
[Editor's note: As originally published, this story incorrectly reported that the event registered 120 swimmers in 2012, rather than 191.]