Just two years ago, the tea party movement threatened to upend the balance of power within the Republican Party.
Conservatives were angry, not just with a Democratic president they believed to be anti-American, but with a Republican Party that would not stand up to him.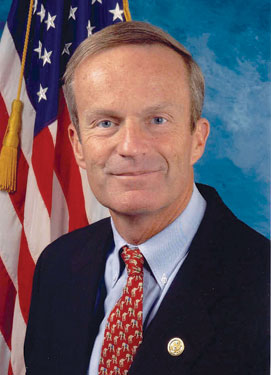 Rep. Todd Akin
(Photo courtesy of US House of Representatives)
In summer 2009, many took to the streets protesting outside the U.S. Capitol as health care reform worked its way through Congress. More importantly, they organized and voted, ushering in a new era of divisiveness that ended the careers of many Republican establishment politicians who spent years in Washington building relationships with those on the other side of the aisle.
As Republicans convened in Tampa, Fla., Aug. 27 to 30, to finalize their national party platform and nominate Mitt Romney for president, the movement that began as a threat to the Republican establishment appears to have solidified the power they sought two years ago.
Romney's selection of Wisconsin Rep. Paul Ryan — a man 23 years his junior — as his running mate symbolizes that. Although Ryan was first elected to Congress in 1999, he has become a hero of the tea party movement.
Ryan's budget plan, which would dramatically reduce the size of the federal government and tackle the deficit by slashing entitlement programs such as Medicare and Medicaid, has been a rallying call for Republicans who wish to truly alter how government functions in modern America.
Sal Russo, co-founder of the political action committee Tea Party Express, told The Wall Street Journal that this year's convention was a "triumphant tea-party convention."
While Romney still causes trepidation among tea party faithful for his fluid political views, Ryan's selection was viewed as a nod to their cause. When the tea party emerged in 2010, many questioned if its fringe characteristics would ever be embraced by the broader Republican Party, or if the movement would break off into a third party and siphon away conservative votes from Republican candidates.
Now that the two factions have become one, this November is not only an opportunity for Republicans to reclaim the White House, but also to secure a majority in the Senate. Riding a wave of voter discontent over health care reform and Washington insiders, tea party Republicans took over the U.S. House of Representatives in 2010. This November, they hope to do the same in the upper chamber.
There are 33 Senate seats up for grabs this November with 21 of those seats currently held by Democrats, who traditionally have been more friendly toward gay issues.
Although divisive social issues have gotten little play this election year with many Republicans running on job creation and a stagnant economy, their election would usher in a majority that is just as conservative socially as it is fiscally.
Perhaps nowhere is that more apparent than in Missouri, where Republican Rep. Todd Akin started a firestorm in August after he opined that women rarely get pregnant from "legitimate rape" because "the female body has ways to try to shut that whole thing down."
The tea party supporter's comments brought a backlash from Democrats and Republicans alike and endangered his bid against Democrat Clare McCaskill's Senate seat, who had been trailing in the polls.
Akin's factually unfounded opinions about rape turned a Senate race in the heartland into a national story.
Shortly after Akin's comments, the Human Rights Campaign, which traditionally supports Democratic candidates, also jumped into the fray and used the national spotlight shone on Akin as a means to draw attention to his broader record on social issues, including gay rights.
In a statement, Human Rights Campaign President Chad Griffin said that Akin's "shockingly cold ignorance to the victims of rape" extends to his views of LGBT people as well.
"Over the last decade, Akin has been one of the leading voices in the House working against the best interests of LGBT people – he's against any kind of relationship recognition for same-sex couples; he's made remarks that are demeaning to LGBT families; he voted against the historic repeal of 'Don't Ask, Don't Tell,' and he refuses to support workplace protections," Griffin said. "Todd Akin is no friend to anyone who has experienced discrimination and is looking to their elected officials to protect their rights under the law."
However, despite being encouraged to drop out of the Senate race by top Republicans, including Romney, as well as receiving a direct chiding from President Barack Obama, who called Akin's comments "offensive," Akin decided to stay in the race and take his chances. He has, however, accused Republican National Committee Chairman Reince Priebus of having a "personal vendetta" against him.