"When it ran Off-Broadway, to attempt to sell tickets, they started saying [it's] Mad Men meets Milk," Michael Stebbins of Rep Stage says about The Temperamentals.
But that tagline actually sells short Jon Marans's three-year-old award-winning play. The Temperamentals focuses on some of America's earliest gay activists, who were agitating for change in a deeply homophobic, pre-"gay" period. One-time lovers Harry Hay and Rudi Gernreich were two leaders of this movement, which took root in the 1950s and was organized through use of the long-established code word for homosexuals: "temperamental." The two co-founded the Mattachine Society, an organization Hay named after a French medieval group that donned masks as disguises while publicly attacking social injustices.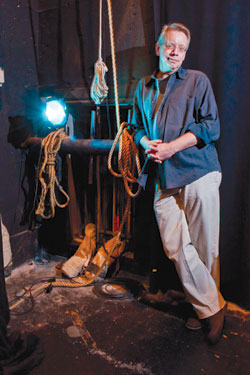 Michael Stebbins of Rep Stage
This movement was "not as large as Stonewall, or as riotous as Stonewall," according to Stebbins, referring to the 1969 raid of a gay bar in New York City that sparked the idea of gay pride as well as the expansion of the gay-rights movement. But in many respects it was more momentous, since this happened at the height of the homophobic, anti-communist Red Scare. The gay men and women who joined the Los Angeles-based Mattachine Society, Stebbins says, "were putting their names, their reputations, on the line. And not thinking, probably…that they would have a profound impact on the future."
"The courage for [coming out today] I think can be traced back to these individuals," he adds. And those individuals are the focus of Marans's play, which The New York Times called an "eminently likeable docudrama" and went on to win Drama Desk and Lucille Lortel awards.
Now, Rep Stage is giving the show pride of place in a new production to kick off its 20th season. For the area's first production of Marans's play, Stebbins, as Rep Stage's producing artistic director, has enlisted a strong cast of celebrated local actors, including two Helen Hayes Award winners: Rick Hammerly, in multiple roles, and Nigel Reed, starring as gay-rights pioneer Harry Hay, who also later co-founded the Radical Faeries. Helen Hayes nominee Alexander Strain plays Rudi Gernreich, with Brandon McCoy and Vaughn Irving rounding out the cast. Kasi Campbell directs.
One character Irving plays is late Hollywood director Vincente Minnelli, famous for marrying gay icon Judy Garland and fathering Liza — and infamous as a closeted homosexual. In real-life and in the play, Hay and Gernreich "try very hard to get Minnelli to lend his name to their society," says Stebbins, "but he wasn't willing to admit [being gay]. He would give money, but they weren't looking for money as much as they were people who had a name."
A native of Wisconsin who worked in New York theater for 14 years before joining Rep Stage in 2005, Stebbins was drawn early on to the idea of staging The Temperamentals. He first saw it off-Broadway alongside his directing mentor, a now-88-year-old New Yorker who confirmed to Stebbins that while the Mattachine Society was centered in L.A., "what we see unfold in the play was happening all over the country," from police entrapment to humiliation tactics. "I felt like I learned a lot about my history," says the gay Stebbins. "It's a very entertaining show, very cinematic. The scenes fly by," he continues, but it's also "a great way to continue learning about our history, whether that be gay/bi/lesbian/transgender."
And the timing is fortuitous, he adds, noting that marriage equality will be up for a vote in Maryland this election season. Stebbins planned the new season well before the ballot measure was planned. But, he says, "Who knows? This may put a face on a group of people that may even sway a vote in November."
The Temperamentals runs to Sept. 16 at The Horowitz Center's Studio Theatre at Howard Community College, 10901 Little Patuxent Parkway, Columbia, Md. Tickets are $33 to $40. Call 443-518-1500 or visit repstage.org.