What do people know about your business? Most business owners can't really answer that question, though it may be the most important one they ask. The answer points to brand. Branding has become a buzzword in the marketing world lately and with good reason, but there is a lot of misinformation out there about what a brand is and how to create one.
The Capital Area Gay and Lesbian Chamber of Commerce (CAGLCC) is hosting a strategic workshop Sept. 5 to answer that question and get local businesses started on the road to buzzword-worthiness.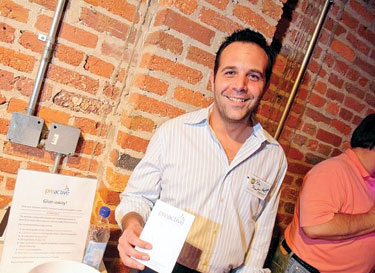 Ron Romanski
(Photo by Ron Romanski)
Doug Wendt of Wendt Partners will lead the workshop. He is a branding expert and explains that branding is nothing less than "What your business is."
Wendt believes that branding for small businesses and associations is a major opportunity to focus. No business can deliver everything to everyone, so branding your business with the unique value you offer your customers alone can transform not only your brand, but the business itself.
How does one even start? "The first thing most executives should do is stop," says Wendt. Often business owners worry about logos and Twitter accounts when they have no vision behind those tactics. Wendt says that there is a difference between brand strategy and brand identity. Once you have a strategy for who you are, who your customers are, and what you can help them with, then you can begin to craft an identity and create the more familiar aspects of a visual brand.
CAGLCC member Ron Romanski knows this well. He is the CEO of his company, Preactive Marketing, and has also taken the title chief strategist. He says branding is "what people think and say about you," and that business owners should not be outsourcing brand management to their marketing department or an intern. It's fine if employees are doing the actual posting, tweeting or designing, but the owner should be in charge of the message going out.
Ron has built his brand through his blog at preactivemarketing.com. His company has focused on becoming subject-matter experts in marketing so that people know exactly what they do before spending a dime. For him, the easiest and most important brand-builder has been social proof. He asserts that, contrary to popular opinion, you can measure customer engagement and results, which is vital both for proving to other customers that your solution works and for adjusting that all-important strategy to communicate what you can deliver.
Both Romanski and Anthony Shop, owner of another CAGLCC member business, Social Driver, emphasize that getting help with your vision is absolutely vital. Social Driver, which builds apps, websites and social media campaigns, wasn't always called that. In the early days, the name was Wamwaw and they went looking for a new logo when a business mentor mentioned that nobody knows what Wamwaw is.
"Inside the organization, you have blinders on," says Shop. "You should ask customers, ask experts and ask consultants. Your brand may sound logical to you, but it may be crazy to everybody else." They changed the name and business soared.
To start down the branding road, stop worrying about minor tactics and start asking questions of your customers, peers and experts to get a handle on what your business needs to be. Then you can build the strategy to communicate it to the world.
The CAGLCC workshop will include a self-assessment of your brand, share success stories and provide action steps. For more information, visit caglcc.org/AssocNFPLunchSept.
The Chamber means Business. For more information, visit caglcc.org.
Jessica Vaughan is a Washington-based freelance writer and CAGLCC member.