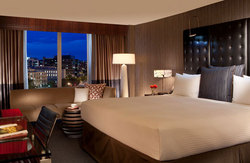 The country is buzzing as the presidential election draws near, and The Liaison Capitol Hill, located in Washington, D.C. just steps from the U.S. Capitol building, is inviting travelers of all political affiliations to take advantage of an election-themed offer, "Swing Into the Election," a lighthearted escape during this politically-charged time in our nation's capital.
"Swing Into the Election" starts at $159 per night and includes:
· A newly redesigned guestroom customized by you via MyAffinia.com
· Two welcome drinks from the "Swing States" cocktail menu upon arrival
· Walking Tour Kit and a list of political sites and fun facts about past elections
· Daily newspaper and complimentary Internet access for keeping up with the campaign or inaugural events
· First Lady cookies and milk (Michelle Obama's White and Dark Chocolate Chip Cookies or Ann Romney's M&M's Cookies)
Travelers who are undecided can immerse themselves in the campaign and learn more about the candidates by reading their favorite novels: Barack Obama's is Song of Solomon by Toni Morrison and Mitt Romney's is Battlefield Earth by L. Ron Hubbard. Both are available upon request at check-in.
"Swing Into the Election" reservations must be booked by Election Day, Nov. 6 and is available for travel through Jan. 17, 2013. For additional information and to book visit www.affinia.com/election or call 866-246-2203 and mention promo code VOTE12.
The Liaison Capitol Hill, an Affinia Hotel, is a gay-friendly TAG Approved property. It recently completed a $6-million renovation to its 343 guestrooms and suites. The redesigned rooms feature flat screen TVs, Wi-Fi, iHome docks, modern furnishings, upgraded Affinia bedding and remodeled bathrooms.