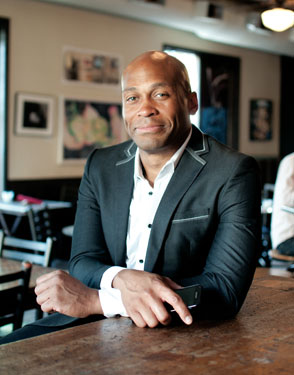 Nick McCoy
(Photo by Todd Franson)
MW: So what are your big projects now?
MCCOY: The rally [and march in Bloomingdale and Eckington to protest recent hate crimes] was fun. That spoke a lot to what's happening on the ground, the work between ANC commissioners, civic associations and the community and the businesses.
I am producing – with The Washington Informer, WPFW 89.3 FM, the [Washington] Blade, D.C. Mic Check, Busboys and Poets – a D.C. public forum on Sept. 9. Basically, the premise is: Who will lead us? Giving elected officials an opportunity to answer one major question: How has your service benefited D.C. residents? And, on the other end, make it a point to bring up how your service has not benefited D.C. residents. We ask that the elected officials be able to back it up with fact, content and the application of that service.
MW: Who came up with the idea for the public forum?
MCCOY: I did. I approached the different partners and asked them to help.
MW: What do you expect to get out of it?
MCCOY: I expect to, as far as I said before, help educate voters, or offer them an opportunity to educate themselves, about candidates or elected officials who are coming up for re-election this year.
I've extended invitations to all of the councilmembers involved and the mayor. The challengers – I've extended an invitation for them to be there and respond to some of the statements made by the councilmembers.
MW: The mayor is not up for re-election, but you've invited him anyway?
MCCOY: I want to afford him an opportunity to talk about his service. In recent months, in light of all the controversy, all of the conversation has been about what happened during his campaign. Unless you're paying close attention, it's overshadowed any of the work he's done in his administration. This is his opportunity to address those things.
MW: Has he agreed?
MCCOY: Not yet.
MW: What's something else on your radar?
MCCOY: I would like to see what flushes out in the current election. And I would like to run at some point.
MW: For City Council?
MCCOY: For D.C. Council. I intend to continue cultivating my relationships with D.C. residents, and continue to work on behalf of my community and the city at large, and see if I'm ready to jump out there. There's a possibility that might be in January. Because, you know, [Phil] Mendelson's (D-At Large) seat vacates. There will be a lot of folks out there running, so we'll see.
MW: And until then? Foster relationships?
MCCOY: And look to see if I can partner with the same people to organize another forum, closer to the election.
MW: Let's talk about crime. What have you been doing on crime, other than the recent Bloomingdale-Eckington hate crimes rally?
MCCOY: I have been a member of the Critical Incident Team, which is comprised of community members that represent service providers or first responders or help organize with MPD to reduce risk and coordinate responses to crime. We meet once a month. We discuss the bias-crime rates across the District – not just the LGBT ones, but ones that affect African-Americans, other groups.
We do safety walks in areas that have been affected. We just had one in Ward 8. We try to keep a presence in Ward 7 and Ward 8, even though I don't live over there. We often get caught in the "Northwest bubble," so we have a conscious effort to find out what's going on.
I try to stay present in other communities besides in LGBT stuff, because whenever you need help you have to turn to somebody, and that relationship needs to be there.
MW: What's essential to understanding Nick McCoy?
MCCOY: I'm just trying to be a better man, a better person. When I turned 36 this year, I started working on 36 ways to be a better man. I'm not always going to get it right. I'm looking at ways to either support or be a part of a community that's beyond the LGBT community. I am a part of the people of color community. I understand the disparities that exist in the District right now, and I want to learn the languages that work within respective communities that help them organize as a whole. I want to teach communities how to advocate for their own issues, and not to depend on elected officials to carry all the weight.
MW: Have you had a boyfriend recently?
MCCOY: Not in the past two years.
MW: Does your involvement in the community, your activism, make it harder to date?
MCCOY: You have to be cautious. Sometimes you come home and it's all about your day. I care about what your day was like, what made you mad, and you care about my day and what made me mad. There has to be some parity in a relationship. But, yes, it is difficult.
Sometimes I feel I've spent more time on the ground fighting for marriage instead of pursuing marriage. And it's hard to date, because my nights are meetings. My days are events. My nights are calls about little community issues. It requires you to carve out some time for yourself. People sometimes see it as a red flag. "Oh, this is what you want to do for a living?"
In D.C., people either jump right into a relationship or it takes an awfully long time to build one up. I jump into things. I'm like, "Let's go!" That can scare people. I'm a very aggressive person. I've learned not to be so aggressive.
MW: Who else is Nick McCoy? Can we answer that question more fully?
MCCOY: Who is Nick McCoy? I am an "occupier." I occupy space. I don't take no for an answer. I don't allow people to feel entitled to a certain space or work. Like, for example, journalism doesn't belong to you. The story of D.C. politics doesn't belong to you. I can contribute something to it. I'm not trying to get in your way, I'm trying to be impactful.
Nick McCoy is fanatical about his community. I will not tolerate disrespect for people because of who they are. I won't let your anger or your self-hate be detrimental to me, my neighbor or my friends. How can I stop you from doing that? I can organize. I can empower myself and empower others. I can loan my strength to you.
MW: Do you have purpose?
MCCOY: Yes. To serve outside of the needs of Nick McCoy. To understand what it means to serve, not to you, but for your community. Slow down, and figure out what they need.
MW: Do you have guidance, or are you still scattered?
MCCOY: Guidance, in terms of figuring out my own trajectory? In part, yes. For instance, I considered running for City Council last time. I thought I was better than many of the candidates who did run. But I decided to wait, because it was not my time.
MW: Why not start with an ANC position?
MCCOY: [Laughs.] Because they don't need me there. I feel I could have an impact and a presence that is discernible on the Council.
I do feel there aren't enough people running for Council. Too often in the District we get this mentality that Democrats should run because they can win. You should run because you can do the job, you can identify with your constituents and you understand the needs of the District.
Everybody on the Council now is either a professor or a lawyer or the epitome of the high-rolling professional class. But we don't have any teachers. We don't have any social workers or project directors who say, "I want to serve." I look forward to the opportunity to show people that you don't have to come from a doctorate background to run for Council. I look forward to showing people you can rise from the lowest point in your life to actually fulfilling a dream, like running for office and serving your community.
The DC Public Forum is Sunday, Sept. 9, 5 to 7 p.m., at Busboys and Poets, 2021 14th St. NW.
[Editor's note: As originally published, McCoy mentioned working as Councilmember Sekou Biddle's legislative director, though his official title was legislative aide.]