Members of local LBGT media outlets met with five Turkish journalists at the Meridian International Center in Northwest D.C. Friday, July 27, to discuss topics of interest to the visiting press.
The journalists, touring the United States from July 21 to Aug. 4 as members of the State Department's International Visitor Leadership Program, spoke with the representatives from the local publications as part of a roundtable hosted by Meridian International Center on "Challenges of 21st Century Journalism in the U.S." The locals in attendance were Will O'Bryan of Metro Weekly, and Lou Chibbaro Jr. and Chris Johnson of the Washington Blade.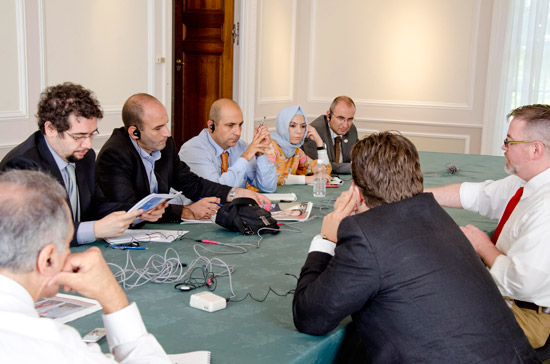 (Photo by Julian Vankim)
The Turkish journalists, who represent both print and broadcast media, were primarily interested in U.S. law as it relates to LGBT rights and asked about the relationship between local ordinances, state laws and federal laws and how they affect the lives of gay Americans. For example, the case of Edith Windsor, a widow forced to pay $350,000 in estate taxes following the death of her wife and partner of 44 years, Thea Spyer, was used to illustrate the disparities caused by the Defense of Marriage Act.
The Turkish journalists also talked about the situation for gays and lesbians within Turkey, with one Turkish journalist expressing surprise at any remaining existence of disparity for LGBT people in the United States.
"What was most interesting to me was that whatever the politics of the visiting journalists, they all seemed to want to take pride in the level of LGBT acceptance in Turkey, wanting to point out that their country has seen LGBT Pride parades and other sorts of evidence that Turkey is progressive," O'Bryan said after the meeting. "So, not only is pride important in our own community, it's obvious that – at least in some contexts – others want to take pride in how their LGBT community is treated. Whatever the reality, I think that's great."