Nearly a month after the Boy Scouts of America reaffirmed the organization's ban on out gay members and leaders, Mitt Romney confirmed that he believes the organization should permit gay people to join.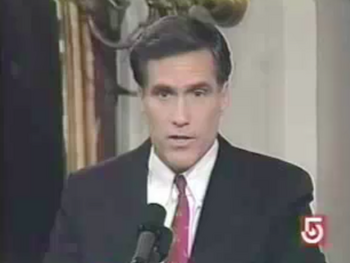 In an email from Romney spokeswoman Andrea Saul to the Associated Press, Saul said that Romney's position on gay membership is the same as it was when he ran for Ted Kennedy's U.S. Senate seat in Massachusetts in 1994.
At a debate with Kennedy during that race, Romney said that while he supported the right of the BSA to determine their own policies, he personally believes "all people should be allowed to participate in the Boy Scouts regardless of their sexual orientation."
Romney previously served on the Boy Scouts' national executive board.
The confirmation from the Romney campaign comes after video of that debate surfaced on the Internet and as protests against the organization have increased since last month's announcement.
Zach Wahls, the son of a lesbian couple and the Eagle Scout responsible for founding Scouts for Equality, commended Romney for his support.
"Scouts for Equality is proud to have Governor Romney's support on this issue amid such a polarized political climate," Wahls said in a statement. "His leadership is to be commended, and we hope he can set an example of how people with differing religious beliefs can come together to support the Boy Scouts of America's mission to serve our communities and develop tomorrow's leaders, regardless of sexual orientation."
While Romney has confirmed his support, President Barack Obama has been mum on the issue. Although many assume Obama favors an end to the Boy Scouts' discriminatory ban based on his previous support for gay rights, neither Obama nor the White House have commented on the BSA's decision to uphold the ban last month.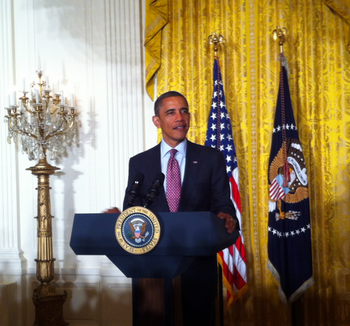 Jennifer Tyrrell, who was ousted as den leader of her son's Cub Scout troop four months ago because she is a lesbian and who delivered more than 300,000 signatures to BSA headquarters in Texas urging for her reinstatement, questioned Obama's failure to speak about the issue.
"I'm happy to hear that Mitt Romney's campaign confirmed his support for the participation of my family, and families like mine, in the Boy Scouts of America," Tyrrell said in a statement. "I think President Obama should also let the public know what he thinks about a cultural institution like the Boy Scouts banning gay Americans."
The White House did not immediately respond to requests for comment.
UPDATE @ 3P WED: White House spokesman Shin Inouye confirmed that President Obama opposes the Boy Scouts' ban on gay members and leaders. In an email to Metro Weekly, Inouye writes, "The President believes the Boy Scouts is a valuable organization that has helped educate and build character in American boys for more than a century. He also opposes discrimination in all forms, and as such opposes this policy that discriminates on basis of sexual orientation."
UPDATE @ 3:30P: In a phone interview with Metro Weekly, 21-year-old Zach Wahls, founder of Scouts for Equality, hailed Obama's decision to show leadership on this issue.
"I agree with the president that the Boy Scouts is a valuable organization for this country's youth, and obviously I'm proud to have his support. It doesn't surprise me that he's showing leadership on this issue and I think having his support will help in ending this policy," said Wahls.
Noting the agreement on this issue by both a Democratic president and a Republican nominee for president, Wahls said it speaks volumes about the need to end the group's discriminatory ban.
"I think that in such a polarized political climate, to have agreement on this issue really does say something powerful about both the validity and importance of this question."
In a statement, Jennifer Tyrrell joined Wahls in praising Obama.
"For the first time ever, a sitting President of the United States has spoken out against the Boy Scouts' anti-gay policies," said Tyrrell. "Now, the BSA is not only turning its back on hundreds of thousands of Americans, as well as current and past Scouts — they're turning their back on the leader of the free world and their very own 'honorary president.'"
FINAL UPDATE @ 4P: A spokesman for the Boy Scouts responded to news of Obama's announcement in a statement provided to Metro Weekly, writing that the organization respectfully disagrees with the president.
"The Boy Scouts of America respects the opinions of President Obama and appreciates his recognition that Scouting is a valuable organization," wrote Deron Smith, public relations director for the Boy Scouts. "We believe that good people can personally disagree on this topic and still work together to accomplish the common good."
WATCH Romney's 1994 comments on the Boy Scouts: