When Number Nine opened in May 2011, it immediately became one of the city's hottest Happy Hour spots, featuring two-for-one drink specials every night.
It remains all that, but the bar's Ed Bailey saw potential for so much more. After all, there were two floors to the space. "If we have the opportunity to turn upstairs into a destination independent of downstairs, then why wouldn't we?" Bailey says. So beginning next month, upstairs at Number Nine will feature its own personality — and even its own name: 9 ½. The name reflects the fact that the venue remains the ninth joint venture between Bailey and Jon Guggenmos, a partnership formed at Tracks that currently includes Town Danceboutique.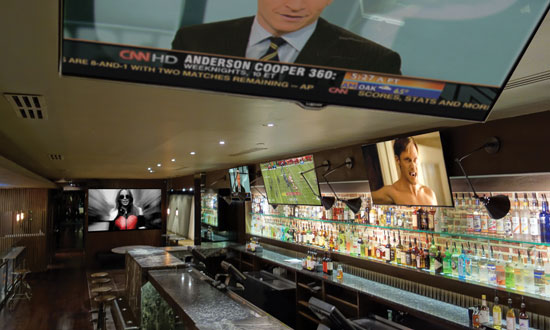 9 1/2
"We just thought that we could make this floor a little more casual and comfortable, a little more inviting, and a little more intriguing in a different way," Bailey says during an exclusive first look inside for Metro Weekly. The upstairs has been altered to feature lighter-colored décor and an improved floor plan, with more standing room and fewer seats. It will feature the same drink specials as downstairs, though with an additional menu of unique craft beers. It will also feature its own music, distinct from downstairs, offering a wider range of genres – and often programmed live by a DJ (as opposed to downstairs' pre-programmed sets).
The DJ – or really, VJ – will also control the new level's chief attraction: Five televisions, including one giant flat-screen. When not displaying music videos, the TVs will air news and special events, from sports to politics, as well as "quirky movies" and gay- or gay-popular cable shows – from Bravo, Logo or HBO. "I don't want to call it a video bar," says Bailey, "but there's going to be energy here that's consistent with that."
Bailey, who started his nightlife career as a Tracks VJ – "playing VHS tapes [and] some Beta too" – has enlisted Town's star VJs BacK2bACk – Bill Keart and Alan Chasan — and DJ Wess to help other Town-affiliated local DJs, including Aaron Riggins and Shea Van Horn, "become more video literate."
"It's not about seeing Lady Gaga videos," he adds. "It's about seeing videos to songs that are interesting." It's also not about showing the same videos you see at Town. "This isn't a dance bar," Bailey adds. "It won't be dance music, it won't be thump-thump."
Bailey says specific plans for theme nights and special events are still being formulated. But the goal is to eventually have upstairs, like downstairs, open seven nights a week, with no cover.
"This is just an effort to make sure we're maximizing what we can do," Bailey says, "to help more people feel like they can come and hang out and chill."
9 ½ will open in early September on the second floor of Number Nine, 1435 P St. NW. Call 202-299-0999 or visit numberninedc.com.