At first glance, you can easily spot qualities that mark Chief Petty Officer Ronnie Ratliff as a Navy man, beyond the close-cropped hair. There's the tall athleticism, an all-American look that's confident without being intimidating. There's the easy smile that carries a hint of seriousness at the corners. And there's the no-nonsense attitude that comes with nearly two decades of a career in which orders are given and followed.
But it wasn't always that way. Back in the early '90s as a high-school kid in eastern Kentucky's rural Appalachia, Ratliff's bearing was decidedly less military.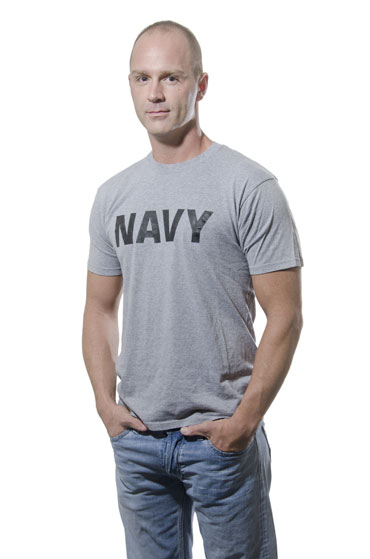 Chief Petty Officer Ronnie Ratliff, Navy
(Photo by Julian Vankim)
"I was short and chubby in high school," he laughs, recalling the late-arriving growth spurt that finally put him on the path to his current look at 36.
After two years of college, still in eastern Kentucky, Ratliff felt uncertain of what he wanted to do with his future. Of all places, he found the answer in a West Virginia gay bar where he and his best friend Charlie would hang out. A mutual friend of theirs had disappeared for a few weeks — then returned with the announcement she'd joined the military. Her excitement at the new frontiers spilled over to Ratliff and Charlie; they decided to join together.
It wasn't a choice his parents expected.
"I think my mom and dad wanted something greater for me," says Ratfliff. "If my mom had just said, 'Don't go,' I probably wouldn't have gone. I'm a momma's boy. But my mom, as much as she was crying there at the car as I was getting ready to leave…. It was really hard to take that step."
This was just after the nation had gone through the political convulsions over President Bill Clinton's promise to end the ban on open service by gays and lesbians and the resulting compromise of "Don't Ask, Don't Tell." When Ratliff signed up, the recruitment center was still catching up.
"It was so new that the question, 'Are you a homosexual or have you engaged in homosexual activity?' was marked out with a black magic marker," he says. "That's how fresh it was."
Even though Charlie didn't make it in due to a heart condition, Ratliff decided to stay, placing him among the first group of gays and lesbians to join the military after the implementation of DADT. Ratliff began a journey that took him from Kentucky to Hong Kong, from the decks an aircraft carrier to Washington, D.C. And as for the official policy of DADT, says Ratliff, "It became my normal."
He recalls only one time in his career where being gay was an issue that could have led to his leaving the Navy, at one of his first duty assignments.
"The men that I was serving with were retired Navy, and they were saying things to me like, 'Why don't you ever talk about girls?"' he says. "It got to the point where they would say, 'Don't cross your legs, it looks like a girl,' [and other] things that were sexual harassment."
He consulted with a Navy lawyer, expecting separation — "I finally said, 'I want out, I don't want to do this anymore"' — but instead he was offered a transfer.
"It's what saved my career," he says.
Like many others, Ratliff kept a strict line between his work life and his personal life, walking through the closet door when arriving at work and coming out of it in his off-hours. But there was still tension between the two, such as the prerequisite sweep of his apartment to hide photos and such if someone from work was coming over, as well as the conspicuous avoidance of discussing personal topics while on duty.
In a career development that would seem even more tense, Ratliff ended up in the legal department where he handled DADT-related cases. On the one hand, it made it easier to head off cases where servicemembers were targeted by unfounded rumors or angry exes.
"I can tell you that in my career, if it didn't involve sexual misconduct or the person admitting and wanting out of the military, I have never processed a case [that was] a witch hunt," he says.
But it was difficult to see circumstances that forced other servicemembers to leave. Although some, he notes with a hint of disdain, chose to use DADT as an excuse to get out, others were forced to leave when faced with choosing between being reassigned across the country or staying with a same-sex spouse who couldn't afford to make the move as well.
For gays and lesbians in the military, that's now largely changed. But one year after repeal, Ratliff says the change hasn't been seismic in terms of visibility on the job: "Everyone has their own comfort level with being out." And even though many heterosexuals seemed to fear that everything would "immediately turn gay" after repeal, the real-world experience has been much more subdued.
"We're still scared. We're still a little frightened to come out completely, because there could be repercussions that we're unaware of," he says. "We're testing the waters."
For him, the first testing of his "new normal" happened recently.
"I took my boyfriend to meet my boss. She's just so accepting, unbelievably accepting," he says. "I think there's only one person in my office who really doesn't know, but everyone else pretty much picks up on it. That's probably the biggest change, is that I don't care now. Let 'em know."
For Ratliff, there's been a growing awareness of just how much of his own life he had locked away under DADT — hiding post-breakup heartache, not having the people closest to him present at important moments in his career, such as receiving his chief's pin. Those things are now a part of his past.
The newfound freedom in the post-DADT world has also drawn him closer to the LGBT movement for equality, including immigration and marriage issues, as his boyfriend has just had to return to France, leaving them to consider what options they may have to maintain their relationship. And as he nears the completion of 20 years of service and the possibility of retirement, he faces the choice of continuing his career in the Navy or exploring a completely new phase in life.
Whatever path he chooses, he'll be able to make it in the same way he now serves his country: openly, honestly and proudly.