If your idea of a little something extra is WAMU's thoughtful Kojo Nnamdi, you're in luck this season. He'll be hitting all sorts of topics at the University of Maryland. If your tastes run a bit edgier, there's plenty of Joey Arias to be had at L'Enfant Cafe, or take in Margaret Cho in Annapolis. Or finally get to the bottom of the difference between a plain ol' olive and a really good olive oil when Ina Garten comes to Sixth & I Historic Synagogue.
AFI SILVER THEATRE
8633 Colesville Road
Silver Spring
301-495-6720
afi.com/Silver
Ballet In Cinema: Bolshoi Ballet's La Sylphide – A simulcast from Russia offering a production of one of the oldest surviving romantic ballets, dating to 1836 (10/13, 10/15)
Opera In Cinema: Teatro Comunale di Bologna's L'Italiana in Algeri – Simulcast of Rossini's opera in a production starring Anna Maria Sarra and Michele Pertusi (10/14)
Ballet In Cinema: Nederlands Dans Theater's Move to Move (10/19)
Ballet In Cinema: La Scala Ballet's L'Altra Meta del Cielo (10/21-22)
Opera In Cinema: Opera on Sydney Harbour's La Traviata – Simulcast of Verdi's famous opera in a production starring Emma Matthews and Jonathan Summers (11/3, 11/8)
Ballet In Cinema: Royal Ballet's Swan Lake – Black swan and white swan go at it in this, the classic ballet by Marius Petipa and Lev Ivanov with music by Tchaikovsky (11/4-5)
Opera In Cinema: Teatro Regio di Torino's Un Ballo in Maschera – Another Verdi opera, a production starring Gregory Kunde, Gabriele Viviana and Oksana Dyka (11/6)
THE ALDEN
McLean Community Center
1234 Ingleside Ave.
McLean, Va.
703-790-0123
aldentheatre.org
Hot Club of San Francisco's Cinema Vivant – Guitar-heavy "gypsy jazz" group performs while screening silent films by pioneering stop-action animator Ladislas Starewicz, plus one by original live-action animator Charley Bowers (11/17)
Dick Gregory – African-American comedian, who got his start alongside Bill Cosby and is credited with helping change how white Americans perceive black comedians, talks of his work with Martin Luther King Jr. in observance of the late civil rights leader's birthday (1/19/13)
ARLINGTON CINEMA N' DRAFTHOUSE
2903 Columbia Pike
Arlington
703-486-2345
arlingtondrafthouse.com
TJ Miller – Comic actor from Get Him to the Greek, who could be the twin straight brother of Chelsea Lately's Fortune Feimster (9/15)
Dave Foley – The Kids in the Hall and News Radio star comes to town for stand-up (9/21-22)
Cool Cow Comedy Showcase – A 60-minute comedy show every Thursday night
ThreeGuysOn's The Final Draft – Popular comedy podcast offers stand-up every Friday night
Open Mic Stand-Up Comedy – A free-for-all every Saturday night
BARNS AT WOLF TRAP
1645 Trap Road
Vienna
703-255-1900
wolf-trap.org
America's National Parks: Through the Artist's Lens, Volume 2 – Wolf Trap Opera Company vocalists and pianist perform songs paired with the nature photography of Wolf Trap's Terre Jones (2/15/13)
Broadway's Next H!t Musical – Improvisers invent a new Broadway musical smash on the fly, based on audience suggestions, whip-smart accompaniment and razor-sharp talent (4/12-13/13)
28th Annual Evening of Comedy – Nationally recognized comedians perform side-splitting stand-up (5/3-4/13)
BLACK CAT
1811 14th St. NW
202-667-4490
blackcatdc.com
Dr. Who Happy Hour – One episode of Dr. Who and drink specials every Friday, for free
Hellmouth Happy Hour – One episode of Buffy the Vampire Slayer and drink specials every Saturday, for free
THE BIRCHMERE
3701 Mount Vernon Ave.
Alexandria
703-549-7500
birchmere.com
Raven's Night 2012 – Belladonna & Bohemian Belly Dance present a twisted cabaret in time for Halloween (10/20)
Kate Clinton – Lesbian comic stops in the swing state two weekends before the election for a show she's calling All Fracked Up! (10/26)
Paula Poundstone – Longtime standup comic, self-proclaimed "virginish" and "asexual," is these days usually the funniest person on NPR's amusing weekend news quiz show Wait Wait… Don't Tell Me! (11/17)
A John Waters Christmas – The gay filmmaker returns for his annual show (12/10)
Four Bitchin' Babes – "Jingle Babes" edition (12/14-15)
Suzanne Westenhoefer (2/1/13)
BUSBOYS AND POETS
2021 14th St. NW
202-387-POET
busboysandpoets.com
Tuesday Night Open Mic Poetry – Wide-ranging topics and speakers for two hours every Tuesday
The 11th Hour Poetry Slam – Opportunity for poetry lovers to enjoy the competitive art of late-night performance poetry
Sunday Kind of Love Open Mic Poetry – Featuring emerging and established poets in an open-mike segment
Story League Story Contest – Every third Wednesday of the month brings "story shows," or collaborative story-performing exercises in which storytellers get guidance on honing their craft; the best wins $100
SPARKLE Queer Open Mic – Queer-friendly, queer-focused reading series, hosted by Regie Cabico and Danielle Evennou (9/26, at 1025 5th St. NW location)
Nine on the Ninth Open Mic Poetry – The 9th of every month, at 9 p.m.
CLARICE SMITH PERFORMING ARTS CENTER
University of Maryland
College Park
301-405-ARTS
claricesmithcenter.umd.edu
Creative Dialogue: The Scientific Method and the Creative Process – WAMU's show host extraordinaire Kojo Nnamdi moderates a brainy panel of artists and scientists, including UMD professors Bill Dorland and Hasan Elahi and choreographer Liz Lerman, exploring the cognitive spaces where art and science meet (9/18)
Creative Dialogue: Creativity and the Elder Artist – Another brainy panel moderated by Kojo Nnamdi, this time focused on studies that suggest the aging process can be slowed down by older adults engaging in creative activities (10/16)
Creative Dialogue: Writing and Celebrating in the African-American Tradition – Kojo Nnamdi hosts still another panel, this one focused on Christmas and holiday traditions in communities of the African diaspora (11/26)
Health Holiday Soul Food Alternatives with Chef Kenny Clay – Executive chef of Clyde's of Gallery Place cooks up samples and shares recipes in this event co-sponsored by Prince George's County Memorial Library System (12/3-4)
Creative Dialogue: A Conversation about Women and Resistance – Kojo Nnamdi strikes again, this time with a panel on the tensions women across cultures face in public demands and private desires (4/1/13)
Creative Dialogue: Considering the Human Condition: On Behalf of Nature – Doesn't Kojo Nnamdi get tired of talking? He returns to moderate a panel discussing how science, art and spirituality can influence the way we are living on the planet (4/29/13)
DAR CONSTITUTION HALL
1776 D St. NW
202-628-1776
dar.org/conthall/
Kathy Griffin (10/19)
Shaq's All Star Comedy Jam (11/3)
DC IMPROV
1140 Connecticut Ave. NW
202-296-7008
dcimprov.com
Neal Brennan – Co-creator of Comedy Central's Chappelle's Show (9/13-16)
John Caparulo – Regular funny, schlubby comedian on Chelsea Lately (9/20-23)
DC Improv Comedy School Cast – A night of improv comedy starring the house-grown troupe (9/21, 10/17, 10/26)
Mitch Fatel (9/27-30)
Tom Papa (10/4-6)
Erin Jackson – As seen on Last Comic Standing and The Ellen DeGeneres Show (10/7)
Jason Weems (10/11-13)
Ari Shaffir (10/19-21)
Jim Breuer (10/26-28)
Bob Marley -– Not that Bob Marley (11/14-18)
Donnell Rawlings (11/23-25)
Dave Attell (11/29-12/2)
Paul Mecurio (12/5-9)
Alonzo Bodden (12/13-16)
Loni Love – The best guest panelist on Chelsea Lately returns to the DC Improv, courtesy of Santa Claus (12/19-22)
Adam Ferrara (12/28-31)
Huggy Lowdown and Chris Paul – From Magic 102.3's Tom Joyner Morning Show (1/17-20/13)
FOLGER SHAKESPEARE LIBRARY
201 East Capitol St. SE
202-544-7077
folger.edu
Elizabethan Garden Tours – Docents offer tours of the Folger garden, inspired by herbal references in Shakespeare's plays and also incorporating plants popular in his time, plus a knot garden and Shakespearean statues by American sculptor Greg Wyatt (9/19, 10/17)
Yale Series of Younger Poets: Carl Phillips and Eduardo C. Corral (9/17)
Jeffrey Eugenides – Pulitzer Prize-winner for Middlesex reads from his new novel, The Marriage Plot, a 21st century variation on Jane Austen, focused on a love triangle among three college students (9/24)
Early Music Seminar: LONDON – Folger's artistic director Robert Eisenstein offers insight into composers and their world (9/26)
Deborah Harkness: The Experience of Early Modern London – UCLA professor and expert on Elizabethan London discusses what it would have felt like to move around and through the early modern city (9/27)
Poets on Politics: Nikky Finney, Brian Turner and Kwame Dawes – One week before Election Day the O.B. Hardison Poetry Series explores the role of politics in the literary landscape today (10/30)
Peter Sis – MacArthur fellow and Caldecott award winner and a seven-time honoree by The New York Times Book Review for Best Illustrated Book of the Year (11/2)
Ricky Jay – One of the world's great sleight-of-hand artists and author speaks on topic of "Deception" (11/8)
Robert Stone & Lauren Groff: Authors will speak about "the idealism and aftermath of utopian aspirations" (11/12)
Stephen Landrigan & Qais Akbar Omar: Shakespeare in Kabul (11/16)
The Anthony Hecht Poetry Prize: Mark Strand & Chris Andrews (11/19)
Emily Dickinson Birthday Tribute: Kay Ryan (12/3)
The PEN/Malamud Award: James Salter (12/7)
Shakespeare's Birthday Lecture 2013: Andrew Hadfield – University of Sussex professor offers a lecture titled "Graymalkin and Other Shakespearean Celts" (4/8/13)
Folger Gala – The venue's most important fundraiser of the year (4/11)
Shakespeare's Birthday Open House – Jugglers, jesters, musicians and actors all re-create the time and stories of Shakespeare for this party, complete with a birthday cake and tour of the reading rooms (4/21)
FORD'S THEATRE
511 10th St. NW
202-397-7328
ticketmaster.com
History on Foot Walking Tours – Actors playing characters from Civil War-era Washington lead two weekend morning tours through downtown D.C.: "A Free Black Woman: Elizabeth Keckly" focuses on a confidante to first lady Mary Todd Lincoln, while "Investigation: Detective McDevitt" follows a detective investigating the Lincoln assassination (McDevitt runs now through October; Keckly is by appointment)
Tuskegee Airmen: Dreaming of Skies to Conquer – Free panel discussion with airmen discussing the history and influence of the group on the American military, civil rights and related issues (10/1)
Counting the Brave and the True – Free panel discussion exploring diversity in the armed forces and how it relates to the Civil Rights Movement and contemporary issues (10/8)
Brig. Gen. Tammy Smith & David Hall: Staying the Course – Free panel discussion exploring the future of the armed forces with the first openly gay officer of flag rank in the U.S. military and a former Air Force cadet captain and flight commander discharged under "Don't Ask Don't Tell" (10/15)
GALA HISPANIC THEATRE
3333 14th St. NW
202-234-7174
galatheatre.org
Cine Mexicano: Primer Ciclo: La pantalla comica – Cinema Tropical's Carlos Gutiérrez curates this film series, part of GALA's Arteamerica programming with the Washington Performing Arts Society, of landmark Mexican comedic films, including the lucha libra films of the '60s to directors Diego Luna and Gael Garcia Bernal of today (10/12-14)
Saulo Garcia in Entrada Gratis – Raucous Colombian comedian and commentator pokes fun at the little white lies we all must learn to live with in this stand-up directed by Yoshvani Medina and presented by Arteamerica (12/7-8)
Fiesta de los Reyes Magos – GALA's traditional Three Kings celebration (1/6/13)
HILLWOOD MUSEUM & GARDENS
4155 Linnean Ave. NW
202-686-8500
hillwoodmuseum.org
Gay Day – Activities at the 11th annual Gay Day at Hillwood include an LGBT family garden party with Rainbow Families DC, "Punch on the Portico," exclusive peeks into rooms not usually open to the public, vintage cars from Straight Eights, and performances by singers from the Gay Men's Chorus of Washington and DC Lambda Squares (9/15)
Nuit de la Mode (Night of Style) & Art All Night – Hillwood teams up with Alliance Française de Washington and Art Soirée for an evening of fashion, culture and art (9/22)
Hands-on Workshop: How to Get Your Orchid to Rebloom (10/13, 10/20)
Spooky Pooch Howl-o-ween Celebration – This one's gone to the dogs (10/27)
Fabulous Wreath Workshop (12/1, 12/15)
Russian Winter Festival (12/8-9)
Fabergé Egg Family Festival – Festive Russian folk music and storytelling and a centuries-old egg-rolling game, plus workshop to decorate your own Fabergé-inspired egg (3/23-24/13)
JOE'S MOVEMENT EMPORIUM
3309 Bunker Hill Road
Mount Rainier, Md.
301-699-1819
joesmovement.org
Thrill The World 2012 – A worldwide event honoring the music of Michael Jackson, featuring dancing zombies thrilling spectators in time for Halloween (10/27)
Ayanna Gregory – Daughter of the Struggle is an autobiographical one-woman show by a daughter of civil-rights activist Dick Gregory (11/10)
Va Va VOOM – Local alternative performance artists offer a night of burlesque, comedy and daring feats, all over booze and finger foods (12/15)
JOSEPH MEYERHOFF SYMPHONY HALL
1212 Cathedral St.
Baltimore
410-783-8000
ticketmaster.com
Baltimore Speakers Series: President Bill Clinton (10/16)
Baltimore Speakers Series: Jeannette Walls – Journalist for New York, USA Today and MSNBC and author of bestselling memoir The Glass Castle (10/30)
Bill Engvall – Blue-collar comedy (11/9)
Baltimore Speakers Series: Lisa Ling – A former cohost of The View, Ling is known for her passionate and in-depth coverage of difficult international stories (11/27)
Louis C.K. (12/31)
Baltimore Speakers Series: P.W. Singer – Currently a senior fellow at the Brookings Institution and a preeminent specialist on 21st century warfare (1/15/13)
The Intergalactic Nemesis: Live Action Graphic Novel, Book One: Target Earth – An uproarious and nostalgic look back at the glory days of radio plays, rolled into one very modern stage performance (1/18/13)
Baltimore Speakers Series: Erskine Bowles – Former Clinton White House chief of staff and president of the University of North Carolina system who most recently served as co-chair of the bipartisan National Commission on Fiscal Responsibility and Reform (2/4/13)
Baltimore Speakers Series: Vincente Fox – Former president of Mexico (3/19/13)
Baltimore Speakers Series: Nando Parrado – A Uruguayan rugby player, one of 16 survivors of a plane crash in the Andes Mountains that inspired the movie Alive (4/16/13)
KENNEDY CENTER
202-467-4600
kennedy-center.org
Jason Moran, David Alan Grier and Dr. Charles Limb – "All in the Timing: A Discussion of Comedy and Jazz" features a discussion about improvisation, the creative process and the intersections of comedy and jazz (11/10)
Yvonne Caruthers's Virtuosos "R" Us – National Symphony Orchestra cellist guides participants through the building blocks of a concerto: ossias, rubato and cadenzas (1/14/13)
Saul Lilienstein: Becoming Mozart – Musicologist traces the evolution of Mozart, from wonder child of Salzburg to final years of artistic triumph in Vienna (3/4/13)
Mary Lou Williams: The Lady Who Swings the Band – Explore the Arts offers a screening followed by a discussion of Carol Bash's new documentary on the life and legacy of renowned jazz pianist, composer and arranger, as well as namesake of the Kennedy Center's concurrent Women in Jazz Festival (5/18/13)
L'ENFANT CAFE AND BAR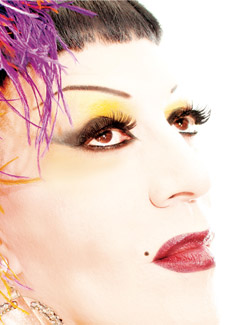 Joey Arias
2000 18th St. NW
202-319-1800
lenfantcafe.com
SpeakEasy: The Bar d'O Reunion w/Joey Arias, Sherry Vine and Raven-O – Singing drag star Joey Arias kicks off another round of his select Sundays event, featuring a three-course dinner and cabaret, with two other singing divas who got their start at the legendary former West Village venue Bar d'O (9/16)
SpeakEasy: Joey Arias and Lady Bunny – The extremely funny Bunny, founder of Wigstock, returns to D.C. only a month after performing with Town's drag queens (9/30)
HRC Dinner After-Party with Paddy Boom – Former Scissor Sisters drummer will spin a retro style of music and even factor in live percussion for a party after the national HRC dinner (10/6)
SpeakEasy: Joey Arias & His Band – Noted jazz bassist helps fill out Arias's bottom (10/14)
SpeakEasy: Joey Arias and Flotilla DeBarge – Expect a spooky good time right before Halloween; heck, might as well even dress up for the occasion (10/28)
Joey Arias & Friends (11/11)
Mike Albo & Margo Gomez Make Queer Comedy – New York nightlife comedy darlings tag-team for a night of bright, brash, hilarious, gay hijinks (11/18)
Speakeasy: The Holiday Cabaret feat. Joey Arias and Flotilla DeBarge – Be on the lookout for mistletoe (12/9)
LISNER AUDITORIUM AT GWU
730 21st St. NW
202-994-6800
lisner.org
Jeffrey Brown & Scott Simon: Searching for Civil Dialogue in a Divided America – PBS NewsHour senior correspondent and NPR Weekend Edition Saturday host discuss how to break through the current partisan political fervor in an event co-sponsored by GW's Graduate School of Political Management and School of Media and Public Affairs (9/20)
Bill O'Reilly – yes, "Papa Bear," as Stephen Colbert fake-lovingly calls him (10/6)
Salman Rushdie – In Joseph Anton: A Memoir, the Booker Prize winner recounts the nine years he lived under constant police protection – and a code name – while the Iranian government had a fatwa out on his life for writing the novel The Satanic Verses (10/8)
NATIONAL BOOK FESTIVAL
National Mall
3rd and 7th Streets NW
loc.gov/bookfest
President Barack Obama and first lady Michelle Obama are honorary chairs once again for the National Book Festival, now in its 12th year. The Library of Congress organizes the event featuring the nation's best and best-selling authors discussing their work and interacting with fans. This year's festival is especially notable for the rare inclusion of a book on LGBT life, Christopher Bram's Eminent Outlaws: The Gay Writers Who Changed America, a complement to this year's overall theme (and current Library of Congress exhibition), "Books That Have Shaped America." Others in this year's lineup include: Douglas Brinkley, Donna Britt, Thomas Friedman, Steve Inskeep, Jeffrey Toobin, Eric Weiner, Daniel Yergin, Julie Nixon Eisenhower, Walter Isaacson, Tony Horwitz, Chris Matthews, Stephen L. Carter, Patricia Cornwell, Mario Vargas Llosa, Junot Diaz, Jeffrey Eugenide (9/22-23)
NATIONAL GEOGRAPHIC LIVE!
Grosvenor Auditorium
NGS Headquarters
1600 M St. NW
202-857-7700
nglive.org
The Arab Table – Jordanian author May Bsisu explains the traditions and occasions surrounding her most delectable dishes contained in her recipes book, followed by a sampling (9/18)
2012 All Roads Film Festival – Showcasing indigenous- and minority-culture film, photography and music (9/17-11/18)
The Longest Way Home – The actor Andrew McCarthy – yes, the former "brat packer," is also now a travel writer, and he talks about how exploring the world has helped him find "the courage to settle down" (9/21)
Sky Caves of Nepal – Climber Peter Athans, climber/photographer Cory Richards and archaeologist Mark Aldenderfer discuss their explorations of a treasure-laden cave complex in a crumbling sandstone cliff in remote Nepal (10/4)
Cultures on the Edge – A former assistant to Ansel Adams, Chris Rainier offers a new book that illuminates present-day societies vulnerable to powerful changes (10/5)
Solar System Exploration @ 50 – Bill Nye, "the Science Guy" and a distinguished panel of leading NASA scientists celebrate our planetary discoveries (10/24)
What Makes a Society Successful: A Look at Human and Chimpanzee Communities (12/11)
Irish Christmas in America (12/15)
PATRIOT CENTER
George Mason University
4500 Patriot Circle
Fairfax
703-993-3000
patriotcenter.com
Disney on Ice presents Rockin' Ever After (10/17-21)
tobyMac w/Special Guests (12/7)
Sesame Street Live: Can't Stop Singing (12/13-16)
RAM'S HEAD ON STAGE
33 West St.
Annapolis
410-268-4545
ramsheadonstage.com
Margaret Cho – Queer comedian's new standup show, Mother, offers an untraditional look at motherhood and strong women, and surely – hopefully – will include Cho riffing on her own mother (9/25)
The Living Corpse: Screening + Signing – Capital Comics presents Buz Hasson and Ken Haeser, creators of the underground hit graphic novel, now featuring a computer-animated adaptation (9/29)
Paula Poundstone (12/8)
SIXTH & I HISTORIC SYNAGOGUE
600 I St. NW
202-408-3100
sixthandi.org
Wyclef Jean – Hip-hop/soul artist discusses his new memoir Purpose: An Immigrant's Story (9/20)
Bleus & Brews: A Seasonal Beer and Cheese Tasting with the Beer Activist – Chris O'Brien, author of Fermenting Revolution: How to Drink Beer and Save The World, teams up with Adam Smith of Cowgirl Creamery for this hoppy and cheesy event (10/11)
Mock The Vote: Pre-Election Comedy Showcase – Jordan Carlos, Stephen Colbert's black friend "Alan" on The Colbert Report; Jeff Kreisler, head writer for The War Room with Jennifer Granholm; and Lee Camp, contributor to The Onion, form a comedic SuperPAC for this event hosted by Brian Parise (10/13)
Daniel Smith – Author explores his 16-year struggle with anxiety in Monkey Mind: A Memoir of Anxiety (10/15)
Zadie Smith – Author most recently of the tragi-comic novel NW (10/18)
Ina Garten: In Conversation with Bonnie Benwick – The Barefoot Contessa and The Washington Post food editor talk shop (10/31)
Why Women Still Can't Have It All – A panel discussion with The Atlantic's Anne-Marie Slaughter, Hanna Rosin and James Bennet (11/5)
SPEAKEASYDC
240-888-9751
speakeasydc.com
Unraveled w/Washington Improv Theater – Local storytelling juggernaut SpeakEasyDC teams with local improvising masters WIT to bring a mash-up of true stories and improvisation, unraveling the possibilities lurking inside each story (9/22, Atlas)
Paranormal Activity: Stories about Hauntings, Clairvoyance and Alien Abductions (10/9, Town Danceboutique)
Story Showdown – A Price Is Right-themed "storytelling game show" competition hosted by Rob Parker (real-name Kevin Boggs) (11/2-3, Dance Place)
Rock The Vote: Stories about Popularity, Power and Scandal (11/13, Town)
Sucker for Love (2/14-16/13, Dance Place)
SpeakeasyDC's You Make Daddy Cry: Stories about Being a Father (6/15/13, Dance Place)
STRATHMORE
5301 Tuckerman Lane
North Bethesda
301-581-5100
strathmore.org
Fran Lebowitz and Frank Rich: A State of the Union Conversation – Cultural satirist and legendary New York critic and essayist engage in a lively onstage conversation focused on themes from the presidential election race (10/19, Music Center)
David Sedaris – The famous gay satirist and hilarious essayist reads from some of his favorite works and takes questions from the audience (10/23, Music Center)
Symposium: Unified Elements of Tattooing – Paul Roe of British Ink on H Street NE leads a discussion on the art of the tattoo, from ancient Egypt to today, a complement to Strathmore's tattoo-heavy "Skin" exhibit (10/27, Mansion)
Billy Collins & Mary Oliver – Former U.S. poet laureate, dubbed "the most popular poet in America" by The New York Times, reads from his humorous and witty poetry alongside a Pulitzer Prize-winning poet sharing excerpts from her latest project, A Thousand Mornings (10/28, Music Center)
Luma Theater – Spectacular light show offering inspired, whimsical, funny and awe-inspiring creations (2/23/13, Music Center)
THE STATE THEATRE
220 North Washington St.
Falls Church
703-237-0300
thestatetheatre.com
$5 Comedy Night – A cheap night of standup (9/21)
Steve Solomon – My Mother's Italian, My Father's Jewish & I'm in Therapy (10/14)
Andres Lopez – Comedy (10/17)
An Evening of Comedy: Johnny Rizzo and Jane Condon (10/23)
VERIZON CENTER
601 F St. NW
202-628-3200
verizoncenter.com
Kevin Hart: Let Me Explain Tour – Fresh from guest hosting Chelsea Lately, the cute, diminutive comedian is on the up and up (10/20)
54rd Annual Washington International Horse Show (10/23-28)
Ringling Bros. and Barnum & Bailey: Dragons (3/21-24/13)
WARNER THEATRE
513 13th St. NW
202-397-SEAT
warnertheatre.com
Lewis Black – Black is back, back in Black, for hometown crowds reaching election-fever pitch (9/27-29)
Eckhart Tolle – German-born Canadian once called the "most spiritually influential person in the world" (10/4)
Maz Jobrani (10/6)
Anjelah Johnson – Best known for her work on MADtv (10/13)
The Price Is Right: Live Stage Show (10/25)
WEST END CINEMA
2301 M St. NW
202-419-FILM
westendcinema.com
Ballet In Cinema: Nederlands Dans Theater's Move to Move – An evening of four contemporary dance masterpieces that The New York Times raves "if you see one live performance this year [this] is the one to see" (9/24, 9/29)
Opera In Cinema: Opera on Sydney Harbour's La Traviata – Opera Australia performs on a floating stage under the stars in a production directed by Francesca Zambello (10/1, 10/6)
Ballet In Cinema: Bolshoi Ballet's La Sylphide (10/8, 10/20)
Opera In Cinema: Teatro Regio di Torino's Un Ballo in Maschera – What's more timeless than a tale of a politician in love with somebody else's wife? A new production of Verdi's opera stars Gregory Kunde as the amororous Riccardo (10/29, 11/3)
Ballet In Cinema: Royal Ballet's Swan Lake – Probably the greatest of all romantic ballets, Anthony Dowell offers a definitive production of the classic with music by Tchaikovsky and choreography by Petipa (11/5, 11/10)
Opera In Cinema: La Scala's Siegfried – Daniel Barenboim conducts a new production from Wagner's Ring Cycle (11/12, 11/17)
Opera In Cinema: Royal Opera House's Le Nozze di Figaro – David McVicar's wonderfully illuminating production of Mozart's classic (12/3, 12/8)