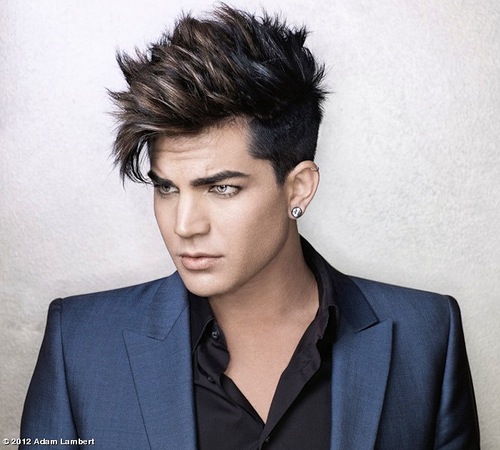 "I kind of shy away from political events and issues — not because I don't have my own opinions, but because I find it to be a very sensitive thing," says Adam Lambert. "And quite frankly, I'm a little bit frustrated with politics in this country. From somebody who hasn't gotten super involved, it seems like a lot of mudslinging and B.S. to me."
Yet Lambert agreed without reservation to be the headliner at a fundraiser concert benefiting Marylanders for Marriage Equality this Tuesday, Sept. 25, at D.C.'s legendary 9:30 Club. The surprise benefit was announced last Wednesday by at the club's co-owner, I.M.P. chairman Seth Hurwitz. "Knowing that I am a Maryland resident, both Governor O'Malley and Council President Berliner called to see if we could help raise funds for this landmark cause," Hurwitz said in a statement. "Although the 9:30 Club is in D.C., it's the natural and best place to achieve what we wanted to with the least expense. All of the profits will be going to the campaign. Although we historically don't get involved in political causes, on this issue I cannot stand by. People's personal opinions should not affect fairness and equality for all."
Lambert, an American Idol veteran and the first openly gay mainstream pop artist to debut at number one on the Billboard album chart with his newest release "Trespassing," agrees.
"Ideally, that's what being an American is — that we all have a shot [at marriage]. I hear a lot of arguments against it, where [gay activists] say, 'We should be focusing on economic issues and not human rights issues, for the election.' There's some value in that. But I also think, 'You know what? This is an economic issue for gay people. We should have the same right as a straight couple to have a tax exemption…. We should be able to raise a family that's equally protected under the law."
Lambert, who spoke with Metro Weekly by phone late Friday afternoon, is thrilled to lend his efforts to support Marylanders for Marriage Equality and its push to get out the vote for Question 6, a referendum on Maryland's Civil Marriage Protection Act. "Question 6 isn't something that's asking me whether or not you're a Democrat or a Republican," says Lambert. "It's just a direct human rights question."
Asked if he thinks more of his straight colleagues should lend their efforts to the marriage equality cause, Lambert responds, "I think it's baby steps…. We have to keep in mind that it's difficult for people to sidestep into territories they're not comfortable in. I'm a singer, I'm an entertainer. I'm not a politician. But this is an issue that affects me because it supercedes politics.
"In the entertainment community," he continues, "people are doing what they can. If you look at this fall season of television, there's a couple shows that are coming on with very honest, gay characters portraying real gay lives in relationships. I think that's a huge step forward. There's things that we're all doing to try to make people comfortable and to help people understand, to help erase some of the stereotypes. And that's the hardest part, that balance of celebrating who we are and our eccentricities and also trying to help people that are on the outside understand who we are.
"The hurdle I'm always kind of running into, is that the movement for a while has been about us trying to display how we're the same as opposed to how we're different. I recognize that as a very important part of us blending together. But it's not my style," says the singer known for his glam-rock flamboyance. "I'm somebody who likes to be weird and different and outrageous. That's who I am as an entertainer. And so, sometimes I might not fit in with what's best for the community as far as us progressing with society. But you've got to also give a voice to those [of us] who want to be outrageous and different and rebels."
"I'm about freedom of expression more than anything else," he says. "I like to push buttons a little bit — buttons that are kind of perverse or contrary. I like to take the other side and challenge things. It's just who I am. It's part of my personality."
The Marylanders for Marriage Equality benefit show featuring Adam Lambert is this Tuesday, Sept. 25 at the 9:30 Club, 815 V St. NW. General admission tickets are $125. VIP Tickets, which include early admission, a commemorative poster signed by Lambert and a special VIP viewing area, are $175. Premium tickets, which include a pre-show Adam Lambert meet and greet VIP reception with food and drinks and Premium viewing area, are $250. All proceeds benefit Marylanders for Marriage Equality. Doors are at 7 p.m., the show begins at 8 p.m. The Premium Meet and Greet is at 6:30 p.m. Tickets are available starting Fri., Sept. 21 through Ticketfly.com or at the 9:30 Club and Merriweather Post Pavilion box offices.
Get Poliglot in your inbox. Join our mailing list.