Although none of the Friday morning speakers said they knew of any Maryland pastors advising congregants to forgo voting on Election Day, the Rev. Howard-John Wesley, pastor of the Alfred Street Baptist Church in Alexandria, said his deacons advised him of family members receiving such requests elsewhere – Richmond and New Jersey, specifically.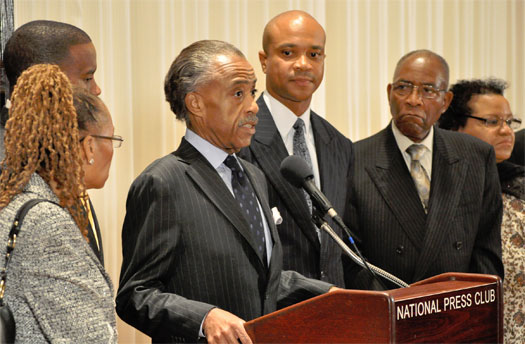 Rev. Al Sharpton speaks at the National Press Club as part of African American Pastors 4 MD Marriage Equality
(Photo by Todd Franson)
"I am ultimately concerned about those who would use this as a political wedge to suppress those who would vote in the November elections," said Wesley, who has many Maryland congregants, particularly from Prince George's County. "It is absolutely deplorable and reprehensible for anyone to suggest that this an issue that should keep us from the polls. I would encourage all people of faith not to fall prey to this tragedy."
"I'm a good enough preacher to convert you, I don't need to force you to believe in what I believe in," Sharpton said in a swipe at those pastors encouraging African-Americans not to vote. "Any preacher who cannot win converts should not ask the legislature to pick up for his ineptness."
Asked if they would appear in commercials on behalf of marriage equality to counter ads by opponents who have purchased four weeks of pre-election advertising, Sharpton said he would. Coates and Braxton said their group of clergy will be engaging in several events to educate the public about Question 6 as part of a "full-court press" to convince voters to support the ballot question.
"I think you're seeing here today leading voices, mainstream voices in the African-American community on this issue," Coates said in response to a question citing a rival press conference held simultaneously in Virginia by African-American pastors opposed to marriage equality. "I've heard Rev. Sharpton say before, 'There's a difference between "the black church" and "a church of blacks." The black church represents that tradition of African-American Christian religion that has been on the side of freedom, justice and equality. Those voices that you hear [here] today represent a black-church tradition."
You might also enjoy this compilation video from Marylanders for Marriage Equality: