Immigration Equality, the national organization working toward equality for LGBT and HIV-positive people under U.S. immigration law, with offices in New York and D.C., honored longtime D.C. activist Barrett L. Brick with the organization's Global Vision Award at their annual Capital Reception, held Sept. 13.
"I'm really touched that so many people think what I've been doing these past years is worthy of recognition," says Brick, known locally for a number of community involvements, particularly with the Gay and Lesbian Activists Alliance of Washington, D.C. (GLAA), where he served three terms as president, from 2006 to 2009.
"Barrett, whose husband is South African, is one of the most recognized, and revered, LGBT advocates in the D.C. community," Immigration Equality stated in release announcing the award. "He is also a longtime supporter of Immigration Equality and a consistent voice in speaking out on behalf of LGBT immigrant families."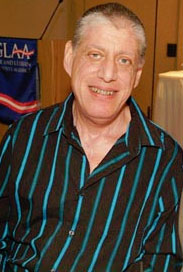 Barrett Brick
Ward Morrison/File photo
That sense of global activism, such as serving as the executive director of the World Congress of Gay and Lesbian Jewish Organizations, predates his own personal experience with such issues that followed meeting the man he would marry, Antonio Ruffini, at the 1999 World Science Fiction Convention in Melbourne, Australia.
Brick used that meeting as launching point for his Sept. 13 speech, telling those gathered at the Mitchell Gold + Bob Williams furniture store on 14th Street NW for the soiree, "Many people think of science fiction as a straight male universe, but, like all things that seem on the surface to be ultra masculine, it is pretty gay. … But science fiction, at its best, is not about aliens or space battles. Good science fiction peers into our very lives and souls and examines who we are as a society and who we want to be."
Brick says that Immigration Equality is helping to take society in a direction he appreciates, particularly with the organization's lawsuit challenging the Defense of Marriage Act, which prohibits the federal government from recognizing same-sex marriages, thereby barring Americans from sponsoring foreign same-sex spouses for immigration visas, a right routinely enjoyed by Americans sponsoring foreign spouses of the opposite-sex.
Beyond the worlds of sci-fi, right here on Earth, today, Brick says he and Ruffini manage to see each other about three times a year, whether in D.C. or Johannesburg, where Ruffini lives. Having married in South Africa in 2009, where marriage equality is law, Brick says he could apply for residency in that country as the legal spouse of a citizen. At the moment, however, Brick says both he and Ruffini are dealing with medical issues that have them focused on the present rather than the future.
Despite the legal complications that remain, however, Brick and Ruffini's marriage outweighs the obstacles. While those obstacles remain, Brick offers commonsense advice for anyone who may find himself in a situation similar to the one Brick did in 1999: "Follow your heart, but be aware of the all the legal ramifications."