If you truly want to experience the performing force of nature known as Patti LuPone, Google "Patti LuPone Anything Goes" and click on the ensuing YouTube link. Then revel in awestruck delight as you view the clip of her performance from the 1988 Tony Awards. LuPone was nominated for that very portrayal of Reno Sweeney, but, regrettably, didn't win. No matter. The lady has been awarded plenty of Tonys, Drama Desks, Oliviers, and has been nominated for just about every major production she's helmed since the mid-1970s.
One of Broadway's bona fide legends, Patti LuPone is that rare songbird – although song-belter seems far more apt – who can turn in a dramatic performance that will leave your jaw agape, your emotions in turmoil and your devotion to her in full throttle.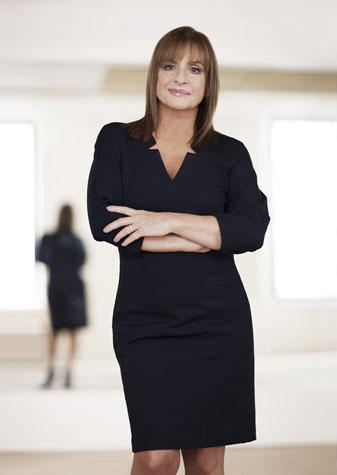 Patti LuPone
(Photo by Ethan Hill)
She was Broadway's original Eva Perón. She was London's original Fantine. She was also London's original Norma Desmond, only to famously lose the role to Glenn Close when Andrew Lloyd Webber's Sunset Boulevard was transplanted to the states. It took her some years – and the putting aside of a decade-long feud with the legendarily fussy Arthur Laurents – to make Gypsy's Mama Rose her own (which provided both a Tony and Drama Desk for her mantel). She's sung Sondheim, acted McNally and Mamet, and, most recently, she partnered with friend and colleague Mandy Patinkin in a series of concerts.
LuPone is a little less well-known – though no less regarded – for her film and TV work, though everyone remembers her as Libby Thacher on the 1989 drama Life Goes On, the first television show to feature a major character with Down syndrome. She's guested on Frasier, Ugly Betty, Oz, Law & Order, 30 Rock (in an unforgettable turn as Frank Rossitano's mother) and, of course, Glee. And next Friday and Saturday she'll be here, at The Music Center at Strathmore, where she'll perform her paean to love, Matters of the Heart.
Clearly, LuPone's career has been an astonishing one – but it's also been a stormy one. She's clashed with not only Laurents, but Webber, of whose music she's been publicly critical. But what may be interpreted by some as a difficult, diva-esque temperament is really a stunning dedication to her art, a potent, pure perfectionism. She has an unyielding respect for the material she performs, and for ensuring that the audience leaves fully entertained and, hopefully, engaged in discussion and thought. Talking on the phone with LuPone is like being addressed by a thunderstorm filled with ideas, notions and passions, all presented with the kind of dramatic flair that one might associate with a higher form of Broadway superstar.
So, yes, Patti LuPone is a perfectionist. And, by golly, she's a perfectionist with a point. Lots of them, in fact.
METRO WEEKLY: What was it in you that drew you to theater, that made you say, "This is really what I want to do for the rest of my life"?
PATTI LUPONE: I was 4 years old and I was tap-dancing in a recital at the Ocean Avenue Elementary School. I fell in love with the audience and I never looked back.
MW: It was that simple?
LUPONE: Yes. I knew I had a voice, and I performed every chance I got. I knew very early on what I was supposed to do with my life.
MW: I was looking over some of your earlier shows and I was unaware you'd done Working. It closed after only a few performances.
LUPONE: Well, our production wasn't very good. We opened and closed on Broadway very quickly. It had a wonderful cast and we had the script and the music, but we didn't last. I think there were a lot of problems from the very beginning. Sets were being thrown out, orchestrations were being thrown out, and the costs escalated. Then we got mixed reviews.
MW: Is it frustrating to put that much effort and creativity into something to have it grind to a sudden halt?
LUPONE: Yes. It's hurtful that you can't get a run out of something. But, you know, we're hired hands. The actors are hired hands. It's up to the producers….
MW: I can't imagine the toll that takes on you. I mean, you invest your heart and soul into it.
LUPONE: Yeah, it's very difficult. Because you're unemployed again. You were hoping for that paycheck and you're unemployed again and back on the unemployment line.