The city that never sleeps most fully lives up to that billing every autumn. If you like hustle and bustle – And why would you even bother with New York City if you didn't? – fall is New York at its busiest. Unlike the other seasons, fall finds the go-getters who populate Manhattan – as well as those in the four other boroughs, most notably Brooklyn – focused on making their marks before the holidays.
It's a perfect time to check out all the city has to offer, particularly when it comes to arts and culture. As culturally rich as D.C. has become, some things you just can't experience anywhere but the Big Apple – such as rare concerts by Barbra Streisand to help christen her Brooklyn hometown's new arena, the Barclays Center, Oct. 11 and 13.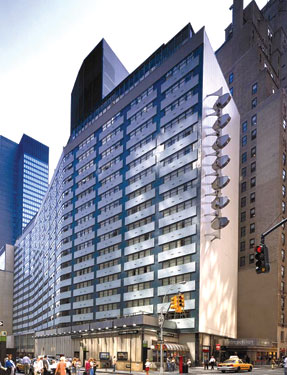 DoubleTree by Hilton's Metropolitan-New York City
Fall's most ballyhooed production is the revival of Annie, featuring two-time Tony-winning scene-stealer Katie Finneran (Noises Off; Promises, Promises), who got the nod to play orphan-hating Miss Hannigan over Rosie O'Donnell and Elaine Stritch. Annie opens Nov. 8 at Palace Theatre.
And Terrence McNally's play, Golden Age, which the Kennedy Center premiered two years ago, now featuring Bebe Neuwirth, opens Dec. 4 at New York City Center.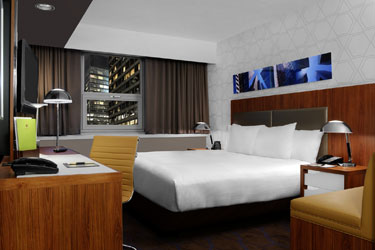 DoubleTree by Hilton's Metropolitan-New York City guest room
If parks are more your speed, besides the obvious appeal of autumnal strolls through Manhattan's Central Park or Tompkins Square Park, a stop this season at the Bronx's exquisite, verdant New York Botanical Garden offers a real-life garden as inspired by the lush paintings by French impressionist Claude Monet through Oct. 21.
But that's only a small bite of the empire apple. Take a bigger one at the New York City Wine & Food Festival, featuring Whoopi Goldberg, Art Smith and Questlove, Oct. 11 to 14. Or try the Oct. 31 Halloween Parade, Greenwich Village's most famous spectacle outside of Gay Pride.
As for resting your head, New York now offers The Out NYC Urban Resort for those who like their accommodations just as gay as possible and featuring Manhattan's swanky new gay venue XL. For a retro feel, DoubleTree by Hilton's mid-century Metropolitan-New York City is hard to beat. For convenience and comfort, Kimpton's monumental Eventi pokes the clouds two blocks from Penn Station.