"If there's one thing that drives me crazy," says Michael Kerker, "it's when people say there really aren't any great young musical theater writers [today]. Nothing could be further from the truth. There's just a whole generation of new talent."
Kerker, head of the musical theater division at the American Society of Composers, Authors and Publishers (ASCAP), helps showcase that new generation every year at the Kennedy Center. Each program in Kerker's "Broadway Today and Tomorrow" series features a different composer or composing team, who recruit performers to highlight songs in their repertoire, cabaret-style.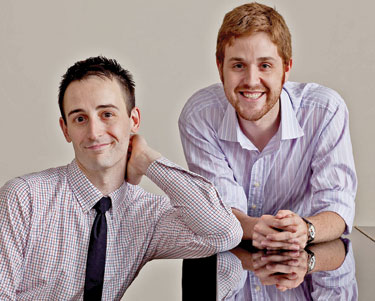 Joe Kinosian and Kellen Blair
(Photo by courtesy Kennedy Center)
This year's free, three-night series focuses on four artists and kicks off Wednesday, Sept. 19, with the team of Joe Kinosian and Kellen Blair, whose musical comedy Murder for Two was an unprecedented hit at the Chicago Shakespeare Theater. John Bucchino highlights his work, which already includes a stint on Broadway – 2008's A Catered Affair with Harvey Fierstein – on Saturday, Sept. 22. And then Sunday, Sept. 23, the focus is on budding composer Daniel Maté. The Tony-winning actress Victoria Clark is actually working to turn Maté's songs into a revue-style show, according to Kerker.
Certainly audiences from the series' first three seasons have gotten a preview of coming attractions. Kerker calls out several previously featured composers about to make their Broadway debuts: Benj Pasek and Justin Paul, whose adaptation of A Christmas Story will have a limited run this fall; Alan Zachary and Michael Weiner, whose First Date is expected in the spring of next year; and Marcy Heisler and Zina Goldrich, whose adaptation of the film Ever After, to be directed by Kathleen Marshall (Anything Goes) is planning a pre-Broadway run next year.
Kerker lauds these composers as knowing how to write a true melody – even a true rhyme. "I don't know where your feelings lie," he adds, "but for me, I want only true rhymes in the theater. I don't want anyone rhyming 'home' and 'alone."'
You can leave that for pop music, thank you very much.
Broadway Today and Tomorrow runs Wednesday, Sept. 19, Saturday, Sept. 22, and Sunday, Sept. 23, at 6 p.m. Kennedy Center Millennium Stage. Free. Call 202-467-4600 or visit kennedy-center.org.