"I just DJ, hop around, go clubbing and enjoy everything," says DJ Cottontail. "I don't really have to do much. I'm a bunny!"
More to the point, DJ Cottontail is a mystery man – or woman – in bunny disguise. He – or she – cites David Guetta as an influence; as well as deadmau5, the Canadian superstar DJ, née Joel Thomas Zimmerman, who himself spins wearing an enlarged plushie mouse head. The bunny-headed beat-matcher Cottontail, who spins at Town Danceboutique this Saturday, Sept. 29, says crowds can expect "lots of vocal/hard/electro-house," often familiar pop tunes with his own beats and productions added beneath. No bunny noises though. "I don't think people would like those," he says.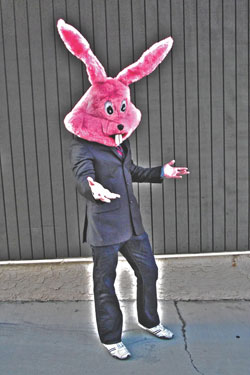 DJ Cottontail
(Photo courtesy DJ Cottontail)
But seriously, who is DJ Cottontail? Town's Ed Bailey knows, of course. But Bailey arranged for the DJ to call Metro Weekly for a phone interview from a "blocked" number, and would only speculate as to why a DJ might opt for a disguise – other than as a publicity stunt.
Could DJ Cottontail be a DJ that people know by another name? "It's possible," Bailey responds. "If you were a DJ and you were getting a good amount of work but you wanted more, how would you do that? Maybe you try to work under another name. Lots of remixers do that. Lots of producers do that."
DJ Cottontail, who spoke to Metro Weekly in a slightly exaggerated, cartoonish voice — more male than female — would only say that he's been DJ'ing "for about 10 years." He's originally from New York but has been living in Las Vegas for five years. He's only been spinning as DJ Cottontail for a year, playing in clubs mostly in Las Vegas and Los Angeles, but has been dressing as a bunny for longer. "Yeah, I used to go out to clubs in L.A. and Vegas and jump around and be in a bunny costume to see people's reactions," he says. "It really is a trip."
The disguise further allows Cottontail to "do something a little different as a DJ that I couldn't do as myself." Pressed for specifics, he gets skittish and repeats himself. "That's a hard question to answer without giving things away. I can just play a little more freely as a bunny than I can as myself…. Everybody loves a bunny."
If everybody loves DJ Cottontail, Bailey says he might bring him back for an Easter-pegged party next year. But even if he is, in a manner of speaking, resurrected for a second coming, DJ Cottontail will still just be an anonymous plushie bunny-head. He doesn't plan to unveil his true identity "in the near future. [It's] too much fun to keep it a secret.
"We're just going to see how long it takes before somebody figures it out."
DJ Cottontail spins Saturday, Sept 29, at Town Danceboutique, 2009 8th NW. Cover is $12 after 11 p.m. Call 202-234-TOWN or visit towndc.com.