Maryland Del. Emmett Burns Jr. (D-Baltimore Co.) has written a letter to Steve Bisciotti, the owner of the Baltimore Ravens football team, asking Bisciotti to "inhibit" Ravens linebacker Brendon Ayanbadejo over his advocacy of marriage equality.
In the Aug. 29 letter, posted online by Yahoo! News, Burns, a Baltimore-area minister who is known for his anti-gay stances and voting record in the Maryland General Assembly, asked Bisciotti to "take the necessary action" and order Ayanbadejo to "cease and desist" from actions expressing his support for marriage equality.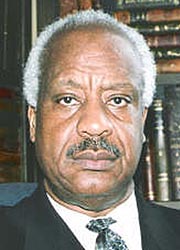 Emmett C. Burns, Jr. (Maryland Delegate for West Baltimore County)
"As a Delegate to the Maryland General Assembly and a Baltimore Ravens Football fan, I find it inconceivable that one of your players, Brendon Ayanbadejo, would publicly endorse same-sex marriage, specifically, as a Ravens Football player," Burns wrote. "Many of my constituents are appalled and aghast that a member of the Ravens Football Team would step into this controversial divide and try to sway public opinion one way or the other."
Burns also said that most Ravens fans oppose same-sex marriage and feel the debate has no place in football, telling Ayanbadejo to "concentrate on football and steer clear of dividing the fan base."
Bisciotti and the Ravens have refused to comment on Burns's letter, telling The Washington Post only that such a letter exists. It does not appear that Ayanbadejo will be censored or reprimanded.
In response, Ayanbadejo took to Twitter, tweeting, "Football is just my job it's not who I am. I am an American before anything. And just like every American I have the right to speak!!!"
Ayanbadejo, who has almost 16,000 Twitter followers, frequently uses the social-media platform to share his views concerning social or political news, often engaging other Twitter users in conversation. Ayanbadejo most recently tweeted about the Democratic National Convention and speeches given by first Lady Michelle Obama and President Barack Obama, offering his perspective on things like energy independence and his tax bracket.
In terms of his advocacy for marriage equality, Ayanbadejo appeared in a 30-second commercial for the Marylanders for Marriage Equality campaign, the coalition of groups seeking to uphold Maryland's recently passed marriage equality law. He has also offered to donate two tickets to the Ravens' home opener as part of a fundraiser for Marylanders for Marriage Equality. The organization is trying to raise money for efforts encouraging Maryland voters to approve Question 6, a Nov. 6 referendum that, if approved, would uphold the marriage-equality law and make Maryland the seventh state to allow same-sex marriage.
This is not Burns's first time to express outrage over same-sex marriage. He was one of only two Democrats who voted, along with every House Republican delegate, in favor of a failed resolution to impeach Maryland Attorney General Doug Gansler (D) after Gansler issued an opinion in 2010 that Maryland law would allow gay and lesbian couples legally married in other states to have their relationships recognized in Maryland. After President Obama expressed support for marriage equality in May, Burns condemned the president's remarks and said he would not be supporting Obama's candidacy and predicted the president would lose re-election.
A spokesman for the Marylanders for Marriage Equality coalition was not immediately available for comment.