In a city with an abundance of live stage productions and pop concert productions, it's easy to take for granted just how good Washington has it as a cultural center. It's a point made even clearer this fall as we look ahead to a slate of classical performances that's enough to tickle the ear – and heart – of the most die-hard classicist. With performances ranging from clarinet capers at the Artisphere to cabaret with the Gay Men's Chorus to Gershwin at the Kennedy Center, this season's classical music offers more than enough to please even the newest of fans.
ARTISPHERE
1101 Wilson Blvd.
Arlington
703-875-1100
artisphere.com
UrbanArias: Photo-Op – A 60-minute opera by Conrad Cummings (composer of Positions 1956 at last season's UrbanArias) and James Siena about the absurdity of modern presidential politics (9/14-15)
National Chamber Ensemble benefit: A Late Summer Musical Romance – The ensemble offers a preview of its sixth season with this fundraiser, showcasing what it means by redefining "chamber music" by including everything from jazz to gospel into the standard repertoire (9/29)
National Chamber Ensemble: Night At the Palace II – The stage of Artisphere's Spectrum Theatre is transformed once again into a Russian-style palace after last year's success in this program in collaboration with the Russian Chamber Art Society and featuring pianist Vera Danchenko-Stern and singers performing Russian instrumental and vocal music (11/3)
National Chamber Ensemble: Annual Holiday Concert – Violinist Rimma Sushanskaya, whom The Washington Post has called "one of the greatest violinists alive today," joins to play Bach in a holiday program featuring other international guest artists plus a carols sing-along (12/16)
National Chamber Ensemble: Clarinet Capers w/Julian Milkis – The only student of Benny Goodman is both a chamber musician and jazz clarinetist and joins the ensemble to play his unique interpretations of works by Mozart, Arutiunian, Gershwin and more (1/12/13)
National Chamber Ensemble: The Art of the African-American Spiritual – Soprano Aundi Marie Moore, an alumnus of the Washington National Opera's Domingo-Cafritz Young Artist Program, joins to explore African-American music (3/23/13)
National Chamber Ensemble: The Three B's – Bach, Beethoven and Brahms – Pianist Carlos Rodriguez joins for a performance of three masterpieces from the German greats (6/1/13)
ATLAS PERFORMING ARTS CENTER
1333 H St. NE
202-399-7993
atlasarts.org
Tim Brady – President of the Canadian New Music Network performs his own music as well as new works he commissions from other classical composers to create new works for his chosen instrument, the electric guitar (9/22)
PRISM Saxophone Quartet – One of America's foremost chamber ensembles, presenting the saxophone as a serious concert instrument (10/12)
Great Noise Ensemble – One of the most important and adventurous ensembles in D.C.'s new music scene and an artist-in-residence at the Atlas, where the group performs three times this season (10/19)
Capital City Symphony – Pianist Ryo Kaneko performs with the orchestra Beethoven's Piano Concerto No. 3 (10/21)
Newspeak Ensemble – An eight-piece ensemble (11/2)
Capital City Symphony – Annual family concert and "Instrument Petting Zoo" (11/18)
Sō Percussion – Brooklyn-based quartet is an "experimental powerhouse," according to the Village Voice (11/30)
Cornelius Dufallo – Composer and violinist is a member of the world-renowned amplified string quartet ETHEL (1/12/13)
Pictures on Silence – A harp and saxophone chamber duo performs from an ever-expanding repertoire of new works and adaptations of existing music (2/1/13)
Roomful of Teeth – Vocal octet re-imagines singing in the 21st century (3/18/13)
International Contemporary Ensemble – A double bill featuring two new ambitious cycles of music from internationally known Phyllis Chen and Carla Kihlstedt (4/11/13)
Capital City Symphony – Highlights from Puccini's La Boheme factor into this program of "Opera! Scenes and Songs" (4/14/13)
Maya Beiser & Michael Harrison – "The post-modern diva" and "the American maverick" captivate audiences worldwide with their cello and piano playing (5/10/13)
Great Noise Ensemble (5/17/13)
Capital City Symphony – Cellist Brannon Cho joins in a Season Finale concert of Dvorak's Cello Concerto, plus Tchaikovsky and Stravinsky (5/19/13)
BACH SINFONIA
Cultural Arts Center at Silver Spring
Montgomery College
Silver Spring
301-362-6525
bachsinfonia.org
Handel's Fireworks & England's Next Generation – Handel's beloved Music for the Royal Fireworks is performed on period instruments alongside sparkling music by late-baroque British composers William Boyce, Charles Avison and Capel Bond (10/21)
Annual Chamber Performance: Repast Baroque – An intimate and virtuoso chamber music program for violin, viola da gamba and theorbo (2/3/13)
Most Beloved Bach – A program of Bach's masterworks for the full ensemble, including the Orchestra Suite No. 2, the Brandenburg Concerto No. 3 and the Concerto for Two Violins (4/7/13)
Nuevo Mundo Barroco – Compositions used in liturgical services and civic occasions in Mexico and South America factor into this "New World Baroque" program timed for Cinco de Mayo (5/5/13)
BALTIMORE SYMPHONY ORCHESTRA
410-783-8000
bsomusic.org
Gala Celebration Concert w/Renée Fleming (9/15)
American Classics and Gil Shaham – Violinist joins for a program that includes Barber's Violin Concerto, Copland's Third Symphony and Bernstein's On the Waterfront: Symphonic Suite (9/20-22)
Bernstein's "Kaddish" – The Washington Chorus and screen and stage actress Claire Bloom (The King's Speech) join for a performance of Leonard Bernstein's Symphony No. 3, dedicated to the memory of his friend, President John F. Kennedy (9/28-30)
Beethoven's Mighty Eroica – German conductor Markus Stenz makes his BSO debut leading Beethoven's Symphony No. 3, and is joined by his compatriot violinist Kolja Blacher performing Schumann's lyrical and rarely heard Violin Concerto (10/4, 10/6)
BSO SuperPops: The Golden Age of Black & White – Jack Everly kicks off his 10th SuperPops season with favorite television themes of the '50s (10/11-14)
Tchaikovksy's Fourth Symphony – Audience-favorite conductor Juanjo Mena leads Tchaikovsky's passionate symphony in a program that also includes Italian pianist Benedetto Lupo playing Bartok's Piano Concerto No. 3, composed in the final months of his life (9/19-21)
Mozart & Brahms – Led by conductor Cornelius Meister, Brahms's Double Concerto for Violin and Cello features BSO concertmaster Jonathan Carney and principal cellist Dariusz Skoraczewski, while the program also includes Mozart's Symphony No. 35 (10/26-28)
Wizards and Wands (Music for Youth) (10/31-11/1, 11/3)
Beethoven's Fifth – While the headline piece features probably the best-known opening four notes in all of classical music, the program also includes the East Coast premiere of American composer Christopher Rouse's Prokofiev-inspired Symphony No. 3 (11/8, 11/11)
Off The Cuff: Beethoven's Fifth Symphony – Maestra Alsop explains why this piece still captures the imagination (11/9-10)
Lyrical Dvořák & Brahms – Alsop and the BSO has become known for performances and recordings of this Czech master, this time around offering his Eighth Symphony on a bill that includes Brahms's Piano Concert No. 2 featuring Russian pianist Denis Kozhukhin (11/15-17)
Elgar Cello Concerto – Cellist Sol Gabetta performs Elgar's impassioned piece composed in the shadow of World War I (11/29-12/1)
Handel's Messiah – In a 30th anniversary, Edward Polochick leads the BSO and the Concert Artists of Baltimore Symphonic Chorale while playing the harpsichord in Handel's beloved oratorio (12/7)
Tchaikovsky's The Nutcracker – The Baltimore School for the Arts performs with the BSO this holiday Family Series concert (12/8)
BSO SuperPops: Holiday Pops – The Baltimore Choral Arts Society joins the BSO and other special guests for a celebration of carols and holiday favorites (12/12-16)
Alexander Nevsky – Alsop leads the BSO, Baltimore Choral Arts Society and mezzo-soprano Irina Tchistjakova in Sergei Prokofiev's score to accompany Sergei Eisenstein's film (1/11-13/13)
Ravishing Rachmaninoff – Pianist Garrick Ohlsson joins Alsop to perform Rachmaninoff's tour de force, the Third Piano Concerto, as part of an all-Rachmaninoff program (1/17-20/13)
Off The Cuff: Rachmaninoff's Third Piano Concerto (1/18-19/13)
BSO SuperPops: Hairspray w/John Waters – The famous gay director and Baltimore native son serves as narrator in a 25th anniversary of the release of the original film, plus the BSO performing tunes from the Tony-winning musical (1/24-27/13)
Pictures at an Exhibition – Yan Pascal Tortelier returns to lead the BSO in Mussorgsky's piece, arranged by Ravel (1/31-2/2/13)
Stephen Hough Plays Liszt (2/7-9/13)
Wagner's Walküre – Kicking off a series of Wagner performances in honor of the 200th anniversary of the composer's birth, Alsop leads the BSO in a performance of Act 1 of Die Walküre featuring soprano Heidi Melton, tenor Brandon Jovanovich and bass-baritone Eric Owens (2/15-17/13)
BSO SuperPops: The Best of Broadway w/Ashley Brown (2/21-24/13)
Mozart's Requiem – Ignat Solzhenitsyn leads the combined forces of the BSO and the Baltimore Choral Arts Society in this giant piece of classical music (2/28/13, 3/2-3/13)
Musical Roots: From Africa to America (3/1-2/13)
Mahler's Titan (3/7-9/13)
Saint-Saens's Thundering Organ Symphony – Technically, it's the Symphony No. 3, but how often does a symphony use an organ in two of its four sections? (3/14/13, 3/17/13) Off The Cuff: Saint-Saen's Organ Symphony (3/15/13)
Trpceski Plays Rachmaninoff (3/22-24/13)
Disney's Fantasia (4/5-6/13)
Bond and Beyond: 50 Years of 007 (4/11-14/13)
Wagner's The Ring: An Orchestral Adventure – Alsop leads the BSO to perform a condensed version of Wagner's four-cycle opera by contemporary Dutch composer and arranger Henk de Vlieger (4/18/13, 4/21/13)
Off The Cuff: Wagner: A Composer Fit for a King – Writer/director Didi Balle has created a semi-staged play relating the complicated relationship between the composer and his benefactor, King Ludwig II (4/19/13)
Midori – Violin prodigy is all grown up and still inspiring acclaim (4/25-27/13)
Time for Three (5/2/13, 5/4/13)
Chaplin's Masterpiece: Modern Times – BSO performs Chaplin's own score for his 1936 silent film, a brilliant, biting satire on the mechanical age (5/10-12/13)
Romeo & Juliet – Carlos Kalmar conducts selections from Prokofiev's impassioned ballet (5/23-25/13)
BSO SuperPops: The Magic of Motown (5/30-6/2/13)
Carmina Burana – Alsop leads the BSO in a collaboration of this masterpiece with Morgan Stage University Choir and Peabody Children's Chorus (6/6-9/13)
West Side Story – Music & The Movie – Alsop conducts the BSO in a performance of Leonard Bernstein's 10-time Oscar-winning score accompanying the movie version of the great musical (6/13-16/13)
BARNS AT WOLF TRAP
1635 Trap Road
Vienna
877-WOLFTRAP
wolftrap.org
Chamber Music Society of Lincoln Center – Founder's Day celebration (10/12)
Ingrid Fliter (11/2)
JACK Quartet & Derek Bermel – An eclectic evening of classic repertoire mixed with a world-premiere Wolf Trap commission (1/11/13)
Steven Isserlis & Kirill Gerstein – Award-winning soloists playing Liszt and Brahms (1/25/13)
Parker String Quartet (3/1/13)
Chatham Baroque (3/15/13)
Peter Kolkay w/Alexandra Nguyen and Deirdre Chadwick (4/5/13)
CLARICE SMITH PERFORMING ARTS CENTER
University of Maryland
College Park
301-405-ARTS
claricesmithcenter.umd.edu
Aeolus Quartet: Berg and Schubert – Aeolus, considered one of the nation's finest young string quartets, kicks off its year as UMD's Graduate Fellowship String Quartet (9/16)
Anthony de Mare's Liaisons: Re-imagining Sondheim from the Piano – 36 of the world's foremost contemporary composers re-imagine a Stephen Sondheim song of their choosing and scored for solo piano, a multi-year project undertaken with Sondheim's blessing (9/21)
Trio Cantare: Latin Rhythms – Performing works by revolutionary Latin composers, including Astor Piazzolla and Heitor Villa-Lobos, this trio consists of soprano Carmen Baithrop and flutist Kathleen Trahan, both UMD School of Music faculty members, along with UMD alumna flutist Camille Delaney-McNeil (9/22)
U.S. Army Field Band and Soldiers' Chorus – UMD Chamber Singers join for an all-Stravinsky program capped off by A Soldier's Tale (9/24)
Eliza Garth: Celebrating the John Cage Centennial – Pianist offers a performance of Cage's masterpiece for prepared piano Sonatas and Interludes (10/4)
UMD Symphony Orchestra – Violinist Nicholas Montopoli opens the orchestra's season with a performance of Ravel's exotic and colorful showpiece Tzigane (10/5)
UMD Wind Orchestra – Celebrating American composer Joseph Schwantner's 70th birthday with a performance of his recent work for wind orchestra Recoil (10/7)
Delores Ziegler – UMD School of Music's Distinguished Scholar offers a recital about the curious operatic convention of having mezzo-sopranos such as herself take on the role of young men, when they're not villains, wise women or seductresses (10/15)
UMD Choral Activities: Bach Cantata 1 – An informal performance of Bach's cantata 211, known as "The Coffee Cantata" (10/18)
UMD Wind Ensemble (10/25)
Martinez-Urioste-Brey Trio – An all-star trio that only formed last year and is already making its mark in the classical world (11/1)
UMD Wind Orchestra and Graffito – Traditional wind group pairs up with a "Radiohead meets Kronos Quartet" rock group to add modern twists to classical compositions (11/2)
UMD Symphony Orchestra – UMD faculty pianist Mayron Tsong joins for a performance of Brahms's Piano Concerto No. 1 (11/4)
11th Annual High School Choir Invitational – Talented choirs from Maryland and Virginia gather for a day of workshops culminating in an evening performance with the UMD Chamber Singers and UMD Chorale (11/7)
TRIOS – UMD faculty artists, violinist David Salness, cellist Evelyn Elsing and pianist Mayron Tsong join for a performance of compositions by Beethoven, Rachmaninoff and Dvorak (11/10)
2012 UMD Symphony Orchestra Concerto Competition – Annual competition of students vying to perform as a featured soloist with the orchestra, with both the preliminaries and the final round open to the public (11/11, 11/16)
UMD Women's Chorus and the UMD Men's Chorus – Fall Showcase (11/11)
Chamber Music Showcase (11/12-13)
Shanghai Quartet – Chinese ensemble melds the delicacy of Eastern music with the emotional breadth of the Western repertoire (11/15)
Maryland Opera Studio: The Magic Flute – This year's annual piano opera focuses on Mozart's classic (11/16, 11/18-20)
UMD Chamber Singers – Masterworks from 20th century France (11/18)
UMD Percussion Ensemble (12/3)
UMD Wind Orchestra – "Music from Bach's iPod" asserts that Pergolesi, Kirchner, Britten and Dahl are contemporary variations on Bach (12/6)
UMD Gamelan Saraswati and UMD Koto Ensemble (12/7)
11th Annual Festival of Nine Lessons and Carols – UMD women's and men's choruses encourage audience participation in this program, inspired by a world-famous Christmas Eve tradition of the U.K.'s King's College (12/7)
Kaleidoscope of Bands – UMD Wind Ensemble, University Band, Community Band team up for this annual event (12/7)
UMD Symphony Orchestra (12/8)
UMD Chamber Singers – Students and faculty join together for a performance of Bach's Magnificat (12/9)
UMD Korean Percussion Ensemble (12/11)
Maryland Opera Studio – A reading of Lee Hoiby's last opera Romeo and Juliet (2/15/13)
Benjamin Pasternack – Pianist explores the "American roots," chiefly black and Native-American, of compositions by Dvorak, Busoni and Bernstein (2/26/13)
PostClassical Ensemble – Dvorak and America grows from a book by this experimental ensemble's Joseph Horowitz (3/1/13)
eighth blackbird – Chicago-based sextet is said to combine the finesse of a string quartet with the energy of a rock band and the boldness of a storefront theater company (3/8/13)
UMD Symphony Orchestra – Lighting and stage designer Doug Fitch joins the orchestra in a multimedia spectacle with Britten's Les Illuminations at the center (3/9/13)
UMD Wind Orchestra – The Poetry of Joseph Schwantner focuses on three pieces of a trilogy in honor of the American composer's 70th birthday (3/10/13)
Wu Man – Chinese-born musician is the world's premier virtuoso on the pipa, the traditional, four-stringed Chinese lute (3/28/13)
Windscape Quintet (4/4/13)
Maryland Opera Studio: La Boheme (4/13-21/13)
Orpheus Chamber Orchestra with Gabriel Kahane – American composer and singer-songwriter Kahane, who inhabits a classical-pop world alongside sometime-collaborators Sufjan Stevens and Rufus Wainwright, is the first composer-in-residence for this orchestra, which is a former artist-in-residence at UMD (4/20/13)
Aeolus String Quartet and SIREN Woodwind Quintet (4/28/13)
UMD Concert Choir, UMD Symphony Orchestra (5/3/13)
Annual Pops Concert – UMD Wind Ensemble, University Band, Community Band team up for this 37th annual audience favorite (5/4/13)
UMD Wind Orchestra with Members of the Orpheus Chamber Orchestra (5/5/13)
CHORAL ARTS SOCIETY
202-244-3669
choralarts.org
La Musica Latina – From sentimental ballades to swinging salsa and rumba favorites, the sizzle and fiery spice of Latin American music is brought to life in this song-filled fiesta led by the Choral Arts Society's former associate music director Joseph Holt (10/21, Lisner)
A Family Christmas – The society and orchestra perform a production of Catherine Flye's theatrical concert featuring Santa, Frosty and Rudolph (12/16, Kennedy Center)
An Enchanted Christmas – Beloved carols, popular holiday standards and favorite sing-alongs are the stars in this annual holiday favorite, this year led by the society's new artistic director Scott Tucker (12/17, 12/24, Kennedy Center)
Brass, Brahms and Britten – An elegant evening of works designed for brass, organ and chorus (4/14/13, National Presbyterian Church)
Broadway's Show-Stoppers with Brian Stokes Mitchell – The cociety and orchestra offer a "wall of sound" in a Mother's Day performance of Broadway's greatest hits led by Tony Award-winning star of Man of La Mancha and Ragtime as well as recent Glee guest in this co-presentation with WPAS (5/12/13, Kennedy Center)
THE CITY CHOIR OF WASHINGTON
202-495-1613
thecitychoirofwashington.org
Handel: Coronation Anthems – Director Robert Shafer leads the choir in a performance of the anthems composed by Handel for the coronation of King George II (10/28, National Presbyterian Church)
The Holly and the Ivy: British Music for Christmas – The Select Vocal Ensemble from Leesburg, Va.'s Tuscarora High School are partners in song for this year's annual concert, which includes sing-alongs (12/16, National Presbyterian Church)
Diamond Jubilee: A Coronation Anniversary Concert – A concert celebrating the musical pageantry of a coronation, capped by the world-premiere performance of Sir John Tavener's Three Hymns of George Herbert, composed in honor of the Diamond Jubilee of the Coronation of Queen Elizabeth II (4/21/13, Washington National Cathedral)
D.C.'S DIFFERENT DRUMMERS
202-269-4868
dcdd.org
DCDD Does Drag (10/27, Omega Nightclub)
Fall Concert: American Salute — The Capital Pride Symphonic Band and Capital Pride Wind Ensemble kick off the full season with a patriotic salute after the election (11/17, Columbia Heights Educational Campus)
Maryland Music Educators Performance (2/23/13, Baltimore Convention Center)
Spring Concert: Space Odyssey — The symphonic band and the wind ensemble blast off for spring (3/23/13, CHEC)
DAVIS PERFORMING ARTS CENTER
Georgetown University
3700 O St. NW
202-687-ARTS
performingarts.georgetown.edu
Friday Music Series – Acclaimed artists in various genres perform free concerts on select Fridays at 1:15 p.m. (9/21-12/7)
Modern Musick – Period-instrument ensemble, led by John Moran and Risa Browder, is in residence at Georgetown this academic year and will perform four times (10/12, 12/4, 2/1/13, 3/26/13)
The DC A Cappella Festival (DCAF) – Annual concert co-hosted by two of GU's most charismatic groups: the co-ed Phantoms and the all-female GraceNotes (11/3, 11/10)
Future of Music Summit 2012 (11/15-17)
Georgetown University Chamber Singers – A choral concert featuring Monteverdi's Magnificat (11/14)
World Percussion Ensemble (11/18)
GU Wind Ensemble: Fall Concert (12/2)
GU Orchestra: Fall Concert (12/2)
GU Concert Choir – A choral concert including Vivaldi's Gloria (12/3)
GU Jazz: Fall Concert (12/4)
Messiah Sing-Along – Hosted by Georgetown University Concert Choir (12/4)
World Percussion Ensemble (4/21/13)
GU Jazz: Spring Concert (4/22/13)
GU Wind Ensemble: Spring Concert (4/23/13)
GU Concert Choir (4/24/13)
GU Orchestra: Spring Concert (4/25/13)
FAIRFAX SYMPHONY ORCHESTRA
703-563-1990
fairfaxsymphony.org
Jeffrey Biegel plays Ellen Taafe Zwilich – Christopher Zimmerman and the symphony opens the season with an all-American concert including Adams, Bernstein, Gershwin and Pulitzer Prize-winner Zwilich, who composed the new Shadows for pianist Biegel (9/22)
Benjamin Bellman – Violinist joins the FSO guest conducted by Kenneth Woods in an all-Beethoven program (11/17)
James Dick – Here's to the FSO not scheduling The Nutcracker or Messiah or some milquetoast program of tired sing-along songs, but offering "a break from the holiday madness" with a performance by this pianist of Tchaikovsky's Piano Concerto No. 1 (12/8)
Christina Jennings plays Jonathon Leshnoff – Zimmerman leads the FSO in the Virginia premiere of Baltimore-native's Flute Concerto featuring flutist in a program that includes Mozart – The Magic Flute, naturally – Ives and Brahms (1/19/13)
Strauss vs. Strauss – Zimmerman leads the FSO in a unique, entertaining concert contrasting the music of the two Strausses, Johann and Richard (3/16/13)
Joni Henson and Brennen Guillory – Zimmerman ensures the season ends with a bang in a concert featuring a guest soprano and a guest tenor in a program of Verdi and – you guessed it – Wagner, both of whom would have turned 200 this season (5/11/13)
FOLGER CONSORT
Folger Elizabethan Theatre
201 East Capitol St. SE
202-544-7077
folger.edu
London: Music from the City of Shakespeare – The consort's season focused on early music from specific European cities naturally kicks off in the roots of Shakespeare, with a focus on the Bard's neighbor Thomas Morley as well as William Byrd (9/28-30)
Florence: Christmas Music of the Trecento – Vocal ensemble Trio Eos and multi-instrumentalist Chrsta Patton perform, along with period strings and winds, vernacular ceremonial songs called "laudes" and popularized in 14th century Tuscany (12/14-23)
Paris: Music for the City of Light – The singers and instrumentalists of Louis XIV's chapelle royale on the outskirts of Paris performed music by Lully, Charpentier, Couperin and others (1/11-1/12/13, Washington National Cathedral)
Dublin: Celtic and Art Music – Music, rich in bagpipe, harp and fiddle, by William Lawes, Turlough O'Carolan and others (3/15-3/17/13)
Vienna: Music for Maximilian – At the turn of the 16th century the imperial court in Vienna amassed the largest musical establishment in Europe (4/12-14/13)
GAY MEN'S CHORUS OF WASHINGTON, D.C.
202-293-1548
gmcw.org
Home Cooked Cabaret: Showmen and Showstoppers – Before its new season kicks into high-pitch comes this cocktail fundraiser and hosted dinner parties in private homes (11/3, starting at Town Danceboutigue)
Winter Nights – The Chorus, as always, kicks off its new season with a colorful, bright and G-A-Y array of warm winter songs and fun (11/30-12/1, Lisner Auditorium)
My Big Fat Gay Wedding – A real onstage wedding will take place during this ode to love and marriage equality, complete with party favors and cake in the lobby (2/16/13, Lisner)
Xanadu – Douglas Carter Beane's book, based on the 1980 film about creating a roller disco, was plenty campy and gay already, but just wait until the chorus gets hold of it! (3/15-17/13, Lisner)
Side by Side – The chorus's two stellar vocal ensembles, Rock Creek Singers and Potomac Fever, share the spotlight in a wide-ranging, genre-hopping program (4/20/13, Church of the Epiphany)
Seven – A sexy and satirical show filled with campy production numbers and songs exploring, exploiting – even celebrating – those pesky, deadly sins (6/1-2/13, Lisner)
KENNEDY CENTER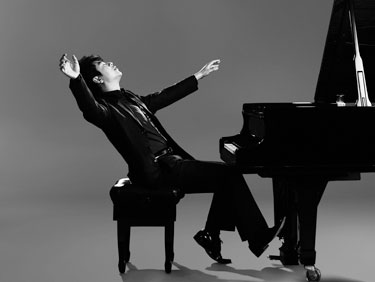 Lang Lang
(Photo by Detlef Schneider)
202-467-4600
kennedy-center.org
Stephanie Blythe – Vocal Arts DC kicks off its season presenting concerts at the Kennedy Center with a performance by this mezzo-soprano in an American program (9/14)
The Sphinx Virtuosi w/The Catalyst Quartet and Elena Urioste – A program of music of the Americas by laureates and top alumni of the acclaimed Sphinx Competition for Young Black and Latino String Players, part of the Fortas Chamber Music series (10/10)
The Kennedy Center Chamber Players – Sonatas by Bach and Mendelssohn, plus Mendelssohn's Trio in D Minor are on the bill (10/14)
New York Festival of Song: Mr. Gershwin Goes to Washington – Vocal Arts DC presents Laurence Maslon's original, semi-staged musical theater work featuring political satire hits by the Gershwins and starring the festival's Steven Blier, accompanist Joseph Thalken and a cast that includes Marc Kudisch and Anne-Carolyn Bird (10/22)
Amernet String Quartet w/James Tocco – Virtuoso pianist joins this quartet for a performance of Franck's monumental Piano Quintet in a Fortas Chamber Music program that also features Haydn and Beethoven (10/26)
Opera Lafayette: L'Invitation au Voyage – Program incorporates a painting by Watteau, the poetry of Baudelaire and songs by late 19th century French composers (10/30)
Christine Brewer – Soprano returns for a program presented by Vocal Arts DC (10/31)
Midori in Recital: 30th Anniversary Concert – Pianist Ozgur Aydin accompanies famed violinist in an anniversary concert featuring Beethoven Sonatas (11/1)
Saul Lilienstein's What to Listen for in Music: Beethoven's Missa Solemnis – Musicologist focuses on Beethoven's setting in modern time of the Catholic Mass on a weekend when the NSO performs the piece (11/3)
Lang Lang – World-renowned Chinese pianist kicks off a week in residency with the NSO and the Kennedy Center with a special recital (11/4)
Russell Braun – Vocal Arts DC welcomes the return of this rich, powerful baritone (11/7)
Igudesman and Joo – A Little Nightmare Music offers comedy about classical music in the tradition of Victor Borge and Dudley Moore by violinist Aleksey Igudesman and pianist Hyung-ki Joo, a duo that is quickly becoming a worldwide sensation (11/8)
Ariel Quartet/Orion Weiss – Pro Musica Hebraica presents this concert titled "Between Two Worlds: Jewish Voices in Modern European Music" (11/11)
Kennedy Center Concert Hall Organ Debut – NSO organist William Neil and the National Symphony Orchestra unveil the new organ with a free concert (11/27)
Anonymous 4 – Beloved a cappella group offers the staged concert love fail, a collaboration with Pulitzer Prize-winning composer David Lang and partly based on tales of medieval author Marie de France (11/28)
Young Concert Artists: miXt – Three award-winning soloists join forces to play a program of chamber music (12/4)
From Psalm to Lamentation: A Concert of Cantorial Masterpieces – Pro Musica Hebraica presents this program (12/6)
The Kennedy Center Chamber Players – Works by Bach, Franck, Milhaud and Bartok factor into this program (12/9)
Vinson Cole – Distinguished American tenor returns to the Kennedy Center in a Vocal Arts DC recital (12/12)
Fine Arts Quartet – A Fortas Chamber Music concert featuring Haydn, Zimbalist and Schubert (1/13/13)
Toby Spence – Perhaps Britain's foremost tenor, thrilling in opera and recital, appears in a Vocal Arts DC program accompanied by pianist Graham Johnson (1/16/13)
Opera Lafayette: Lalla Roukh – Opera Lafayette and Kalanidhi Dance collaborate on an elaborate production of Felicien David's 150-year-old masterpiece (1/26/13)
Velt Hertenstein w/Pei-Yao Wang – Young Concert Artists presents the Washington debut of German violist with piano accompaniment (2/5/13)
Misha Dichter w/The Harlem Quartet – Piano quintets by Schumann and Shostakovich as well as Chick Corea's jazzy, Latin-inspired Adventures of Hippocrates are part of this Fortas Chamber Music concert (2/6/13)
Royal Stockholm Philharmonic – Sakari Oramo leads the orchestra as it performs the opening concert in the Kennedy Center's Nordic Cool 2013 festival (2/19/13)
Annie Sofie von Otter – Grammy-nominated Swedish mezzo-soprano performs in recital with compatriot pianist Bengt Forsberg as part of the Kennedy Center's Nordic Cool 2013 festival (3/4/13)
Juho Pohjonen – Finnish pianist plays works by Grieg, Nielsen and Mozart in his Fortas Chamber Music series debut, part of the Nordic Cool 2013 festival (3/12/13)
Trio con Brio Copenhagen – Danish trio performs Ravel, Mendelssohn and Sorensen as part of the Nordic Cool 2013 festival (3/14/13)
The Kennedy Center Chamber Players — Nielsen, Prokofiev and Mozart factor into this program (3/17/13)
Kalichstein-Laredo-Robinson Trio – The Kennedy Center's chamber ensemble-in-residence makes its annual appearance with a brand-new piano composition by Stanley Silverman, along with Brahms and Beethoven (4/29/13)
Andrew Tyson – Young Concert Artists presents this 25-year-old pianist in his Washington recital debut (4/30/13)
Opera Lafayette: Actéon – Choreographer Sean Curran's semi-staged production of Charpentier's opera features a cast of seven vocalists and a chamber ensemble (5/1-2/13)
Apollo Ensemble – Pro Musica Hebraica presents this group in a program titled "Jewish Baroque Treasures from Italy and Amsterdam" (5/13/13)
Dawn Upshaw with Crash Ensemble – Acclaimed soprano and Dublin's new music company perform a program including Dennehy's multimedia song cycle based on poetry of William Butler Yeats (5/14/13)
Yvonne Caruthers's Politics, Propaganda, Prokofiev: The Intriguing Saga of Alexander Nevsky — NSO cellist examines the score for Sergei Eisenstein's 1938 Russian propaganda film (6/1/13)
NATIONAL PHILHARMONIC
Music Center at Strathmore
5301 Tuckerman Lane
North Bethesda
301-493-9283
nationalphilharmonic.org
Beethoven: The Power of Three – Pianist Orli Shaham kicks off the Philharmonic's season as part of an all-Beethoven program, led by the orchestra's Piotr Gajewski (10/13-14)
Prokofiev: Beyond Peter and the Wolf – Pianist Brian Ganz performs Prokofiev's thrilling Piano Concerto No. 3, part of a program of three Prokofiev pieces, but not Peter and the Wolf (11/10)
Handel's Messiah (12/8)
A Festive Evening with the Washington Symphonic Brass – Victoria Gau conducts the brass group and chorale in a spirited annual yuletide celebration (12/18)
Handel's Messiah (12/8, 12/22-23)
Mozart and the Voice of the Viola – Victoria Chiang helps showcase the rich sound of the viola in this concert along with violinist Stefan Jackiw (1/5-6/13)
Brian Ganz Chopin Project – The third Chopin recital at Strathmore by D.C.-based pianist, part of his quest to perform all of the composer's works over the next decade (1/19/13)
Lutosawski 100th Anniversary: Remembering Rostropovich – Cellist Dariusz Skoraczewski commemorates 20th century Russian cellist Mstislav Rostropovich and Polish composer Witold Lutoslawski's Cello Concerto written for Rostropovich (1/26-27/13)
Philharmonic of Many Colors – Soprano Danielle Talamantes joins the orchestra and chorale in a performance of Poulenc's Gloria, in a program that also includes Ravel's Bolero and Rimsky-Korsakov's Scheherazade (2/9/13)
The American Virtuoso Violin – Violinist Elena Urioste performs works for violin by American composers, from Russell Peck to Steven Gerber to Leonard Bernstein (3/2/13)
Bach: Sleepers Awake! – An all-Bach program, from two Brandenburg Concertos to his Cantata No. 140, which gives this program its title (4/6/13)
Denyce Graves: The Melodies of Brahms – Superstar mezzo-soprano performs as the soloist in Brahms's Alto Rhapsody, part of an all-Brahms program (5/4-5/13)
Wagner 200th Anniversary Celebration – Gajewski leads the orchestra in selections from each of Wagner's 10 best-known operas (6/1/13)
Carmina Burana – Soprano Audrey Luna, tenor Robert Baker and baritone Leon Williams join the orchestra and chorale, led by Stan Engebretson, in a performance of Carl Orff's rousing masterpiece (6/8-9/13)
NATIONAL SYMPHONY ORCHESTRA
Kennedy Center Concert Hall
202-467-4600
kennedy-center.org
Kelley O'Connor sings Lieberson – Christoph Escehnbach conducts the NSO in a romantic program starring this mezzo-soprano and also featuring Tchaikovsky's Romeo and Juliet (10/4-6)
Nathalie Stutzmann sings Wagner's Wesendonck Lieder – "I have done nothing better," Richard Wagner said about this lieder, performed by acclaimed contralto in a program that also includes a symphony by Wagner devotee Anton Bruckner (10/11-13)
NSO Pops: Roberta Flack – Steven Reineke kicks off the NSO Pops season with a concert featuring the Grammy-winning, "Killing Me Softly" singer-songwriter, who got her start performing at Capitol Hill's gay bar Mr. Henry's (10/25-27)
Beethoven's Missa Solemnis – Maestro Eschenbach leads the NSO and a star lineup of vocal talent in a performance of Beethoven's setting of the Catholic Mass, part of the orchestra's final year of a three-year exploration of Beethoven's works (11/1-3)
Lang Lang plays Beethoven – Superstar Chinese pianist takes the stage with his friend and mentor Eschenbach for a three-performance series of Beethoven concerti as part of a week in residency (11/8-10)
Sergyey Khachatryan plays Tchaikovsky – Maestro Vasily Petrenko makes his NSO debut along with young violinist in a performance of Tchaikovsky's Violin Concerto (11/15-17)
NSO Pops (11/23-24)
Jonathan Biss plays Mozart – Conductor Juraj Valcuha returns three years after impressive debut alongside young pianist in a program that also includes Ravel (11/29-12/1)
Yuja Wang play Chopin – Conductor Hans Graf leads NSO and provocative piano prodigy in performances of Chopin's Piano Concerto No. 1 (12/6-8)
NSO Pops: Happy Holidays – Randall Craig Fleischer conducts the Pops in a program of ho-ho-ho holiday classics (12/13-16)
Handel's Messiah – The epic masterpiece is performed each year with a fresh perspective by the NSO and acclaimed guest artists (12/20-23)
Tzimon Barto plays Bartok – Pianist returns to play with NSO and its conductor Eschenbach after an acclaimed performance last year in a performance of Bartok's Piano Concerto No. 2 (1/17-19/13)
Dan Zhu plays Mozart – Violinist makes his NSO debut in a performance of Mozart's Violin Concerto No. 5, as Eschenbach conducts the NSO in a program that also includes Beethoven and Bartok (1/24-26/13)
Renaud Capucon – An exciting young violinist plays Mendelssohn with the NSO as led by Christoph von Dohnanyi (2/21-23/13)
Pekka Kuusisto plays Lindberg — The NSO's Eschenbach conducts praised violinist in a performance of Lindberg's Violin Concerto on a program that includes works by Sibelius and Saariaho (2/28-3/2/13)
Anne Sofie von Otter and Music of Mahler, Schubert & Mozart – Mezzo-soprano joins with other guest vocalists and the University of Maryland Concert Choir in a program of Schubert lieder and Mozart's Requiem (3/7-9/13)
NSO Pops: The Chieftains – Acclaimed Irish artists bring their Grammy-winning music just in time for St. Patrick's Day (3/14-16/13)
Arabella Steinbacher plays Beethoven – Violinist continues the NSO's seasonal Beethoven exploration with the master's Violin Concerto (3/28-30/13)
Emanuel Ax plays Chopin – Hugh Wolff conducts the NSO and this pianist in a performance of Chopin's Piano Concert No. 2 (4/4-6/13)
NSO Pops: Chris Botti – American jazz trumpeter offers a wide-ranging repertoire of pop, jazz and classical (4/18-20/13)
Andreas Haefliger plays Beethoven -– More Beethoven, this time his Piano Concerto No. 1 in a program led by young and exciting Amsterdam-born conductor Jaap van Zweden (4/25-27/13)
Beyond the Score: Tchaikovsky's Symphony No. 4 – Half concert, half multimedia educational experience, led by conductor van Zweden (4/26/13)
Alisa Wellerstein plays Elgar – Eschenbach conducts the NSO in a performance of Elgar's Cello Concerto (5/2-4/13)
Music of Schnittke & Shostakovich – Eschenbach offers a preview of the NSO's Carnegie Hall program Spring for Music: A Tribute to Slava (5/3/13)
NSO Pops: The Musical Journey of Stephen Schwartz – Reineke leads the Pops and the Washington Chorus in a tribute to the 10th anniversary of Wicked and the 65th birthday of its composer with a concert performance of Schwartz's songs (5/16-18/13)
Jeremy Denk plays Ravel – Composer John Adams returns to the NSO to conduct his City Noir as well as Ravel as performed by celebrated pianist (5/30-6/1/13)
Augustin Hadelich & Nadezhda Serdyuk – Violinist makes his much-anticipated NSO debut performing Dvorak's Violin Concerto conducted by another young star, Jakub Hrusa, and also featuring the Washington Chorus (6/6- 8/13)
David Hardy plays Dutilleux – NSO principal cellist performs in a program led by dynamic young British conductor Matthew Halls (6/13-15/13)
Jean-Yves Thibaudet plays MacMillan & Saint-Saens – Star pianist plays two programs with the NSO led by Krzysztof Urbanski (6/20-22/13)
STRATHMORE
5301 Tuckerman Lane
North Bethesda
301-581-5100
strathmore.org
Samis Ahmad – North Indian classical vocalist branches out to incorporate Indian devotional songs and global fusion sounds from South Africa and the West (10/10, Mansion)
Duo Amaral – Jerusalem-born Mia Pomerantz-Amaral and husband Jorge Amaral are winning international acclaim for their classical guitar work (10/12, Mansion)
Guido's Ear – New York-based early music ensemble focuses on repertoire of the late Renaissance and early baroque period, when instrumental music emerged from the shadow of vocal music and came into its own (10/18, Mansion)
Dali Quartet – Extraordinary young ensemble represents the best of two worlds: classical music and training, and Latin music and upbringing (10/28, Mansion)
Nathan Pacheco – Classical crossover singing sensation, an American singer/songwriter with Brazilian roots, a Yanni connection and the Disney seal of approval (11/11, Music Center)
Jennifer Koh: Bach and Beyond – Violinist examines in two separate concerts the essential influences of Bach on composers through the centuries (11/14 and 2/28/13, Mansion)
18th Street Singers Christmas in Concert – D.C. choral group heads to the 'burbs for a seasonal concert of festive favorites (12/19, Mansion)
George Li – The Boston Phoenix has called this budding star pianist "as virtuosic as Lang Lang" (1/12/13, Mansion)
Carpe Diem Quartet – Vibrant young quartet aims to transform the chamber music experience for its audiences by exploring lost or rarely heard music (1/17/13, Mansion)
China National Symphony – World-class orchestra offers a program including works of Chinese composers Xia Guan, Chengzong Yin/Zhuang Liu, plus Beethoven (2/1/13, Music Center)
Aviv Quartet (2/21/13, Mansion)
Mattias Jacobsson – Classical Guitar magazine calls Jacobbson "a future force in the guitar world," and he makes his Strathmore debut in a performance of Bach's Lute Suites (3/21/13, Mansion)
Kristin Lee – 25-year-old violinist has already won many plaudits (4/4/13, Mansion)
Cameron Carpenter – "Not Your Grandma's Organist," The Wall Street Journal has proclaimed about this classical crossover artist (4/12/13, Music Center)
Maurizio Pollini – The New York Times says this pianist's playing is "powerful and precise" (4/14/13, Music Center)
Marian Anderson String Quartet – Quartet offers what the Los Angeles Times calls a "big sound and bold theatricality" (4/25/13, Mansion)
Mak Grgic – Prize-winning 24-year-old Slovenian guitarist performs Bach, Ravel, Debussy and Brahms in transcriptions for guitar (5/9/13, Mansion)
Kathleen Battle w/Cyrus Chestnut and the Heritage Signature Chorale – "Underground Railroad" explores the music that expressed the suffering and salvation of enslaved Africans as they found their way to freedom (5/18/13, Music Center)
WASHINGTON BACH CONSORT
National Presbyterian Church
4101 Nebraska Ave. NW
202-429-2121
bachconsort.org
Kings and Commoners – The consort kicks off a season celebrating its 35th season with a concert of music for the political season by Bach, Blow, Boyce, Gibbons and Handel (9/23)
The Virtuoso Bach – Guest soprano Elizabeth Futral of the Metropolitan Opera joins consort soloists in an all-Bach program (11/4)
Great Glad Tidings – A program of Bach cantatas for the holiday season (12/1)
Bach for All Seasons – Organ favorites performed by the consort's director and founder J. Reilly Lewis and vocal music from the liturgical calendar (2/17/13)
Honor and Remembrance – Choral and orchestral music by Schutz and Bach (3/10/13)
The B Minor Mass – The monumental Mass in B Minor that Bach worked on throughout his life (4/28/13)
THE WASHINGTON CHORUS
202-342-6221
thewashingtonchorus.org
In addition to performances with the National Symphony Orchestra and the Baltimore Symphony Orchestra, the famed Washington Chorus offers: The Essential Bernstein – The fourth season of this popular and unique series focuses on gay American legend, offering choral masterpieces from Candide ("Glitter and Be Gay," "Make Our Garden Grow") and West Side Story ("Somewhere," "Maria"), among others (11/18, Kennedy Center)
A Candlelight Christmas – Maryland's Marriotts Ridge High School Madigral Singers perform with the chorus in this Washington-area favorite holiday concert, complete with sing-alongs and taking full advantage of the theatrical lighting and acoustic possibilities of performing in the area's two principal concert halls (12/15, 12/22, Kennedy Center; 12/20-21, Strathmore)
Elijah – The Children's Chorus of Washington joins the Chorus and soloists in Mendelssohn's masterpiece, one of the greatest choral works of all time (2/24/13, Kennedy Center)
Comin' Up Shoutin' – Singer/songwriter and recording artist Melanie DeMore leads a concert exploring the rich sounds of the African-American heritage (5/19/13, National Presbyterian Church)
New Music for a New Age – This year's edition of the award-winning series presents the works of Tarik O'Reagan (6/30/13, National Presbyterian Church)
WASHINGTON CONCERT OPERA
Lisner Auditorium
The George Washington University
730 21st St. NW
202-364-5826
concertopera.org
La Sonnambula – Bellini's delightful, extraordinarily difficult bel canto opera centers on a love that unravels after a woman takes a walk in her sleep and provokes concern from a distrustful lover and a jealous friend; Eglise Gutierrez and René Barbera star in a concert version of this rarely heard opera (9/16, Lisner Auditorium)
Maria Stuarda – The concert opera's Antony Walker conducts sopranos Brenda Harris and Georgia Jarman in Donizetti's vocal battle royal between England's dueling queens (4/7/13)
WASHINGTON NATIONAL OPERA
Kennedy Center Opera House
202-295-2400
dc-opera.org
Anna Bolena – The golden age of Italian bel canto opera shines with dark reflections in Donizetti's moving retelling of Anne Boleyn's tragedy starring Sondra Radvanovsky (9/15-10/6)
Don Giovanni – Regarded as one of the greatest operas ever composed, Mozart weaves the tale of the legendary rake Don Juan into a comically lighthearted, but deadly serious, musical masterpiece (9/20-10/13)
Celebrity Concert Series: Nathan Gunn – Ted Sperling conducts the WNO Orchestra in a concert featuring this baritone making his WNO debut (9/23)
Opera in The Outfield Simulcast of Don Giovanni – A free, live broadcast of the WNO's current production, sponsored by M&M's (9/29, Nationals Park)
In Recital: Angela Meade – Rising star makes her WNO debut with a "diva program" of arias offering a special preview of her spring 2013 performance in Norma (11/10)
American Opera Initiative: Three 20-Minute Operas (11/19)
Holiday Family Opera: Hansel and Gretel – Engelbert Humperdinck's captivating fairytale opera is brought to life for the holiday season (12/21-23)
Manon Lescaut – Patricia Racette takes on the role of the first tragic heroine in a long list of Puccini favorites in what The Baltimore Sun calls an "impassioned, sensual production" by John Pascoe (3/2-23/13)
Norma — Angela Meade plays the Druid priestess secretly carrying on a love affair with the enemy's leader in the midst of the Gallic-Roman wars, who then exacts revenge when her lover's affections shift (3/9-24/13)
Celebrity Concert Series: Diana Damrau – Possessing what The New York Times calls a "lustrous, agile coloratura soprano voice, and charisma galore," opera star makes her WNO debut in an evening of dazzling music featuring WNO Orchestra conducted by Keri-Lynn Wilson (4/8/13)
Show Boat – A spectacular new opera production of this pioneering musical, one that the Chicago Tribune raves is a "joyous, beautifully mounted entertainment [that] should keep rolling along for a long while to come" (5/4-26/13)
WASHINGTON PERFORMING ARTS SOCIETY
202-833-9800
wpas.org
Richard Goode – Pianist, whom the San Francisco Chronicle calls "among the post persuasive Beethoven interpreters," comes to town as part of WPAS's Piano Masters Series for, naturally, a program of Beethoven's last three piano sonatas (10/11, Kennedy Center)
Inon Barnatan – Britten's Peter Grimes Fantasy is among the selections this pianist offers at this performance, the kickoff to WPAS's Hayes Piano Series, named after its founder Patrick Hayes and his wife to highlight emerging pianists (10/13, Kennedy Center)
What Makes It Great? with Rob Kapilow – This year's series kicks off with pianist Brian Ganz performing two mazurkas and a Polonaise from the Polish-born French master Chopin after Kapilow's discussion (10/14, National Museum of Natural History)
Paul Huang w/Jessica Osborne – Violinist and pianist kicks off WPAS's new Virtuoso Series focused on up-and-coming artists in a performance including Beethoven, Saint-Saens and Ravel (10/25, Kennedy Center)
András Schiff – Pianist performs Bach's The Well-Tempered Clavier, Book II as part of WPAS's Celebrity Series (10/30, Strathmore)
Joshua Bell – Pianist Sam Haywood accompanies this Celebrity Series violinist in a performance of Schubert, Strauss, Dvorák and Prokofiev (11/1, Strathmore)
Lukáš Vondrácek – Pianist performs Haydn, Rachmaninoff, Brahms and Prokofiev as part of WPAS's Hayes Piano Series (12/1, Kennedy Center)
Yo-Yo Ma – The classical music superstar performs selected solo cello suits by Bach (12/3, Kennedy Center)
Simón Bolívar Symphony Orchestra of Venezuela – The famous former youth orchestra led by Gustavo Dudamel (12/4, Kennedy Center)
What Makes It Great? with Rob Kapilow – Musicians from the Curtis Institute of Music perform Dvorák as part of this discussion co-presented by Smithsonian Associates (12/9, National Museum of Natural History)
Daniil Trifonov – Pianist performs Scriabin's Sonata No. 2 in G-Sharp Minor as part of a program in the Hayes Piano Series (1/19/13, Kennedy Center)
Vilde Frang – Mozart, Fauré, Brahms and Prokofiev factor into a concert by this virtuoso violinist, a protégé of Anne-Sophie Mutter, accompanied by pianist Michail Lifits (1/27/13, Kennedy Center)
Nadja Salerno-Sonnenberg w/New Century Chamber Orchestra – Violinist performs Mendelssohn, Bach, Villa-Lobos and R. Strauss with this orchestra as part of WPAS's Celebrity Series (1/30/13, Strathmore)
Angela Hewitt – this piano master, called "the preeminent Bach pianist of our time" by the U.K.'s The Guardian, performs pieces by Bach, Debussy and Ravel (2/8/13, Kennedy Center)
WPAS Men, Women and Children of the Gospel Choirs and the Choral Arts Society of Washington – These choruses join forces, 300 singers in all, to celebrate the legacy of Martin Luther King Jr. in Living the Dream … Singing the Dream, this year held a month after King's national birthday observance due to Inauguration Day (2/10/13, Kennedy Center)
Royal Concertgebouw Orchestra – Mariss Jansons leads the famous Dutch orchestra, ranked as the best by Gramophone, along with Greek violinist Leonidas Kavakos (2/12/13, Kennedy Center)
Hilary Hahn – Pianist Valentina Lisitsa accompanies this star violinist (2/16/13, Kennedy Center)
Simone Dinnerstein – Celebrity pianist performs the music that first brought her international success, Bach's The Goldberg Variations (2/24/13, Strathmore)
What Makes It Great? with Rob Kapilow – Peabody Chamber Orchestra performs Mozart's "Jupiter" symphony as part of this discussion co-presented by Smithsonian Associates and Johns Hopkins University's Peabody Institute of Music (3/10/13, National Museum of Natural History)
Anne-Sophie Mutter – Pianist Lambert Orkis accompanies the celebrity violinist in a performance that includes the D.C. debut of Previn's Sonata No. 2 for Violin and Piano (3/13/13, Strathmore)
Sir James Galway and Lady Jeanne Galway – Star husband-and-wife flute duo perform select Irish folk tunes and dances in honor of St. Patrick's Day, accompanied by pianist Michael McHale and a string trio (3/17/13, Kennedy Center)
Dmitri Hvorostovksy – In partnership with the Choral Arts Society, WPAS presents a performance by this Russian opera baritone accompanied by pianist Ivari Ilja, focused on songs and arias by Rachmaninoff and others (3/20/13, Kennedy Center)
San Francisco Symphony – Michael Tilson Thomas directs the orchestra in his much-lauded interpretation of Mahler's Symphony No. 9 (3/23/13, Kennedy Center)
Amit Peled – Peabody Conservatory faculty member and cellist returns after a 2011 sold-out show, this time accompanied by pianist Alon Goldstein, in a program featuring Beethoven, Brahms and Chopin (3/24/13, Kennedy Center)
What Makes It Great? with Rob Kapilow – Musicians from the Curtis Institute of Music team up again with Kapilow, this time to perform Schuman's Piano Quintet in E-flat Major as part of another discussion co-presented by Smithsonian Associates (4/7/13, National Museum of Natural History)
Dresden Staatskapelle -– Celebrity orchestra, under new music director Christian Thielemann, offers an all-Brahms program with violinist Lisa Batiashvili (4/16/13, Strathmore)
Evgeny Kissin – Star pianist performs Schubert's Impromptu pieces as well as sonatas by Hadyn and Beethoven and Liszt's Hungarian Rhapsody No. 12 in C-sharp minor (4/24/13, Kennedy Center)
Rafal Blechacz – Polish piano master performs Bach, Beethoven, Chopin and Szymanowski (4/27/13, Kennedy Center)
Metropolitan Opera National Council Audition Winner (4/28/13, Kennedy Center)
The Philadelphia Orchestra – Violinist Hilary Hahn joins the orchestra led by its new director Yannick Nézet-Séguin to perform Korngold's Violin Concerto (5/1/13, Kennedy Center)
Carducci String Quartet (5/4/13, Kennedy Center)
Shai Wosner – Pianist performs a mostly Schubert program part of the WPAS's Hayes Piano Series (5/11/13, Kennedy Center)
Markus Groh – In addition to Beethoven, Liszt and Wagner, this Hayes Piano Series guest offers the 2004 piece by Osvaldo Golijov, Levante for piano solo (6/1/13, Kennedy Center)
For more classical music listings, visit metroweekly.com/fallarts