Offering plenty of curb appeal in the form of wit, slapstick, a libidinous thundering bass, damsels in distress, sword fights and a reasonably gratifying comeuppance, it's no surprise that the Washington National Opera's revival of Mozart's Don Giovanni is this season's choice for "Opera in the Outfield" (on Saturday, Sept. 29, when the performance will be simulcast for free at Nationals Park). Though rather long for the newcomer – the kind where everyone gets their say a few times over – for those with some patience, it's a chance to see how opera can make good theater as well as good listening.
Those already addicted to this enduring art form will find this Mozart sung with heart and played by the WNO orchestra with clarity and gratifying intensity under the baton of Philippe Auguin. For that even smaller subset, the opera-loving student of sexual politics, it's a work that compares interestingly with Anna Bolena (playing in rep) on the subject of women and their power, or lack thereof, over men.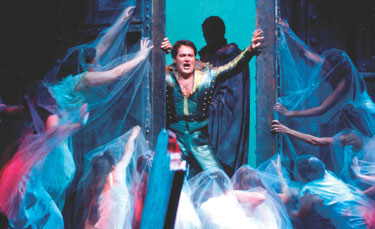 Don Giovanni
(Photo by Scott Suchman)
And, just like Bolena, it's one man in particular who seems to hold all the cards. Here it is Don Giovanni, lord of the local manor. Set by director John Pascoe in what is described as royalist and fascist Spain, Giovanni takes full advantage of his wealth and status, chronically womanizing and occasionally date-raping anything in a skirt. But Giovanni's careless existence begins to unravel when he forces himself upon the devout and unassailable Donna Anna. Though she must first uncover his identity (he molested her in the dark), Anna, unlike many of Giovanni's prey, has the drive and resources to hunt her assailant.
Simultaneously tracking Giovanni, but for very different reasons, is the tortured Donna Elvira, who, despite – or perhaps because of – her own alpha tendencies, cannot help but love the thousand-timing Giovanni.
Since Mozart and librettist Lorenzo da Ponte never reveal much of Giovanni's inner landscape, all clues, in some ways, issue from the women who pursue him. Does he have something redeeming about him that keeps Elvira hooked? Or is he simply the sexual sociopath Anna wants off the streets? Perhaps he is both.
With this kind of vacuum, the dramatic power of Giovanni is all about the bass filling the britches. Put another way, without enough charisma one just won't get what all the fuss is about. Those familiar with the 2007 staging of this production will recall Erwin Schott's Giovanni as a bare-chested and dangerously ravenous force to be reckoned with. This time around, it's the impressively built, if fully clothed, Ildar Abdrazakov ravaging the women of Spain. But though he leers around Pascoe's same evocatively dark and cavernous sets, the mood is lighter. He is a cad for more tumultuous times.
Why? Because even as this production may be eager to appear "relevant" – as in utterly carnal – Abdrazakov, for all his lunging, never gives more than a few rather passionate hugs. (Though it gets a tad raunchier in the final scene, its clumsiness spares the imagination.) In this era of porn-informed "entertainment," Pascoe has decided not to "go there," and it's a great relief for all who do not wish to see their Mozart shaved or waxed. So to speak.
What Abdrazakov does deliver, graphically, is what it's all about: a don singing with rich warmth and gorgeous power and, in his one true serenade (more than likely to Donna Elvira whether he knows it or not), vulnerable delicacy. And though his large bearing never quite gels with this don's more silly antics, Abdrazakov offers a tireless investment that sells Pascoe's vision regardless.
Playing it as if she's got the T-shirt, Barbara Frittoli's Donna Elvira is superbly dimensional, capturing a woman who knows well better but cannot resist the abyss of this particular man. Though the swaddled baby she totes often looks like the prop it is, the idea works. The child symbolizes the love and commitment of emotional intimacy as much as it does the epitome of abandonment. A sweet-toned soprano with plenty of power but a gentle edge, Frittoli is tender on the ear and poignant to the heart.
DON GIOVANNI



To Oct. 13
Washington National Opera
Kennedy Center Opera House
$25 to $300
800-444-1324
kennedy-center.org/wno
Interestingly formidable, despite her mournfully dutiful arias, Meagan Miller brings much immediacy to her quest to see Don Giovanni brought to task. Though her embraces with long-suffering fiancé Don Ottavio look more like tussles and she does, with some rather dramatic costuming, threaten to swallow him, Miller shines with undeniable earnestness. A vibrant soprano singing with power, she brings soulful potency to her sad moments, if some unevenness. As the long-suffering Ottavio, tenor Juan Francisco Gatell channels an effective agitation and brings nuance to his heartfelt arias.
As Leporello, Giovanni's faithful manservant, Andrew Foster-Williams offers good comic timing and a similarly impressive bass; it's a pleasure to hear him banter with the burly Abdrazakov. As the young marrieds almost destroyed by Giovanni's lust for the bride, Veronica Cangemi as Zerlina and Aleksey Bogdanov as Masetto bring charm and humor to their subplot. Cangemi's soprano is light, sweet and convincing; Bogdanov's baritone expressive. As the Commendatore, Donna Anna's ill-fated father, Soloman Howard delivers a gratifyingly solid bass and some well-timed otherworldly menace and humor.
Comparisons are of course inevitable, and some will prefer 2007's darker rendering along with Schott's heaving chest. But for Mozart immersion and some crowd-pleasing drama, this one will certainly do.
For the Oct. 9 performance, Don Giovanni will be sung by Paulo Szot.