Self-confidence can be good, but overconfidence and an inflated ego are likely to drive away Dan. The 24-year-old Minnesota native values loyalty, friendliness and emotional support in a potential partner, and seeks to give it in return. "In love, I express my emotions through actions," he says. "Taking care of someone is how I love them." Dan moved to the District in May to attend Gallaudet University, where he is earning a certificate of deaf interpretation (CDI). Though deaf, he enjoys engaging his other senses of sight and smell, dabbling in photography, art and cooking in his spare time. When he goes out on the town, you'll likely catch him in Northeast's H Street corridor, where he likes to frequent the Rock N Roll Hotel, the H Street Country Club and Biergarten Haus.
What's on your nightstand?
I don't have one. I keep my valuables under my bed.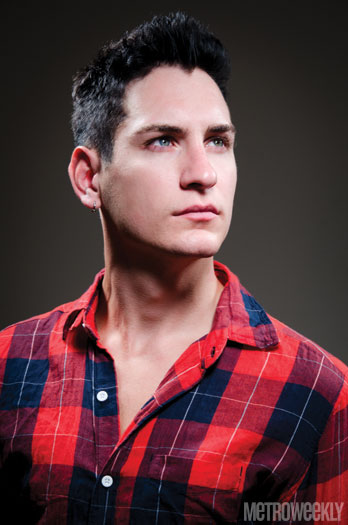 Coverboy: Dan
(Photo by Julian Vankim)
What's under your bed?
A digital camera, condoms, lubes, a few boxes and books.
What are your television favorites?
90210, True Blood, The Secret Circle, The Vampire Diaries and Pretty Little Liars.
What was your favorite cartoon when you were a kid?
Rugrats and Power Rangers.
What superhero would you be?
Nightcrawler, because he's so sexy and amazing. He can teleport anywhere, has night vision, can stick to walls, blend into the shadows.
Who's your greatest influence?
My friends. They've helped me through a lot with my life, given me great advice.
What's your greatest fear?
Death.
Pick three people, living or dead, who you think would make the most fascinating dinner guests imaginable.
Phoebe Tonkin, Barack Obama and Tyra Banks.