The D.C. Office of Human Rights officially unveiled its first-in-the-nation government-sponsored transgender ad campaign Sept. 13 before a packed room at a local bar, Mova.
The campaign – developed through collaboration with transgender advocates, focus groups and LGBT organizations such as Transgender Health Empowerment, the DC Trans Coalition and the National Gay and Lesbian Task Force – features five variations. Two of the ads feature transgender women, two feature transgender men, and the fifth features a person who identifies as "genderqueer."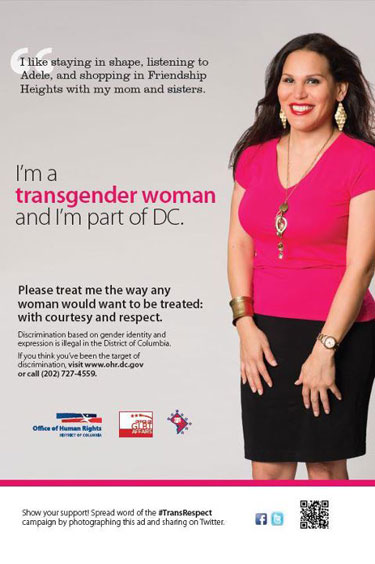 This Transgender and Gender Identity Respect Campaign ad featuring Consuella will appear on bus shelters across DC in the fall and winter of 2012
(Photo by DC Office of Human Rights)
Each ad, intended to familiarize District residents with the transgender community and emphasize things they have in common with other community members, features one transgender person and a quote from that person about what they love to do or like about living in the District.
The crowd at the launch event included an array of local LGBT activists, particularly those who have worked closely with the transgender community, such as representatives of the DC Trans Coalition, Transgender Health Empowerment and local community center Casa Ruby. Councilmember Jim Graham (D-Ward 1) was in attendance, as was Mayor Vincent Gray (D), who addressed the crowd prior to the official unveiling.
"You can't imagine how good it feels to do the right thing," Gray told the cheering crowd gathered inside the bar. "And, frankly, the right thing doesn't always get done. … I know there was skepticism, I understand why people were skeptical, because how many times have you heard promises that never were fulfilled? Where there were good discussions in the room, and then people got amnesia when they walked out the door?"
In his speech, Gray spoke of his administration's efforts to usher three groups of transgender individuals through the Project Empowerment program, designed to help marginalized populations secure gainful, long-term employment. The relative success rate of the program, including high completion rates for transgender participants, helped pave the way for the new city-sponsored ad campaign.
"We know that an ad campaign is not the cure-all or the panacea, but it is a step in the right direction," Gray told the audience. "It is saying we are going to step out; we are going to be in the forefront; we are going to send the message that people who are transgender have as much a place in the District of Columbia as anybody else."
The Office of Human Rights hopes the campaign will increase awareness and understanding of gender non-conforming people in the District, as well as prevent discrimination against transgender people, OHR Director Gustavo Velasquez said.
Velasquez told Metro Weekly he hopes that the campaign will be far-reaching, particularly with the help of social media, where observers will be asked to share the campaign ads with friends. The campaign has its own Twitter hash tag, "#transrespect," and will rely primarily on social media due to a scarcity of cash.
"We don't have, right now, the kind of funding that would allow us to do commercial advertising," Velasquez said. "We are utilizing the resources at our disposal that are free or semi-free. We are approaching the Department of Transportation to do some billboards, some space in the transit authority. We are hoping that by partnering with national groups, like GLAAD, that they can help, especially in the area of social media, reach as many people as possible."
Velasquez said he understands some might consider the ads controversial, but believes they will have a positive impact.
"We want to make sure that the message is about equality, about inclusion of the transgender in everything everyone else does in this city," he said. "If that's the message, then people who are not transgender will be able to perceive that message in a way that will assist the transgender community when instances of discrimination happen."
Wesley, one of the campaign's participants, who asked that his last name not be used, said he chose to participate in the campaign because of its historic nature as the first such government-sponsored campaign focusing on transgender rights. A friend, Lisa Mottet, from the National Gay and Lesbian Task Force, was working with the city on the campaign and suggested that he take part.
Wesley said he understands that there could be possible ramifications for choosing to come out as transgender, explaining that most of his coworkers are unaware of his gender identity, but does not expect much negative pushback.
"We all know there's been some violence against trans people, and I know there was some concern," he said. "I was initially nervous, but [participating in the campaign] felt more natural than I expected it to."
"The most nerve-racking part is seeing a giant picture of yourself in public, rather than the actual message or topic of the ad," Wesley said. "But I'm not nervous anymore."