Ask the uninitiated about a gay cruise and plenty of preconceptions come to mind. Some guess that every passenger passes a screening process that includes having appeared in an Abercrombie & Fitch catalog. Others are just so certain that a gay cruise is Sodom on the high seas, where seasickness requires a dose of antibiotics or penicillin.
Imagination is a powerful thing. In reality, there are gorgeously god-like passengers on gay cruises and people do have a tendency to get frisky on a vacation. But there are also grumpy passengers, ugly passengers, bickering couples and those who far prefer sunsets to slings. In a nutshell, passengers on all-gay cruises will likely get out of such vacations whatever they want to get. No two passengers have the same trip.
Those already sold on gay cruises may have their eyes on one cruise in particular this fall. Atlantis Events, which operates both Atlantis charters and the RSVP Vacations brand, is setting sail with its first Halloween cruise, departing Los Angeles Oct. 29 and calling on Puerto Vallarta and Cabo San Lucas in Mexico before its Nov. 4 return. For this costumed kick-off, Atlantis has chartered the Carnival Splendor with fares starting at $599 per person – the lowest Atlantis fares ever.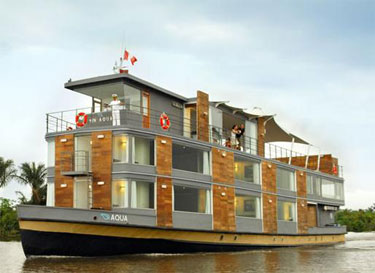 Aqua Amazon cruise
Those gals who've not already booked Olivia's fall cruise have likely missed the boat. Olivia's "Majestic Alaska Cruise," chartering Holland America Line's Zaandam, sets sail Sept. 16 out of Vancouver, British Columbia. As of Sept. 3, there was still limited availability on large inside staterooms for $1,599 per person, based on double occupancy.
On a much, much smaller scale, Houston-based Concierge Travel is offering an all-gay charter aboard the Aqua. How much smaller? The Aqua has 12 cabins. But where the Aqua is going, smaller is better.
"It's the first all-gay Amazon river cruise," promises Stephan Roth, a Concierge spokesman. "It's new for the whole industry."
This unique cruise departs Oct. 27 from Iquitos, Peru, for a week in the wilds of Amazonia.
"It's really about experiencing the unspoiled Amazon River wildlife," says Roth. "You'll get to see the freshwater pink dolphins. There's a night trip to see caimans. There are Amazon jungle walks, visits to small villages." Prices for this exclusive trip start at $6,250 per person.
Going from full charters to LGBT groups traveling on otherwise mainstream cruises opens up an array of other itineraries for those hoping to sail away this fall. For the die-hard drag devotee, Al and Chuck Travel is offering the "Drag Stars at Sea: Revenge of the Wench" Caribbean cruise out of Miami on the Carnival Glory with prices starting at $449 per person.
For those looking for an experience catering to gay black men, Nubian Knights of Atlanta is organizing a group to sail Royal Caribbean International's Brilliance of the Seas, Nov. 10 to 17, out of Miami. Inside cabins have sold out, but outside cabins may be available starting at $989 per person.
Or, say you missed the Atlantis takeover of Royal Caribbean International's Allure of the Seas, the world's largest cruise ship. Pied Piper Travel will take a large gay group on the giant ship for a post-Thanksgiving cruise, Nov. 25 to Dec. 2, out of Fort Lauderdale, with prices starting around $650 per person. The tour group is even bringing along Leslie Jordan of Sordid Lives fame for a private show. Del Shores, the man who wrote Sordid Lives, meanwhile, will be cruising with Aquafest on that tour group's 11th annual Halloween cruise – even if this year it's a bit "post" Halloween, departing Miami Nov. 10 aboard Norwegian Cruise Line's massive Epic.
"With a private event, we bring celebrity entertainment, all theme parties are private," explains Aquafest's Tom Baker, adding that while the Epic holds about 4,000 passengers, he's got to cap his group at 500 people – unless he wants to charter the whole ship. Going as a group instead, he says, allows for exclusive LGBT programming, but at less cost than a full charter. And he's nearly sold out. Baker advises that anyone hoping for availability call Aquafest at 800-592-9058.
"It's a GLBT program at an affordable price," says Baker. "The cost of marketing a charter is huge. We have a much smaller operating cost."
Nick Baatz, aka Charger Stone, who runs D.C. Bëar Crüe events with his business partner and fiancé, Scott Gunn, is sold. Gunn convinced Baatz to take his first cruise – Aquafest's 10th anniversary cruise in 2011 – and now the couple help promote Aquafest to the bear crowd and have signed up for the 2013 cruise.
"It took me a couple days to settle down," Baatz says of his initial cruise experience. "Even when you go on vacation, you still have your phone, your email. But on a ship, you don't have a choice. You have to stop everything. It's a complete break from everything unless you want to pay astronomical amounts for an Internet package.
"And Aquafest puts on phenomenal parties, tons of special events. We got so well known on the ship, people would stop us. We had straight people trying to get into our events."
"We will definitely do a cruise every year," Baatz adds, this year making it Aquafest's Alaska cruise, Aug. 31 to Sept. 7. "It's the one time where you don't have a choice but to relax and enjoy yourself. When you're sitting in a hot tub and you don't have to get out for a drink, that's pretty awesome."
While Baatz plans his fall 2013 Halloween cruise, another fall 2013 cruise deserves a mention, being in that same rare boat as the Amazon cruise. The new Brand g tour company is offering an all-gay Mekong River cruise on the 124-passenger AmaLotus making stops in Vietnam and Cambodia. Pricing for the cruise begins around $2,800 per person.
"It's magical. It's almost overwhelming," Brand g's Brian Van Wey says of this cruise. "It's an absolutely beautiful area of the world. It's completely different than what we as Westerners would experience. The history just predates anything we can imagine.
"The riverboat is a little more similar to the European style. There are very nice amenities. The food is exceptional. This really provides you a way to get to some obscure areas. You can still go out and experience some of this raw nature and come back to comforts you're familiar with."