CHARLOTTE, N.C. – As delegates and special guests arrived in Charlotte Monday for the 2012 Democratic National Convention, festivities celebrating the renomination of President Barack Obama for a chance a second term began in earnest across the city.
Organizers for the convention say 30,000 people attended a special street festival in downtown Charlotte on Monday, one day before official convention activities kick off in Time Warner Cable Arena. LGBT community groups also celebrated. Hundreds of LGBT elected officials and supporters gathered for an evening reception Monday where out gay Charlotte City Councilmember LaWana Mayfield and put lesbian Houston Texas Mayor Annise Parker addressed the crowd.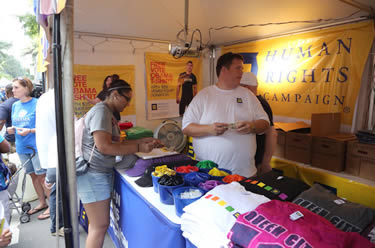 HRC recruits new members at a Charlotte street festival in the run-up to the DNC
(Photo by David Lari/QNotes )
National Stonewall Democrats also hosted a special party on Monday, giving LGBT employees of the local convention committee, Obama campaign staff and convention organizers a chance to relax before today's official convention kick off.
Local LGBT community members in Charlotte say they welcome the attention in their city. Toryn Stark, who volunteered to meet convention delegates at their hotels, says she wants Charlotte to be known as the unique city she's called home for years.
"I hope that they know that Charlote is a very diverse city," said Stark, who ventured out to a local bar for a special convention-themed drag show Monday. "It might not be what they are expecting. … We definitely are excited to have the convention here."
Tonight, the National Stonewall Democrats will hold a special convention-watch party and dance party, as first lady Michelle Obama addresses the nation. Delegates will approve the party's platform today, as well, making the Democratic Party the nation's first major political party to offer support for full marriage rights for same-sex couples.
Democratic National Convention coverage provided by Metro Weekly and QNotes, the leading LGBT community newspaper of North Carolina, based in Charlotte.