"We get to do a lot of gay parties or gay events," beams Martina Sorbara, singer for the electro-pop band Dragonette. "I don't know why, what exactly the ingredients are that has made that part of our scene, but we're really lucky to have been embraced so heartily."
Embraced by the gay community is an understatement. Dragonette has played at Pride events in Toronto and Vancouver, not to mention the Folsom Street Fair in San Francisco and the Ascension circuit party in New York's Fire Island.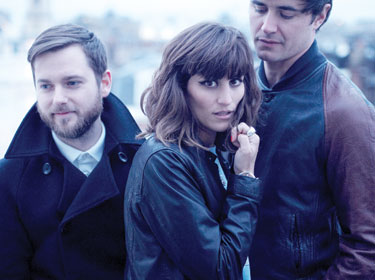 Dragonette
(Photo by Kristin Vicari)
And Sorbara has a theory about the band's gay appeal.
"Even though I'm not singing about being gay," she says with a laugh, "it's probably attractive that I'm not some cookie-cutter version of a writhing, sexy girl."
"I enjoy approaching attraction from a powerful place," Sorbara continues. "Not a degrading or a dominating place, but just like, 'Come here!' I'm not afraid of being sweet or vulnerable, or anything, but that's definitely not all I am."
Of course, the 33-year-old is the cute, sexy-voiced woman behind last summer's huge club hit "Hello" by DJ/producer Martin Solveig. Sorbara started Dragonette with her musician husband Dan Kurtz in 2005 after the two were "following some whimsy" playing around with old synthesizers in their basement. Joel Stouffer became the band's third member. The couple has just resettled in its native Toronto after living in London since the band's founding, and before the their collaborations with Basement Jaxx, Cyndi Lauper and Kaskade.
The name Dragonette appealed to Sorbara because it captures what she perceives as the band's style and sound — a blend of sweet dance with angular punk, creating edgy electronica. "I liked the contradiction of the dragon [with] the daintiness," she says. "The aggression and the danger with the femininity." — Doug Rule
Dragonette performs Saturday, Sept. 15. Doors at 9 p.m. Black Cat, 1811 14th St. NW. Tickets are $16 in advance, or $18 at the door. Call 202-667-4490 or visit blackcatdc.com.