"Here I am, look at me," says local actor MaryBeth Wise. "I'm proud to be who I am."
Technically, Wise is speaking for the many unseen, fictional women of all ages and body types who factor into Annie Baker's comedy Body Awareness, now at Theater J. These women have all found some measure of inner strength by posing nude for a straight male artist whose work and outlook shake things up and provoke the play's other three characters to reassess their thoughts about art and sexuality, even human anatomy and psychology.
Wise plays Joyce, a high school teacher and mother to a possibly autistic son. She's also in her first domestic relationship with another woman.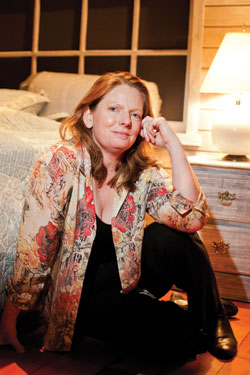 MaryBeth Wise at Theater J.
(Photo by Todd Franson)
"Joyce is discovering herself, discovering her own body, her own identity," Wise says. "And the things that happen in the play force her to go even further and further in terms of, 'What is my own self-image? What is my worth?' She's just so complex, and she goes through such a journey."
Wise herself is in a domestic relationship with a woman – to a fellow actor, the celebrated Sarah Marshall. The couple has been together for roughly nine years. A Silver Spring resident, Wise has lived in the region for over two decades, but that certainly wasn't her intention when she moved here from Miami to get a master's degree in fine arts at Catholic University.
"D.C. is such a rich town and has so many good things happening for it theater-wise," she says. It's very welcoming to gays too, she notes. "There are a lot of actors [here] who are gay and lesbian — we have a great, open, accepting, wonderful community."
Wise, who got her start at Olney Theatre, has portrayed a lesbian once before, in Woolly Mammoth's The Mineola Twins, in which she also played a man in the first act. ("I was straight and gay in that show: a gay woman and a straight man," she laughs.) But she credits the diversity of what gets staged in D.C. theaters for helping her avoid typecasting. That diversity has also thus far helped keep her from competing with Marshall. "We're different types," she says, adding, "If we were going for the same roles all the time, I don't know how challenging that would be."
In addition to her work in local theater, Wise has done voiceover work for the Library of Congress and its program for the blind and physically handicapped. She also occasionally works with Hollywood studios filming in D.C. or Baltimore. Recently she played a reporter in an episode of HBO's Veep. "Don't blink!" she says of the "tiny" role.
But the theater appeals most to Wise. "If you like literature and music and sociology, theology, philosophy – it's all in the theater," she says.
Wise finds Baker's Body Awareness particularly appealing in the way that it tackles serious subject matter, but always with humor. "We're fine with you masturbating, Jared," is Wise's first line in the play, addressed to her live-in, adult son, who's racking up bills with pornography charges.
"The play manages to ask these big questions, but also just remain human," she says. "It's extremely, extremely funny."
Body Awareness runs to Sept. 23. The Aaron & Cecile Goldman Theater, Washington, D.C.'s Jewish Community Center, 1529 16th St. NW. Tickets are $35 to $60. Call 202-518-9400 or visit washingtondcjcc.org. '