With about 40 days to go until the Nov. 6 election, Maryland Gov. Martin O'Malley (D) made a plea yesterday to activists supporting marriage equality on a Sept. 24 conference call: We need more money.
O'Malley, who has made the passage of marriage equality one of his legislative priorities this year, told reporters and activists on a Sept. 24 conference call that supporters must "activate their social networks" to donate money to the Marylanders for Marriage Equality coalition, which seeks to uphold Maryland's marriage-equality law, the Civil Marriage Protection Act, by approving it in a referendum known as Question 6.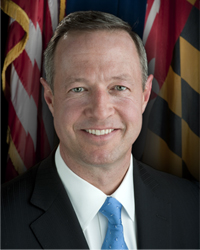 Martin O'Malley
Question 6 allows same-gender couples to obtain a civil marriage license from the state, but underscores that individual churches or other religious institutions are not required to recognize or perform same-gender marriages if such marriages conflict with religious beliefs or doctrine.
O'Malley, who was joined on the Monday evening phone call by Josh Levin, the campaign manager for Marylanders for Marriage Equality, said proponents of Question 6 need at least $2 million to mount a strong campaign.
Even though the Maryland Marriage Alliance, the key group leading the charge to defeat Question 6, experienced financial troubles during the summer, Levin said he fully expects that organizations such as the National Organization for Marriage (NOM), the MMA's largest backer, to donate generously in order to flood the state with television and radio advertisements that will seek to "muddy the message" concerning what the Civil Marriage Protection Act does.
"I believe we have the ability, if we raise the money. We can be the first state – or one of the first four states – to pass this and defend marriage equality," O'Malley told those on the conference call, referring to similar ballot measures to in Washington state and Maine, as well as a referendum in Minnesota to amend the state constitution to ban same-sex marriage, though same-sex marriage is already banned by statute.
"We have the ability to pass this in Maryland," O'Malley continued. "It is in keeping with the character of our state to protect rights equally under the law, while also protecting religious liberty."
O'Malley and Levin outlined, briefly, three strategies that have been successfully used by opponents in other states to pass constitutional bans on same-sex marriage or overturn marriage-equality laws passed by legislatures: exploiting racial animus by pitting minorities, particularly African-Americans, against gays by playing on perceptions that being gay or lesbian is a "white" phenomenon; suggesting that the passage of same-sex marriage will somehow force schoolchildren to be taught about same-sex attraction and relationships in schools or will encourage them to become homosexual; and convincing voters that they are being "duped" by ballot language.
O'Malley said he believes the last tactic will be difficult in Maryland, precisely because the ballot language for Question 6 is so explicit in stressing that gay and lesbian couples will be allowed to obtain a civil marriage license and stating numerous religious protections that are provided to clergy, churches and other faith-based organizations.
Levin agreed with O'Malley, but pointed out that after the ballot language was released, Derek McCoy, the head of the Maryland Marriage Alliance, shifted the discussion immediately to what passage of marriage equality might mean to children in public schools in Maryland, indicating that the opposition believes these tactics are effective.
In advance of the expected advertising blitz by opponents of marriage equality, Levin noted that the campaign has pre-emptively tried to undercut possible arguments that will be used against marriage equality, and pointed to a Sept. 21 press conference with several prominent African-American pastors – some of whom recognize same-sex marriages and others who do not – who all support Question 6 as a matter of equal civil rights.
Levin characterized the endorsement of Question 6 by the African-American pastors as a "big deal," underscoring Marylanders for Marriage Equality's efforts to highlight support from prominent African-Americans in order to blunt opponents' attempts to fuel a perception of African-Americans versus gays. African-Americans make up about a quarter of Maryland's electorate.
The call also revealed some frustrations in the marriage-equality camp. When pressed on the need for a simple 30-second sound bite in favor of marriage equality by Los Angeles-based journalist Karen Ocamb, O'Malley repeated – as he did many times during the call – themes of equal protection under the law and religious liberty. When asked if proponents should adopt more visceral messaging, perhaps similar to that used at the Democratic National Convention – possibly borrowing from speeches by first lady Michelle Obama and San Antonio Mayor Julián Castro – to address marriage equality, O'Malley said people would probably hear ads along those lines, which he described as "skillful," but stopped short of endorsing any particular message.