Chris Griffin characterizes his latest play as a "confused Caucasian'sploitation musical."
"Vanilla Latte," he explains about the lead character, "is this white tranny who thinks she's Pam Grier." The other characters dance around the subject of Latte's racial confusion, from which the show's comedy flows. "There's a deep-seated reason why Vanilla is vanilla," Griffin says. "[But] that's for people to come see and find out."
If that doesn't intrigue you enough to see Vanilla Latte, which Griffin both wrote and stars in, then how about the fact that it's all for charity? Vanilla Latte is just one of five mini-shows factoring into Griffin's series "Hope Operas," starting its fourth year at Arlington's The Comedy Spot next Monday, Oct. 1.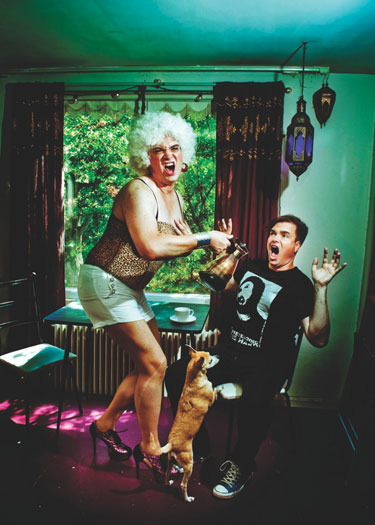 Chris Griffin, Vanilla Latte: Hope Operas
(Photo by Todd Franson)
"Every week over a five-week period each show puts up a 10- to 15-minute episode," he explains, "and at the end of the night the audience votes for their favorite show." Each of the five shows is tied to a local charity, and each week's winning show earns its respective charity a larger portion of proceeds from ticket sales. "To make it tricky we decided to do all musicals this year," Griffin says.
In addition to Vanilla Latte, with music written by Christian Crowley and benefiting the Sexual Minority Youth Assistance League (SMYAL), this year's series includes the android-themed Body Electric, benefiting The Center for Self Discovery – Teens Run DC; the Flying Dutchman-update Davey Jone's Locker paired with the military-assistant Veteran Artist Program; Orpheus in Love benefitting the health care Big Apple Clown Care Program; and World Wrestling Organization Saturday Night Savage Uncut benefiting the USO.
Griffin, who grew up in the Washington area, may be best known as Lucretia Blozia, his drag alter ego which is another play on words from the self-described "punster," this time of the Italian Renaissance femme fatale Lucrezia Borgia. A few years ago Blozia was part of the local musical comedy trio Eva Brontosaurus. She's also performed with the outrageous Cherry Red Productions and the Landless Theatre Company, the spoof-tastic company where Griffin is a company member.
Griffin, who works by day at a trade association for fundraisers, aims to get more involved writing and producing for the theater. That was part of the impetus behind Hope Operas, which Griffin started in 2009. "I kept writing eight pages of a script, and then I would stop," he explains. "And then I'd start another script, write eight pages and then I'd stop." Creating one serialized, short play a year, in tandem with four other writers or writing teams, added a measure of discipline to his playwriting pursuit.
He modeled Hope Operas after a similar competitive event, Serial Killer, he'd discovered while living in Los Angeles for a few years last decade. "[Serial Killer] would kill off two shows every week by audience vote," he says. Griffin opted to "not kill anybody and do it for charity."
This year's Hope Operas includes creative participants from several area theater companies, including WSC Avant Bard, Tasty Monster and Factory449, as well as Landless. It also features prizes for the performers from Woolly Mammoth and the Actors' Center. For the audience, Rock Bottom Brewery will offer a portable bar, with 10 percent of proceeds going to the beneficiaries. And if you can't make it every week, don't worry. "People this year are writing recap songs," says Griffin.
It should be noted that neither Griffin nor his fellow creative participants are making any money from their work in Hope Operas. "It's roughly 60 local theater professionals who normally do get paid," Griffin explains. "We're giving back by doing what it is that we do.
"I'm sure we could probably raise more money by having a car wash. Instead, we're creating theater."
Hope Operas runs every Monday, from Oct. 1 through Oct. 29, at 8 p.m. at the Comedy Spot in the Ballston Mall, 4238 Wilson Blvd. 3rd Floor. Arlington. Tickets are $13 per show, or $50 for all five weeks. Visit facebook.com/HopeOperas.