"We've had crazy responses from people already worried about whether or not they're going to be able to get in," says Angela Lombardi, general manager of Phase 1. Yes, the Southeast lesbian bar's three-night, queer music-focused PhaseFest, which Lombardi organizes, is too popular. It has to turn people away every year on account of reaching capacity.
This year that may be more so than ever. Though the Brooklyn-based rock band Hunter Valentine has been a mainstay at PhaseFest for years, they've achieved wider fame this summer, as stars of season three of Showtime's The Real L Word. The quartet will headline the festival this Saturday, Sept. 22.
"I can't stress to people enough to come out early," Lombardi says.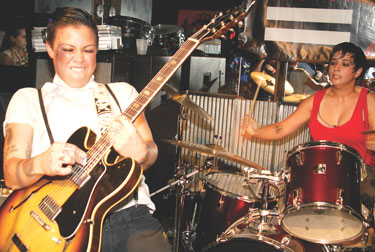 From PhaseFest 2011: Hunter Valentine
(Photo by Ward Morrison)
Since last year's PhaseFest, of course, the bar has established an offshoot in the old Apex/Badlands space. But Lombardi says owner Allen Carroll opted not to organize the festival in Phase 1 of Dupont this year because "we wanted to make sure we were offering the same vibe and the same experience that people have come to know and love." For one thing, the new, larger venue can't offer the same level of intimacy as the original Phase, which holds a maximum of 400 people. "People are a foot away from these performers," Lombardi says. "Down and dirty, dive-y charm – that's kind of our little slogan."
Lombardi insists the draw isn't just Hunter Valentine or the headliners the other two nights: veteran Thursday night kick-off artist Bitch plus the Athens Boy Choir, and Friday's People at Parties. All told there are 21 live musical acts. "Even the local bands people may not have heard of are just really rad," she says, singling out the Coolots, Lost Bois and Glitterlust.
And then there's Saturday's Vanity Theft from Ohio. Lombardi likes their "rock 'n' roll sound," adding, "they're also ridiculously hot." '
PhaseFest starts at 7 p.m. on Thursday, Sept. 20, and Friday, Sept. 21, and at 6 p.m. on Saturday, Sept. 22, at Phase 1, 525 8th St. SE. Cover is $15 on Thursday, $20 on Friday and $25 on Saturday, or $55 for VIP pass. Call 202-544-6831 or visit phasefest.com.