CHARLOTTE, N.C. – Volunteers and business owners in the LGBT community have been hard at work ensuring their visitors and guests during the week of the Democratic National Convention receive star treatment.
At the LGBT Community Center of Charlotte, staffers and board members teamed up to give away 20 credentials to LGBT bloggers and others. The credentials will offer access to co-working and event space in Uptown Charlotte organized by The PPL, an effort to involve independent artists, bloggers and citizen journalists in convention activities.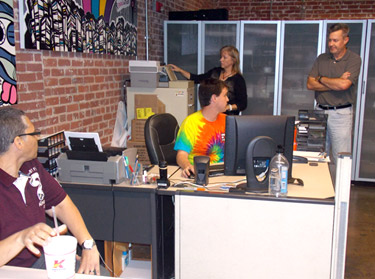 Members of the LGBT Community Center of Charlotte's staff, board and volunteers talk about their plans for the DNC
(Photo by Matt Comer/QNotes)
"This is a great time for our voice to be heard," says O'Neale Atkinson, operations manager for the center, located at the NC Music Factory in Uptown. "This is historic. Something like this has never happened in Charlotte before and we'll have national attention throughout this week and we want to make sure that we aren't just there but that we actually have a voice and it is being heard."
Atkinson says the center will also be open for extended hours.
"This is an opportunity for us to gain visibility not just for the center but for the whole community," he says. "We're definitely going to try to take advantage of the opportunity by making the center as accessible as possible throughout the week."
The center, usually open only in the evenings for events and for public drop-ins, will be open each day, noon to 8 p.m., during the week of the convention. Atkinson says the center will provide journalists with complimentary refreshments and information about the local community.
During the week of the convention, Atkinson said refreshments and other services like work space and free Wi-Fi will be available to visitors.
In other parts of Uptown, Hartigan's Irish Pub, a lesbian-owned restaurant, bar and club popular with LGBT clientele, is preparing for a big event on Thursday, Sept. 6. That night, President Barack Obama will give his nomination speech at Bank of America Stadium. Afterward, the entire Maryland delegation will have the opportunity to celebrate at Hartigan's.
"The DNC is going to be huge news," co-owner Jill Phillips says with excitement. But she's concerned about business before that Thursday. Located right next to Bank of America Stadium, Phillips says security checkpoints, traffic and street closures might keep many of her regulars away.
"With the traffic, the proximity will hurt us before the Maryland delegation gets there," she says. "A lot of people are going to stay away. We might have some specials and decorations to celebrate the DNC being here but we're just looking forward to the Maryland delegates."
Phillips says she'll enjoy the experience, one many have said is a once-in-a-lifetime opportunity. She expects an influx of regular customers back to her business the weekend after the convention.
Democratic National Convention coverage provided by Metro Weekly and QNotes, the leading LGBT community newspaper of North Carolina, based in Charlotte.