The D.C. Board of Elections and Ethics (DCBOEE) announced today that John C. Cheeks, an Independent candidate for D.C. City Council chair, will not appear on the ballot for a Nov. 6 special election coinciding with regular Election Day races.
Brown resigned June 6 after being charged with bank fraud. He later pleaded guilty to a related felony charge, and to a separate misdemeanor charge of violating District campaign finance laws. One week later, Mendelson was elected chairman by his fellow councilmembers, 11-1. District statutes require that the chairman's seat be filled by one of the Council's four At-Large members.In a Sept. 11 release, DCBOEE said the board determined that Cheeks was ineligible. Cheeks's removal from the ballot means that Phil Mendelson (D), incumbent At-Large councilmember and interim Council chairman, will face off against Democrat Calvin Gurley in the race to fill the remaining two years of former Council Chairman Kwame Brown's (D) unexpired term.
Cheeks also ran in an April special election to replace former Ward 5 Councilmember Harry Thomas Jr. Thomas, who resigned his seat just before pleading guilty to embezzlement and tax fraud. Cheeks lost that election to Councilmember Kenyan McDuffie. 
During his campaign for the Ward 5 seat, Cheeks told Metro Weekly in an interview that as a Roman Catholic he supports the beliefs of his church and would have voted against the law that granted marriage for same-sex couples. Cheeks also expressed reservations about requiring police officers to take cultural-sensitivity training, citing costs.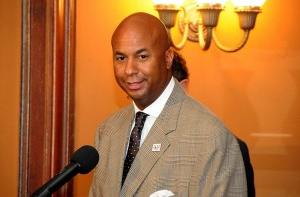 Michael Brown
Unlike Cheeks, Councilmember Michael Brown (I-At-Large), who is running for re-election, has qualified for the ballot, DCBOEE also announced. The challengers for his At-Large seat, as well as the one held by Councilmember Vincent Orange (D-At-Large), are Republican Mary Brooks Beatty, Independents David Grosso, A.J. Cooper and Leon Swain Jr., and Statehood Green Party nominee Ann Wilcox.
A spokesman for DCBOEE was not immediately available for comment regarding why Cheeks was declared ineligible.
[Photo: Councilmember Michael Brown, from michaelbrownatlarge.com.]