Someone has been disposing of issues of Metro Weekly in bulk and vandalizing the magazine's distribution boxes by filling them with everything from rotting food to what seems to be human and animal waste in an ongoing series of attacks in three D.C. neighborhoods popular with LGBT businesses and residents.
The latest incident occurred yesterday, Sept. 13, just hours after Metro Weekly hit stands with its latest issue, when distribution drivers found fecal matter inside some distribution boxes.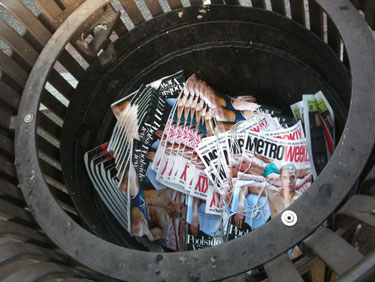 Copies of Metro Weekly thrown in trash by vandal
(Photo by David Uy)
Sean Bugg, co-publisher of Metro Weekly, confirmed that some boxes, which serve as a major distribution point for the free-of-charge weekly magazine, have been vandalized or completely emptied of magazines since as far back as February.
Bugg said someone has been targeting specific boxes, primarily those located around Dupont Circle and Connecticut Avenue NW, the 17th Street NW corridor, and the area on P Street between 15th and 14th Streets NW. Sometimes all the issues in a box are simply removed, often to nearby garbage cans. Other times, they have been filled with garbage, such as banana peels and foul-smelling substances, including masticated food and fecal matter, seemingly both animal and human.
"It's really horrible for our readers in those neighborhoods to have those boxes vandalized in such a grotesque way," Bugg said.
Bugg said he doesn't know of anything beyond his magazine's audience that might motivate a vandal to commit such acts.
"We don't have provocative covers," Bugg said. "But if someone has anti-gay animus, any cover will be provocative."
Bugg said he and his co-publisher, Randy Shulman, have reported the incidents to the Metropolitan Police Department's (MPD) Gay and Lesbian Liaison Unit (GLLU) and are working with them to identify whoever is responsible for the destruction. Bugg also said that based on available information – including some eyewitness accounts from Metro Weekly distribution drivers – the repeated acts should be considered deliberate, targeted and likely to continue.
Lynne Brown, the publisher of the free gay newspaper The Washington Blade, said she, too, has been receiving reports of her publication being thrown away and damage to some newspaper boxes.
Brown told Metro Weekly that she's also personally observed individuals throwing out copies of the Blade, and that some of the paper's distribution boxes have been damaged or vandalized. Brown, like Metro Weekly, has also alerted the GLLU about the vandalism to her company's property and the destroyed newspapers.
"If you make it hard for people to find the paper, they don't read it," she said.
David Uy, webmaster for Metro Weekly's online site and one of its distribution drivers, said he has been attempting to identify a culprit, going so far as managing to capture video surveillance of a man disposing of large numbers of Metro Weekly issues.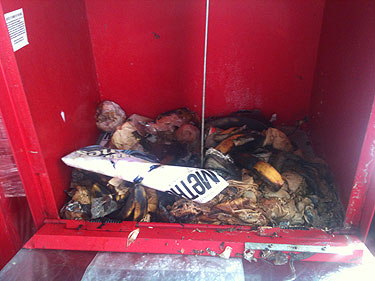 Garbage placed in Metro Weekly street box by vandal
(Photo by David Uy)
According to Uy, the man can be observed nearly every night at the Cosi Restaurant at the intersection of Connecticut Avenue and R Street NW, between 12:15 to 12:45 a.m.
Uy said he's not yet been able to observe this man or someone else committing the acts of extreme vandalism, but that such incidents occur at least once a week.
After throwing issues away, the man Uy spotted usually walks to the corner of Florida and Massachusetts Avenues NW and enters the basement entryway of 2205 Massachusetts Ave. NW. The building at that address is the headquarters of the National Society Daughters of American Colonists (NSDAC), an exclusive society of women descended from the original land-owning colonists who settled America and were involved in its founding as a nation.
Uy told Metro Weekly that he could not tell if the man was going inside the headquarters of NSDAC or whether he was "camping out under the stairs, like a troll."
A man identifying himself as being associated with NSDAC responded to a Metro Weekly request for comment, calling back from a blocked number. He said the organization had informed police and would keep an eye out for any suspicious activity. When asked if there was a basement apartment or entryway below the NSDAC building, the man said he was "unable to comment on any activity that goes on at headquarters."
In the video shot by Uy, the man recorded disposing of stacks of Metro Weekly issues appears to be a middle-age white man, wearing a backpack and a shoulder bag. He's seen carrying copies of what looks to be magazines or newspapers, walking to the basement entryway of 2205 Massachusetts Ave. NW, then moving out of view.
In a Sept. 13 email sent to Sgt. Carlos Mejia of the MPD's Special Liaison Division, which includes the GLLU, Uy described the man as being about 5 feet and 6 inches tall, in his late 30s, with short, dark hair, a "swarthy skin tone," usually dressed in green with a dark-green coat and a large green backpack.
"The severity of the behavior has escalated," Uy wrote to Mejia. "The waste material he places in our distribution boxes is filthy, disgusting and repulsive. It smells horrible, attracts flies and rodents, and is difficult to remove. Lately, it includes the dumping of large amounts of human feces, which is certainly a health hazard, as well. The boxes have been removed, washed, sterilized and replaced, only to find the same horrible material in them again and again. It is not only unbelievably unpleasant, but it costs us a lot of money as well to deal with."
A spokesman for MPD was unable to confirm an investigation report number or offer any other details.
For now, Bugg said Metro Weekly distribution drivers will continue to keep an eye on the boxes. But Bugg said that if anyone in the District sees a person doing something strange to Metro Weekly's boxes, they should notify the magazine.
"It's not just an attack on us, it's an attack on an LGBT-owned business," Bugg said. "And I think it's an attack on our readers as much as an attack on our business."
"The more I look at this, I believe this is a hate crime toward our readers," he continued. "I can print as many issues as I want. I can put more issues out if I want, and I will. But it's just unbelievable in this day and age that somebody would be engaging in this kind of nasty, disgusting, reprehensible attack."
Bugg said he hopes that people passing through the area, local business owners and residents will step up and help find whoever is responsible.
"I want to be clear: I consider this a hate crime, even though it's not the same as physically attacking someone and beating them up" Bugg said. "I've been in D.C. a long time, and I've been called 'faggot' walking down the street, and this is much worse."
Bugg said the vandalism goes beyond a hateful and disgusting attack on the magazine and its readers, but on the neighborhoods where the incidents are taking place.
"It's hazardous to people's health," he said. "I would really encourage our readers and any business people in our neighborhoods, never to approach someone [who is vandalizing a box] but to let the police or us know. This is not the kind of stuff we want in our neighborhood."
To contact Metro Weekly, call 202-638-6830 or email editor@MetroWeekly.com. To report an incident to the GLLU, call 202-506-0714.