CHARLOTTE, N.C. – First lady Michelle Obama was an honored guest Wednesday afternoon, Sept. 5, at a Human Rights Campaign and Gay & Lesbian Victory Fund luncheon to honor LGBT elected officials. Fresh off her captivating prime-time convention speech kicking off events Tuesday evening, Obama brought LGBT supporters to their feet as she asked for their help in re-electing her husband.
"Our president, my husband, has stood strong for the values of freedom, justice and equality that make this country great," Obama said, speaking 20 minutes late though with no discernible consternation from those gathered to see her.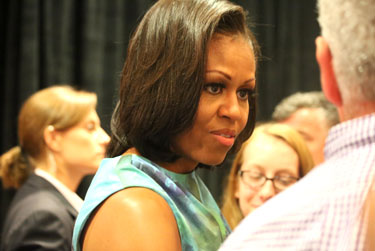 Michelle Obama at Sept. 5 LGBT luncheon
(Photo by David Lari/Qnotes )
When she talked about ensuring that "all Americans are treated fairly, no matter who you are or who you love," a man in the crowd responded, "I love Barack!"
"I do too," the first lady responded. "We have something in common."
Later, she spoke about giving everyone the right to "do what Barack and I did and marry the loves of our lives."
While asking her audience for help in the campaign, Obama tapped into motherhood.
"You see my face," she said. "It's my serious first lady face." She added, to the crowd's laughter, "My mom face. You heard me, Sasha."
She asked LGBT voters to find five, 10 or more additional friends who can turn out to the polls in November.
The convention, she said, would "set the stage for what is at stake in the election and what should guide us over these next four years." She asked those gathered if the democracy they envisioned meant turning elections over to "whoever buys the most ads on TV." The crowd replied with boos and shouts of "No!"
Several high-profile LGBT and straight-ally leaders were present, including convention chair and Los Angeles Mayor Antonio Villaraigosa; California Lt. Gov. Gavin Newsom; DNC Treasurer Andy Tobias; and U.S. Reps. Barney Frank (Mass.), Jared Polis (Colo.) and Tammy Baldwin (Wisc.). Also present were New York City Council Speaker Christine Queen, Clinton White House advisor Richard Socarides and Diego Sanchez, Frank's legislative assistant and Capitol Hill's first out transgender staffer.
Pool reporters Ann Doss Helms (The Charlotte Observer) and Chris Geidner (BuzzFeed) contributed to this report.
Democratic National Convention coverage provided by Metro Weekly and QNotes, the leading LGBT community newspaper of North Carolina, based in Charlotte.