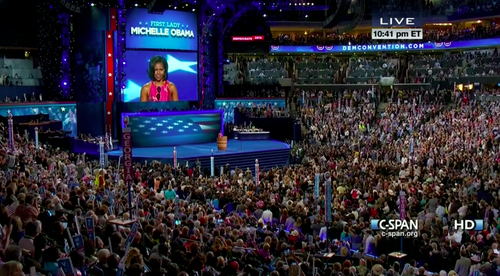 The Democratic Party embraced its liberal base last night, the first night of the Democratic National Convention, openly acknowledging their support for key social issues, including gay rights.
References to the LGBT community pervaded throughout the remarks of several gay and straight speakers during Day One of the convention.
The night culminated with an electrifying speech by first lady Michelle Obama focusing on President Barack Obama's character that brought some delegates in Charlotte, N.C., to their feet and left others in tears.
"Today, after so many struggles and triumphs and moments that have tested my husband in ways I never could have imagined, I have seen firsthand that being president doesn't change who you are – no, it reveals who you are," Michelle Obama said to cheers from the audience.
Among the issues the first lady touched on was her husband's recent support for marriage equality.
"Barack knows the American Dream because he's lived it," she said. "He wants everyone in this country – everyone – to have that same opportunity, no matter who we are, or where we're from, or what we look like, or who we love."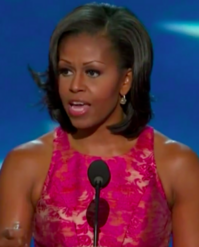 Obama talked at length about the "American Dream," noting both her and the president's humble roots. At her speech's climax, Obama also noted the courage of gay Americans, prompting many delegates to stand and applaud.
"If farmers and blacksmiths could win independence from an empire, if immigrants could leave behind everything they knew for a better life on our shores, if women could be dragged to jail for seeking the vote, if a generation could defeat a depression and define greatness for all time, if a young preacher could lift us to the mountaintop with his righteous dream and if proud Americans can be who they are and boldly stand at the altar with who they love – then surely, surely we can give everyone in this country a fair chance at that great American Dream," she declared.
According to Twitter, this final portion of Obama's speech drove a higher tweets-per-minute peak than Mitt Romney's acceptance speech at the Republican National Convention last week, with 28,003 tweets-per-minute during Michelle Obama's speech compared to 14,289 during Romney's.
Moreover, Twitter noted that the first night of the Democratic National Convention had already garnered more than 3 million related tweets compared to the 4 million tweets sent throughout all three days of the Republican National Convention.
Among those tweeting about the first lady's speech was gay CNN newsman Anderson Cooper, who declared he had "never heard such a well delivered speech by a first lady ever."
Michelle Obama was one of several speakers to mention gay Americans in her remarks to delegates.
Earlier in the evening, out Colorado Rep. Jared Polis declared diversity to be America's strength.
Noting President Obama's vision for a united country, Polis said that vision was why Obama had repealed "Don't Ask, Don't Tell," so "no person is prevented from serving the country they love because of whom they love."
"And it is why Barack Obama became the first sitting president in American history to show his personal support for same-sex marriage," Polis added. "So tonight, I don't just ask my fellow Americans to respect my relationship with my partner Marlon and my role as a father to our son," Polis said. "I also ask my fellow Americans to respect the Christian family concerned about decaying moral values and crass commercialism."
Out treasurer of the Democratic National Committee Andrew Tobias spoke about growing up gay and declared, "The Democratic Party under the leadership of Barack Obama has dramatically improved the lives of millions of lesbian, gay, transgender and bisexual Americans and at no cost to anyone else."
The keynote speaker of the convention was Mayor Julián Castro of San Antonio. Speaking before Michelle Obama took the stage and channeling a similar delivery style employed by then-U.S. Senate candidate Barack Obama in 2004 when he delivered the keynote, Castro led the crowd in chants of "Mitt Romney says 'No!'"
"When it comes to letting people marry whomever they love, Mitt Romney says 'No!'" Castro chanted among a list of issues Romney opposes.
Massachusetts Gov. Deval Patrick, who officiated over Rep. Barney Frank's marriage to his longtime partner in July and who has a gay daughter, lauded Obama's repeal of "Don't Ask, Don't Tell" and declared he would not let Obama be "bullied out of office."
Also speaking last night was Maryland Gov. Martin O'Malley, who successfully spearheaded marriage equality legislation in Maryland earlier this year and has faced much speculation about a presidential run in 2016.
Despite the fact that both same-sex marriage legislation and a state version of the DREAM Act, which would grant in-state tuition for some undocumented immigrants, will appear on the ballot in Maryland this November, O'Malley made no mention of the two key Democratic issues playing out in his state.
WATCH Michelle Obama's speech here: