Poll data released Wednesday has more good news for supporters of marriage equality.
The poll of 813 registered voters, conducted by Annapolis-based Gonzalez Research & Marketing Strategies Inc. between Sept. 17 and 23, finds that a majority of Maryland voters support Question 6, the ballot referendum that would allow the Civil Marriage Protection Act, which allows same-sex couples to civilly marry, to take effect Jan. 1, 2013.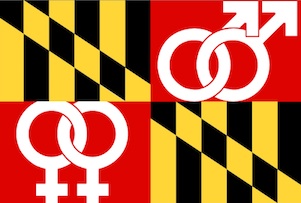 The question put to poll participants asked: "Question Six is a referendum that allows gay and lesbian couples to obtain a civil marriage license; protects clergy from having to perform any particular marriage ceremony in violation of their religious beliefs; and affirms that each religious faith has exclusive control over its own theological doctrine regarding who may marry within that faith. If the election were held today, would you vote for this referendum or against this referendum?"
Fifty-one percent of respondents said they would vote for the referendum, 43 percent were opposed, and 6 percent were undecided. The new data mark a slight, but important, shift – with marriage-equality opposition losing more ground than marriage-equality support gained – from Gonzales's January poll, which found 49 percent of voters supporting marriage equality and 47 percent opposing it. The poll's margin of error is plus or minus 3.5 percent.
Pollster Patrick E. Gonzales said he could not release geographic demographics, though the poll did provide breakdowns for gender, race and political party identification.
Among women, 57 percent support Question 6 while 38 percent oppose it, while men oppose Question 6 by a 48-44 margin. White Marylanders support the measure, 53 percent to 40 percent, and African-Americans oppose it, 52-44. But Gonzales noted that the level of support among African-Americans has increased 11 points since the firm's last poll in January, when only 33 percent supported marriage equality.
Registered Democrats support Question 6 by a 66-29 margin, and registered Republicans oppose it by a 75-17 margin, similar to findings from January. Independents support Question 6 by a 66-28 margin, marking a 10-point increase in support since January.
In other good news for supporters of Question 6, Gonzales also asked voters which of the three ballot questions on the November ballot – same-sex marriage, expanded gaming and Maryland's version of the DREAM Act providing in-state tuition for undocumented youth – was most likely to get them out to vote. Same-sex marriage led the way with 34 percent saying it would motivate them to go to the polls, compared to 26 percent excited about voting on expanded gaming and 25 percent excited about voting on the tuition question.
In addition, among those 34 percent who say same-sex marriage is the motivating factor for them to vote, 56 percent say they plan to vote for Question 6.
A spokesman for Marylanders for Marriage Equality, the coalition of religious, labor and community groups seeking to uphold the Civil Marriage Protection Act, celebrated the results.
"This is yet another poll that shows a majority of Maryland voters support Question 6, but we have always expected this to be a close race," spokesman Kevin Nix said in a statement. "We need all of our supporters to get engaged these final weeks and help us get over the finish line."
The campaign could also benefit by tying itself to Question 4, or Maryland's version of the DREAM Act granting in-state tuition to undocumented youth who graduate from Maryland public schools, which, according to the Gonzales poll, is supported by 58 percent of Maryland voters.
Equality Maryland, a member of the Marylanders for Marriage Equality coalition, has partnered with CASA de Maryland in recent weeks to push for both ballot measures. By building coalitions with other organizations, marriage-equality proponents hope to expand their base of reliable voters who will support Question 6.
Carrie Evans, executive director for Equality Maryland, penned a Sept. 28 op-ed for Baltimore's Gay Life in which she explained why the organization encourages members of the LGBT community to support Question 4. In her op-ed, Evans notes that CASA de Maryland has publicly supported LGBT equality, and that polls show a majority of Latinos in Maryland supporting Question 6 because they view it as an issue of fairness.
"EQMD views the Dream Act the same way; it is an issue of fairness," Evans writes.