With members ranging from hip, twentysomething urban singles, to couples raising their kids in the suburbs, D.C.'s LGBT community is one of the most diverse and vibrant in the nation. Along with this thriving local scene comes a dynamic business community ready to show its energy. On Nov. 17, the Capital Area Gay and Lesbian Chamber of Commerce (CAGLCC) will debut "g.life: One Day in DC, All Things LGBT," as a multitude of LGBT businesses come together in Cleveland Park at the Marriott Wardman Park hotel to celebrate the entrepreneurial spirit of D.C.'s LGBT community.
Designed as a "neighborhood stroll through the metropolis," visitors will walk down the "boulevard" past displays by gay-owned and gay-friendly businesses, in sections including the furniture district, restaurant row, the clothing district, and other distinctive neighborhoods. Local vendors are invited to sponsor displays ranging from individual kiosks to large themed "parks." Up to a dozen local performers, including singers, dancers, and other performing artists will provide entertainment for people as they sashay up the boulevard.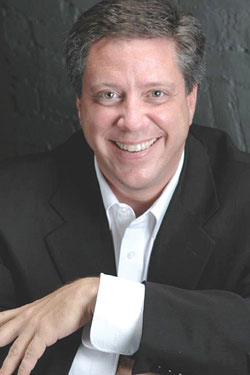 Joe Brookman
(Photo by John Quilty)
"We knew that g.life was a great opportunity not only to showcase local certified LGBT business enterprises, but also the thriving support system of businesses that really help elevate all LGBT people," said Justin Nelson, co-founder and president of the National Gay and Lesbian Chamber of Commerce (NGLCC). "Sponsoring g.life the day after our gala 10th anniversary dinner is a way of ensuring that all our constituents understand the importance of LGBT business and this vibrant community."
One of g.life's premium-level sponsors is Joe Brookman, founder and CEO of Brookman LLC, a technology and services company that provides Contact Center Solutions to businesses and organizations around the world. Brookman LLC was recently certified by the NGLCC Supplier Diversity Initiative (SDI).
"As an NGLCC certified business, we want to let people know that we are committed supporters of the LGBT business community," he said. "Sponsoring our business at g.life is an excellent opportunity to let people know about our active participation in the business life of the community, while highlighting our dedication to superior service for all of our clients."
CAGLCC recently issued a call for speakers to conduct educational seminars in either professional or personal development. Ted Smith, a licensed Realtor with Long & Foster, who is in charge of recruiting presenters, said that speakers will address topics that "include all aspects of LGBT life in today's world. Authorities in subjects ranging from traditional business activities like career development and small business management, to more personal items such as balancing personal and family life, health and exercise, and legal issues related to adoption are invited to speak."
Interested speakers and presenters can download a request for presentation at g-lifeexpo.com.
But what would a day in the life of the LGBT community be without entertainment? An array of street artists, singers, musicians, dancers and other performers will be on hand throughout the day to entertain the crowd.
"The organizers of g.life wanted people to experience a cross-section of city life when they visit, and a big part of that experience are the street performers," said Ebone Bell, managing editor of Tagg magazine, the lesbian magazine serving the D.C. metropolitan area and Rehoboth, Del., who is organizing the street performers. "The Gay Men's Chorus of Washington is already scheduled to appear and we are looking for other performers who want to demonstrate their talents."
For general information about the Nov. 17 g.life experience or to register online, visit g-lifeexpo.com. Registration is free and open to all.
John F. Stanton, a CAGLCC member, is the president of SRP & Associates Inc., a strategic marketing and public relations firm in Northern Virginia.
CAGLCC, recipient of the NGLCC Chamber of the Year Award, means business. For more information, visit caglcc.org.