As gay Republicans headed home at the end of the Republican National Convention last week, many seemed content with how they had been received by straight members of their party in Florida.
Although the GOP had reinforced their opposition to marriage equality with harsh language in the national party platform and by selecting Mitt Romney as their nominee for president, gay Republicans remained optimistic about their future in the party.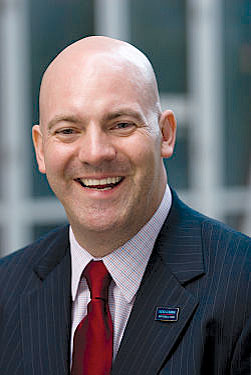 R. Clarke Cooper
In a statement released the day after Romney officially became the Republican presidential nominee, Log Cabin Republicans Executive Director R. Clarke Cooper declared "gay conservatives absolutely have a place within the Republican Party."
It was a sentiment echoed by GOProud executive director and co-founder Jimmy LaSalvia, who told Metro Weekly in a phone interview from Tampa, Fla., that his organization received a warm welcome from Republican delegates.
Although both groups are confident that the Republican Party will continue to grow more inclusive of gay members, the differences between the GOP's two leading gay camps could not have been more apparent in Tampa.
It began after the committee responsible for drafting the Republican Party's national platform reinforced anti-gay positions with strong language opposing marriage equality and supporting the Defense of Marriage Act.
Members of LCR were on the front lines of the platform debate and attended committee hearings to advocate for inclusive language. Although Cooper called the final platform language, which was approved by delegates at the convention, "unwise," he said he was pleased by the "solid debate" over issues like marriage equality.
LaSalvia of GOProud was less complimentary, telling Metro Weekly that those who had elevated the platform debate to a public fight had done a disservice to the Romney campaign.
"Log Cabin, by making their public statements, have put a bull's-eye on gay issues and given Tony Perkins and his folks the opportunity to pull out their canon and publicly blast them," LaSalvia said after the platform language was revealed in August. "We knew how this was going to end up. By blowing it up in public, they made a perfect recipe for disaster."
LaSalvia has stood by his criticisms of LCR's efforts, telling Metro Weekly Aug. 31, "I do not think a public fight with a very public body slam is helpful to our efforts. Not only is it not helpful to the Romney campaign, it's not helpful to efforts to change the language."
In an interview with NPR, LCR's programs director, Casey Pick, appeared to agree that LCR's presence at the platform hearings emboldened marriage-equality opponents like Family Research Council President Tony Perkins, who helped write the marriage plank.
"When you back someone into a corner, they fight back twice as hard," Pick told NPR. "We lost. And you could say the social conservatives in our party dropped the hammer harder because we were there."
"It is disappointing that the platform adopted in the early days of the convention will not help to elect Republicans in November because of its aggressive and divisive language on social issues," Cooper said, adding that LCR has a place at the table, which they "intend to use it to build a stronger, more inclusive GOP."