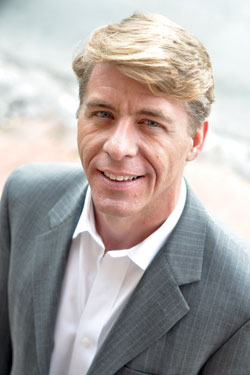 Jimmy LaSalvia
(Photo by Todd Franson)
GOProud has been quick to criticize LCR's attempts to influence the Republican Party's national platform, further exposing differences between the two leading representatives for gay conservatives and what they view as their ultimate goal.
The two groups have butted heads ever since GOProud was founded in 2009 to counter what they describe as LCR's moderate political positions. This election year has been no different. Whereas LCR focused their efforts on the party platform, GOProud opted to focus their efforts elsewhere.
According to LaSalvia, more than 800 people attended GOProud's party at the convention, Homocon, making it the largest event ever held by a gay organization at a Republican National Convention.
"It sent an important message that gay people are a part of the conservative movement and that the conservative movement does in fact embrace and welcome gay conservatives," LaSalvia told Metro Weekly.
Taking a jab at LCR, LaSalvia added that more people attended Homocon than read the Republican Party's national platform, which LaSalvia describes as "meaningless."
"Everybody has [out] gay people in their lives now," LaSalvia said. "Republicans aren't any different from anybody else. People are thinking about these issues in a very personal way now."
Despite differences between LCR and GOProud, both groups agree that LGBT issues are no longer as divisive as they once were.
Indeed, throughout the four-day convention, there was little mention in any of the major speeches about marriage equality, with even social conservatives like Mike Huckabee and Rick Santorum choosing to focus more on the economy and jobs.
Romney only briefly mentioned same-sex marriage in his 40-minute acceptance speech, stating that he will "honor the institution" of marriage as president.
So far, GOProud has endorsed Romney for president, whereas LCR has not yet announced whether they will officially support Romney.
In Charlotte, N.C., site of the Democratic Party convention from Sept. 4 to Sept. 6, LGBT issues are a more prominent topic.
President Barack Obama's decision to endorse marriage equality, repeal "Don't Ask, Don't Tell," and to stop defending the constitutionality of DOMA has earned him the support of many in the gay community. The convention alone boasts more than 500 LGBT delegates.
Nevertheless, for gay conservatives Obama's support for gay issues is admirable, but does not mean they'll turn that admiration into ballot-box support.
"I'm sure they will be beating the drum on any issue they can think of other than jobs and the economy," LaSalvia says of the Democratic National Convention. "But the reality is most Americans, including gay Americans, are worse off than they were four years ago. This election is much bigger than any other issue. It's about electing a president who can bring our country back and get the economy back on track."