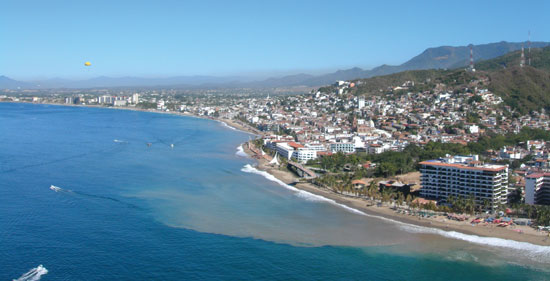 Puerto Vallarta, Mexico
Based on the sensational headlines, some might imagine Mexico is a destitute country where every citizen is either a member of drug cartel or racing to get across the border to the U.S. God forbid you actually consider visiting, considering the fear that an evil Latino is waiting around every corner to kidnap you, and, as a predominately Catholic country, there is no love for the gays. More outlaw wasteland than autumn getaway.
The truth, however, is that Mexico is an amazing country with a rich history and culture. Headlines that are often overlooked are the ones about the country's many World Heritage sites, award-winning chefs and internationally recognized museums.
While it has its poverty and drug problems, it also has a rapidly growing middle class and a GDP that ranks Mexico among the Top 15 countries worldwide, just below Canada and Australia.
Crime in Mexico, especially the country's high murder rate, gets a lot of deserved attention, but it's fairly isolated. Rarely do serious crimes involve tourists. Popular destinations such as Belize and the U.S. Virgin Islands actually have higher murder rates per capita.
As for gay-friendliness – as the saying goes – we are everywhere, and Mexico is no exception. Certainly there are parts of the country where gay travelers might feel unwelcome or uncomfortable being out. But any country in the world might claim that sad reality.
A little navigation will direct the gay traveler to the beach resort cities of Cancun and Playa del Carmen on the east coast and Puerto Vallarta on the west coast, where gay men and women have been enjoying beautiful shores for decades. Merida, the capital of the state of Yucatan, and Guadalajara, Mexico's second largest city and the capital of the state of Jalisco, are also popular destinations for tourists and have large LGBT communities.
Notably, a significant sign of Mexico's progression on gay-rights occurred in March when Mexico City, the nation's capital and largest city, approved marriage equality. Mexico's Supreme Court backed the law in August, requiring that Mexico City's same-sex marriages be recognized in all 31 states.