Melissa Etheridge ends her new album 4th Street Feeling in a state of heat, plain and simple.
"I think I'm ready to try my hand at love again," she sings at the top of the incredibly sultry, seductive blues number "Rock and Roll Me." Her playful personality still shines through in her come-ons in the song, to the point that she threatens to kill the mood, pointing out that the title is a euphemism. "I want you to rock and roll me all night long. I hope you understand what I mean," she talks down to the listener.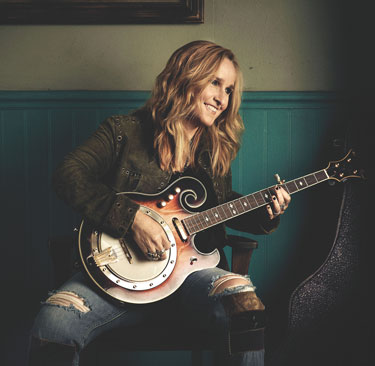 Melissa Etheridge
(Photo by James Minchin III)
Still, the needing, bleeding pining in Etheridge's voice here will make longtime fans – at the very least – tune up their instrument just as fast as they can, ready for a marathon jam with the lesbian rocker. "It's been a long, long, long, long, long time," Etheridge sings, "and I've needed this so much."
In truth, it probably hasn't been that long since most fans have gotten wild and passionate with Etheridge. Only two years ago she gave us Fearless, which mostly lived up to its billing as a return to her blistering, bluesy rock roots. Still, even that set was marred by a little too much yawning, yearning sentiment, along with schmaltzy power ballads, that bordered on trite and tiresome.
She mostly avoids that with 4th Street Feeling, a well-thought-out album. The lyrics mostly check out, and the music and her performance both stand out as among the best in her 24-year-long career. She sings and plays with a passion that had been a bit lacking over the past decade. To a significant extent, that seems a result of her reflecting on her past. She obliquely references her early days growing up and coming of age in the heartland on the bluesy opening ballad "Kansas City," featuring Etheridge playing harmonica in the bridge. She also reminisces on the Bonnie Raitt-esque title track. "Well I've been, I've been aching, to slip an eight-track on again," she sings. "Eyes closed and head back, the sweet smell of summer sin."
The feeling that a particular 4th Street conjures for Etheridge isn't just of sex, though, but of really living life to the fullest. Of letting loose and getting intense. The fiery "Shout Now" has the heat of Etheridge's exquisite breakout single "Bring Me Some Water," right down to its nearly blasphemous lyrics. "I'm gonna shout till the Devil gets on his knees. Shout till the angels say pretty please," she sings. "Shout till I feel it, runnin' through my veins. Shout till everybody thinks I'm insane." On the next track, Brett Simon's growling bass guitar adds visceral weight to Etheridge's lyrics about owning up to her "wicked ways" and "misspent youth." "I'd rather die fast than to ever live slow," she sings on "The Shadow of a Black Crow." "Father forgive me what my mother don't know."
Melissa Etheridge
4th Street Feeling
Island/Capitol
$11.77




1/2
At Strathmore Nov. 2
Etheridge, a 51-year-old mother of four, has had a lot of heartache and pain in the past couple decades, seeing two relationships come and go. She also had a bout of breast cancer. Etheridge doesn't specifically address those matters in her lyrics here, but she also doesn't dress things up in hunky-dory positivity. She conveys real anger on various tracks. "A Disaster" is how she refers to a past flame that still "scorches my soul" – and the song's music is as achingly beautiful as you'd expect from something that still stings.
But Etheridge has found some sense of peace and happiness – and resolve – with her present state. "Be Real" is a harmonica-tipped blues rocker à la Sheryl Crow, in which Etheridge chides her ex for not being genuine. But she then leads a small chorus to chant, "Never mind, never mind, I will be fine, I will be fine." Though you might wish Etheridge had hired a bigger choir to take the song to church at its end, you can't help but savor the possibilities of this becoming a prolonged sing-along in concert. And of course you can't help but love the sentiment. She will be fine, indeed.
Download these: "Shout Now," "Rock and Roll Me," "Be Real"