Democratic House Leader Nancy Pelosi (Calif.) and 144 other House Democrats filed a brief on Friday arguing that Section 3 of the Defense of Marriage Act is unconstitutional.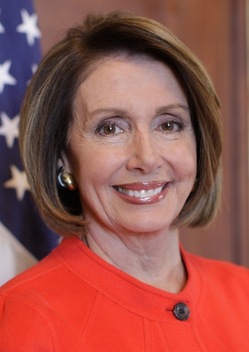 The brief was filed in the case of Edith Windsor, an 83-year-old lesbian widow who sued the government after she was taxed more than $363,000 on assets that passed to her after the death of her wife in 2009 because the government did not recognize their marriage.
The two women first met in 1963 and were married in New York in 2007 after a more than 40-year engagement.
Windsor's case has reached the Court of Appeals for the Second Circuit and been petitioned to the Supreme Court for review.
The brief dissects arguments made by the Bipartisan Legal Advisory Group (BLAG), instructed by House Republicans to defend the constitutionality of DOMA in court after the Obama administration refused to do so in February 2011, and argues that the Court of Appeals should uphold a New York District Court's June ruling that DOMA violates the Constitution.
Pelosi was joined by Minority Whip Steny Hoyer (D-Md.) in signing the amicus brief, which voluntarily offers information to the court. According to the brief, there is no legitimate federal interest in denying same-sex couples the rights that come with marriage.
"It is impossible to believe that any legitimate federal interest is rationally served by depriving a widow like [Edie] Windsor of the marital deduction that allows married couples to pass property to the surviving spouse without penalty, thus maximizing the survivor's financial well-being," the document reads.
New York Rep. Jerrold Nadler (D), who represents Windsor in Congress, was among the main sponsors of the brief. Although 145 House Democrats signed the brief, 45 did not.
The brief comes after 133 House Democrats filed a similar brief challenging DOMA in Golinski v. Office of Personnel Management in July. That case has also been petitioned for review by the Supreme Court.
Among those House Democrats who did not sign the Golinski brief but added their names to the Windsor brief are John Carney (Del.), Bill Pascrell (N.J.), Albio Sires (N.J.), Russ Carnahan (Mont.), Allyson Schwartz (Pa.), Marcy Kaptur (Ohio), Kathy Castor (Fla.), Ron Barber (Ariz.), Al Green (Texas), Ed Perlmutter (Colo.), Silvestre Reyes (Texas), Norman Dicks (Wash.) and Corrine Brown (Fla.).
In both briefs, House Democrats argue that because LGBT people are a minority group lacking sufficient political representation they require increased protection through heightened judicial review.
According to a statement released by Pelosi's office, she and the other main sponsors of the brief "intend to participate in each of the cases where the BLAG has intervened as each case reaches the relevant federal court of appeals."
READ the full brief here.