Timed perfectly for the Tudor fever generated by author Hilary Mantel's Wolf Hall and its sequel, the Washington National Opera's season-opener of Donizetti's Anna Bolena delivers urgency, despair and much beauty to the downfall of one of Henry VIII's most ill-fated wives.
In this semi-historical telling of the well-known tale, Anna (Anne Boleyn), unable to resist the chance to be queen, has rejected her betrothed, Riccardo (Lord Richard Percy), in order to marry Enrico (Henry VIII). Having produced only a daughter, Elizabeth, and no male heir, Anna's allure for Enrico has waned and he is ardently courting her lady-in-waiting, Giovanna (Jane Seymour).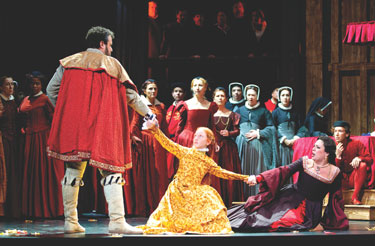 Anna Bolena
(Photo by Scott Suchman)
Hoping to entrap Anna and free himself to marry Giovanna, Enrico engineers Riccardo's return to court and, as predicted, he is soon in Anna's bedchamber declaring his misery at losing her. Though Anna resists his impassioned pleas, Enrico and his court spy, Sir Hervey, arrive upon the compromising scene. Despite Anna's protestations and those of her young musician Smeton (who, besotted with Anna, has been secretly swooning in her bedroom), all are arrested.
Getting the balance just right, director Stephen Lawless contrasts the austere otherworldliness of his imagined Tudor Court with the ragged human drama unfolding within it. In stark relief against the impassive faces of the court who alternately lurk within and crowd balconies above the action, Anna is a living, breathing woman confronted with a nightmarish reality: All she cherishes – her daughter and her very life – has been built upon shifting sands.
In a spectacular, near seamless blend of acting and expressive vocal skill, soprano Sondra Radvanovsky creates an indelible, poignantly memorable Anna. A majestic presence, Radvanovsky is immediately credible as a woman worthy of a king's interest. Yet it is the view into her most intimate self that speaks so powerfully. Struggling to suppress the remorse and growing panic of a woman who knows, but cannot bear to know, the inexorable truth — that she exists at Enrico's whim — Radvanovsky is riveting.
The poignancy of this despair is caught particularly in the few but meaningful moments Anna spends with her daughter Elizabeth. In Act I, when Anna, sensing the king's withdrawal, pulls her young daughter close with fierce and tender protectiveness, Radvanovsky simply but utterly captures a mother's enduring love.
The power of this bond, so beautifully depicted early on, heightens exponentially Anna's final moment in which she must relinquish all. It is a remarkable climax, an instant of theatrical and operatic art in which Donizetti, Lawless and Radvanovsky create the perfect storm. Bring a hanky. Seriously.
Vocally, Radvanovsky, possessed of a seeringly powerful soprano, ensures an Anna who is at once undeniable and yet desperate. Though she seems effortlessly to send her voice to the rafters, she equally finds nuance especially as she rides Donizetti's waves of memory and emotion in Anna's moments of madness. If there are phrasings that feel slightly out of synch and occasional notes lacking enough voice, it is hard to quibble: Who would trade technical perfection for such a crushingly intense performance?
As Enrico VIII, a physically imposing (especially avec cod-piece) Oren Gradus brings much presence to his king and a languid sense of entitlement. But Enrico's attraction to Anna (and the suggestion that he is only punishing her out of jealousy) argues with his supposed passion for Jane and leaves Gradus looking awkward. A pleasingly ominous bass, he is not always audible over the orchestra and a brief moment of hoarseness dampened an otherwise effective transition in which this ruthless and self-indulgent man dons the symbols of his immense power.