Craig Ramsay is not just a pretty face. He's also a pretty body. And a song-and-dance man, former hockey player, health a fitness superstar – to the point of being a brand – and even a genuine contortionist. But what the heck is that good for?
"Ask Brandon," Ramsay answers, referring to his partner, beauty guru Brandon Liberati. "Date six – I sealed the deal."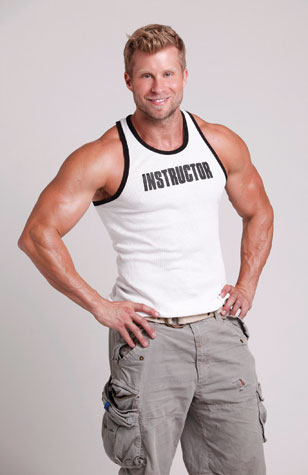 Craig Ramsay
(Photo by By Tauseef)
Obviously, Ramsay has a cheeky sense of humor. He also has passion, particularly for his current career as a "fitness expert and transformational coach."
Ramsay's focus is on helping others overcome ego, as he might put it, and develop a mind-body-spirit connection. Don't think that means he's discovered some tortured discipline of deprivation. There was a time, as a fitness model, when the rule was no, no, no – plus a few more reps for dessert. Ramsay still has a knockout body, but he's learned to savor some indulgences.
"I'm enjoying life," says the 35-year-old Canadian who now calls Los Angeles home. "Pumpkin-spice latte at Starbucks? Perfect – if they have unsweetened almond milk."
A naughtier indulgence is hitting the "gayest" slot machines – the ones themed for Sex and the City, Wizard of Oz or similar – with Liberati and bruised cosmos. After all, his mom did work in an Ontario casino, so Ramsay is familiar with games of chance. His mother also influenced him in a more serious way. Her fibromyalgia prompted him to develop a special stretching regimen to ease her symptoms, basing her workout in a hot tub, warming her muscles to prevent injury. It's the sort of empathy he's now applying to his greater fitness/wellness community, whether he's assisting them on six packs or positive outlooks. After all, Ramsay not only built his body, he's also overcome insecurities, like the ones that kept him from baring all for New York's annual "Broadway Bares" benefit. He participated, but fully clothed.
"I was part of the crew!" admits the bashful backstage hand. "I was too shy." '
Craig Ramsay attends JR.'s "Showtunes, Songs & Singalongs," Monday evening, Sept. 17, 1519 17th St. NW. He will sign his book, Anatomy of Stretching, Tuesday, Sept. 18, 7 to 8 p.m., at Books-A-Million, 11 Dupont Circle. Wednesday, Sept. 19, Ramsay will participate in a talk and reception, 7 to 8:15 p.m., at Epic Yoga, 1323 Connecticut Ave. NW.