Maine Republican Sen. Susan Collins broke with her party today when she became the first Republican senator to co-sponsor a bill that would grant binational same-sex couples the same rights enjoyed by straight couples, including the ability for gay Americans to sponsor their partner for citizenship.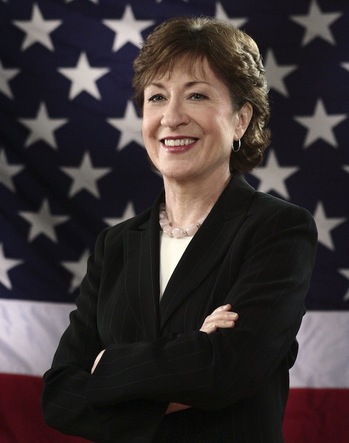 Collins's support comes as many Democrats have signed onto the Uniting American Families Act. The bill would allow American citizens and permanent residents to file a visa petition on behalf of their non-American, same-sex partner in order to avoid deportation.
Republicans have traditionally opposed the bill for fear it would lead to immigration fraud.
"This legislation would simply update our nation's immigration laws to treat bi-national couples equally," Collins said in a press release. "This important civil rights legislation would help prevent committed, loving families from being forced to choose between leaving their family or leaving their country."
According to a study by the Williams Institute, there are about 28,500 binational same-sex couples in the U.S. today. Including the nearly 11,500 same-sex couples in which neither partner is an American citizen, they are raising about 25,000 children. Current immigration policies threaten to tear many of these families apart because a same-sex partner's inability to apply for permanent residency.
The Uniting American Families Act hopes to change that.
The news of Collins's endorsement was met with praise by Log Cabin Republicans. LCR Executive Director R. Clarke Cooper said the group is "grateful to Senator Collins for continuing to be the tip of the spear as a Republican fighting for LGBT families."
"With no ability to sponsor their partners, Americans are being forced abroad, taking their tax base, their talent, and enterprise to the more than 25 countries that offer residency for lesbian and gay partners," Cooper added. "The Uniting American Families Act would allow Americans to sponsor their permanent partners for residency, benefiting both these American citizens and the companies which employ them."
Former Arizona Republican Rep. Jim Kolbe, who, in 1996, became the second out gay Republican to serve in Congress, also praised Collins's sponsorship.
"As an individual whose own relationship would be personally affected by the adoption of this legislation, I am hopeful Senator Collin's sponsorship will encourage other Republicans in the House and Senate to add their names as co-sponsors," Kolbe stated.
The announcement from Collins marks another pro-LGBT stance from the Maine Republican, who has voted against a constitutional amendment banning marriage equality and in favor of expanding hate crime laws to encompass sexual orientation. She is also a supporter of the Employment Non-Discrimination Act and the Domestic Partnership Benefits and Obligations Act.