Autumn may have a different look and feel in different parts of the world – even a different time, depending on the hemisphere – but there are those iconic images, whether from Charlie Brown TV specials, that gruesome series of Halloween movies or a themed "Angry Birds" download. We expect turning leaves, acorns, sweater weather and maybe even a scare.
Lost River, W.V., has got it all and a gay sensibility to boot.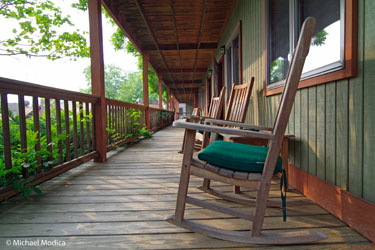 The Guesthouse Lost River
"People coming in the fall are definitely looking for outdoor activities, or the fall weather with a nice glass of wine on the deck," says Gary Robinson, who with business partner Michael Cooley is a new owner of the Guesthouse Lost River, celebrating its 30th year. "The pool won't be open, just because of all the leaves that would get into it. All of our buildings have different views of the foliage. From every room – with the exception of one or two – we have a lovely western view. It's just magnificent. We have six fireplaces in the main lodge, one wood-burning. In our two suites, we have gas fireplaces.
"It's a respite from the working world. It's walking in the woods. You can really see the stars, the Milky Way."
You can almost hear the dry leaves underfoot, smell the cool crispness of a wooded wonderland. As for the Halloween frights, the Guesthouse won't be trying to terrify anyone – though a screening of 2003's Wrong Turn, set in West Virginia, in the Guesthouse game room might do the trick if you really want one – but the venue is offering a little autumn thrill. If space remains, shoot for the Oct. 26 to 28 "Murder Mystery Weekend."